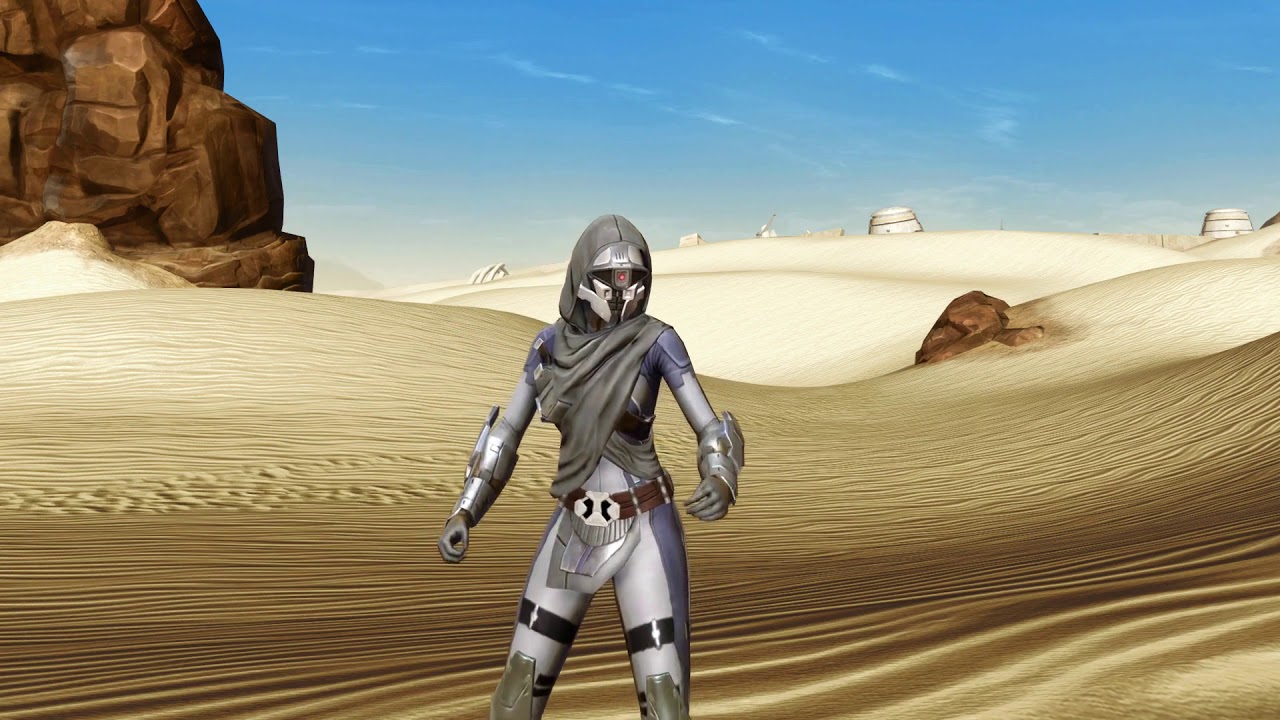 Have a suggestion or correction? A volunteer can help update the website! To report an issue, go to the Swtorista Website Discord and post your report as a single message in the #report-issue channel. You will need to make a free Discord account.
Similar Armor Sets
These armors have a very similar shape to the Silent Ghost's armor set.
Sith Hermit's
More Bounty Hunter Armors
Shae Vizla's
Vile Hunter's
GSI Infiltration
Contract Hunter (alternate)
War Hero Combat Tech (Rated)
Remnant Yavin Bounty Hunter
War Hero Combat Tech
Bolted (Imperial)
Merciless Seeker's
Ironclad Soldier
Hunter's Renowned
Tythian Disciple's
More Bounty Hunter Armors
More Imperial Agent Armors
Battle-Hardened Apprentice's
Defiant Mender MK-16 (Armormech)
Casual Connoisseur's
TD-07A Panther
Dynamic Vandal
Laminoid Battle
TD-07A Scorpion
CZ-27K Stealth Ops Suit
Quick Thinker
Polyplast Battle
Revealing Bodysuit
War Hero Field Medic (Rated)
More Imperial Agent Armors
More Gray Armors
Series 617 Cybernetic
Eternal Commander MK-3 Enforcer
Bionic Raider
Eternal Commander MK-15 Weaponmaster
Imperial Huttball Away Uniform
Nanosilk Force Expert's
Frontline Mercenary
TD-17A Talon
Amended Mystic's
Mandalore the Preserver's
Series 615 Cybernetic
Veda Force Expert's
More Gray Armors
More Light Pants Armors
Battlemaster Field Medic
Remnant Underworld Agent
Gunslinger's Jacket
War Hero Survivor
Eternal Battler Bulwark
Revered Huntmaster's
Padded
Spymaster's Auxiliary
Jungle Ambusher
Classic Contractor's
Imperial Pilot
Coil Explorer's
More Light Pants Armors
Outfit Database ID: 1153 - Added: 0000-00-00 00:00:00 - Opposite: 0 - Identical: 0 - Similar: 1156
Like this

guide?Pledge to support Swtorista videos, guides and lists!
✚ Support with Patreon
✚ Support with YouTube
✚ Support with Twitch
In return, get:
Discord Chat
50+ Lore Audio Readings
Ensure future of guides!