Have a suggestion or correction? A volunteer can help update the website! To report an issue, go to the Swtorista Website Discord and post your report as a single message in the #report-issue channel. You will need to make a free Discord account.
Similar Armor Sets
These armors have a very similar shape to the Frontline Mercenary armor set.
Savage Hunter
Galactic Command Crate Tier 4 Armors
These armors are obtained in similar ways.
Ardent Warden
Deadeye
Devious Outlaw
Frenzied Instigator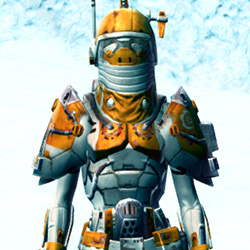 Hazardous Recon
Majestic Augur
Omniscient Master
More Bounty Hunter Armors
Heartless Pursuer
Mandalorian Enforcer
Mandalorian Seeker
Xonolite Asylum
Relentless Insurgent's
Guard Captain's Chestplate
Tribal Champion
Contractor's
TD-17A Imperator
RD-17A Hellfire
Silent Ghost's
Electrum Onslaught
More Bounty Hunter Armors
More Gray Armors
Fortified Phobium
Nerf-Herder
Traditional Thermoweave
Titanium Asylum
Bionic Raider
Xonolite Onslaught
Warrior
Infamous Bounty Hunter
Synthleather Jacket (Imperial)
Intelligence Agent's
Veda Force Expert's
Series 510 Cybernetic
More Gray Armors
More Light Pants Armors
Warlord Elite
Eternal Commander MK-3 Weaponmaster
Mandalore the Indomitable's
Fallen Defender's
Marshland Ambusher
Mantellian Separatist
Hardened Plastifold
Two sets I accidently mixed together
TD-17A Talon
Mercenary Slicer's
Titanium Onslaught
Reinforced Diatium
More Light Pants Armors
Outfit Database ID: 1613 - Added: 0000-00-00 00:00:00 - Opposite: 0 - Identical: 0 - Similar: 1613
Like this

guide?Pledge to support Swtorista videos, guides and lists!
✚ Support with Patreon
✚ Support with YouTube
✚ Support with Twitch
In return, get:
Discord Chat
50+ Lore Audio Readings
Ensure future of guides!