IMPORTANT NOTE FOR LEVEL 70+ PLAYERS WHO WANT TO PLAY THE RAKGHOUL OPERATION BOSS ON STAR FORGE SERVER! I will be running a "Rakghoul Eyeless Operation boss" group open to all on the STAR FORGE server at 8:15 AM PDT, switching around factions, on these days: Tuesday (Sept 7), Wednesday (Sept 8), Thursday (Sept 9), Friday (Sept 10), Monday (Sept 13). All are welcome who meet these requirements: must be on Star forge server, must be level 70+, must be subscribed to the game so you can do operations. No skill or experience or gear required, all welcome and encouraged to join regardless of how much or little you've played, it's fun and not too hard! To join, just show up at around 8:00 AM PDT at twitch.tv/swtorista, listen for instructions in the stream, and try to log in to the game beforehand. You will need a free twitch.tv account so you can post in the chat, which you can create beforehand. If you are hard of hearing or unable to understand vocal instructions, please make sure to let us know in the Twitch chat so I can make 100% sure the instructions are relayed in text chat as well. We will run multiple groups per day if there is enough players! Players who are under level 70, not subscribed, or are not on the Star forge server are welcome to watch, but will not be able to participate. Check my Twitter page for any last-minute cancellations or if we're running late.
---
The Rakghoul Event has now started in SWTOR! The Rakghoul Resurgence, better known as the "Rakghoul Event", is a limited-time event in Star Wars: The Old Republic. The event happens sporadically, and rotates between the planets of Alderaan, Corellia and Tatooine. The event focuses on the outbreak of the Rakghoul virus, and during the event you'll travel to the rakghoul tunnels that have been dug deep underground. During the event you can earn some unique rewards including a full set of green outbreak response weapons, armor, infected varactyl and dewback mounts, and the black-green crystal. If you are a high level character working on companion recruitment, you can only finish Dr Lokin's recruitment quest during the Rakghoul event. You can participate in the event as early as level 25, and the event is available to both free-to-play and subscribed players. This event lets you explore the bio-luminescent rakghoul tunnel map,  fight the special Eyeless single Operation boss, and if you're unlucky, you may even catch the Rakghoul plague and pass it on to other players!
Guide
Written guide:
Video:
Secrets video:
---
Info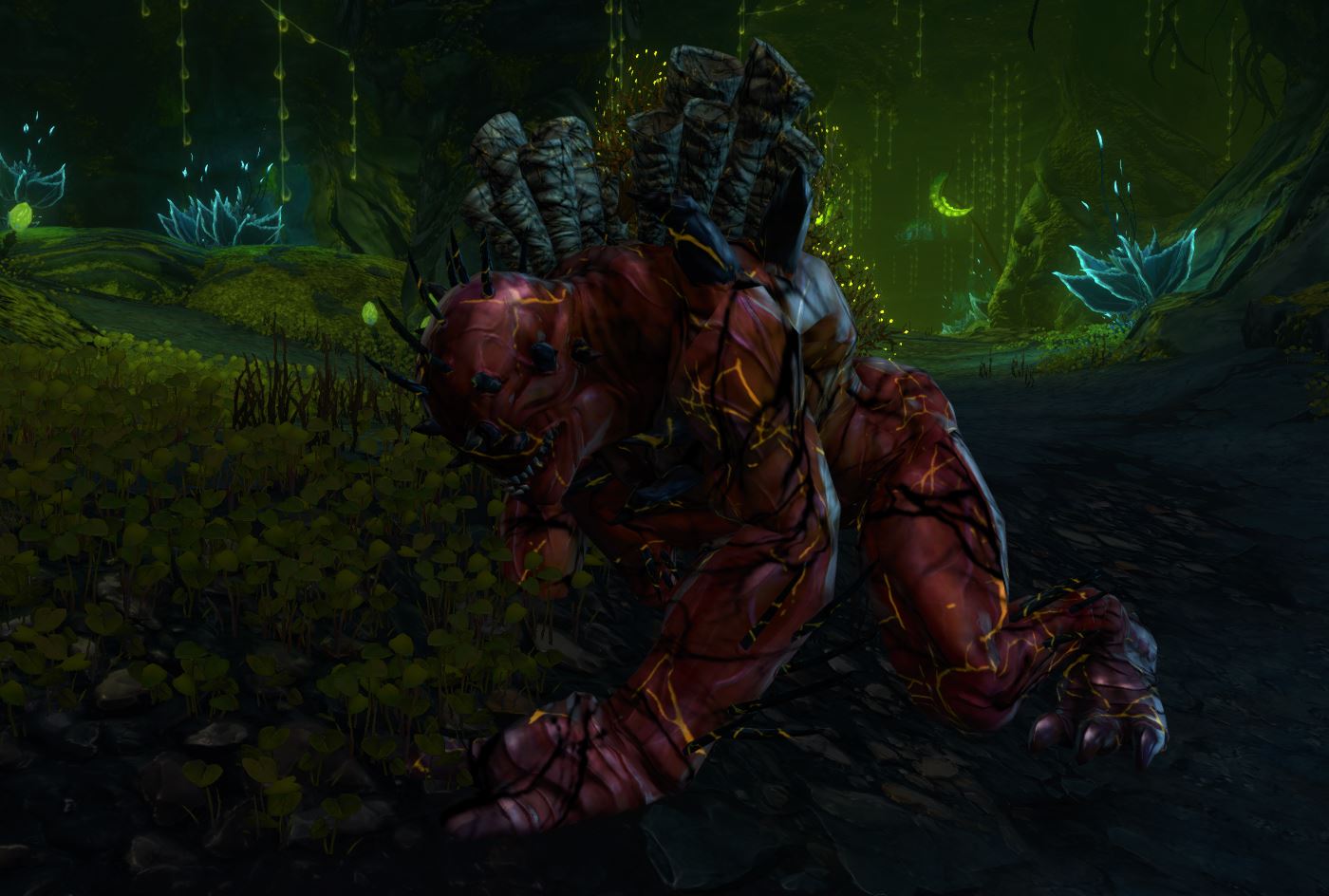 RAKGHOUL RESURGENCE ON ALDERAAN
LEVEL: Levels 25+The Hyland Organization for Rakghoul Neutralization (T.H.O.R.N.) has issued an official level-2 emergency alert concerning an outbreak of the Rakghoul plague on Corellia. Quarantines have been put in place to restrict traffic of the plague off-world, but exceptions will be made for individuals with priority clearance.
T.H.O.R.N. is recruiting qualified volunteer emergency responders to travel to affected areas to combat the spread of the Rakghoul plague. More information about the outbreak can be found by checking the News Terminals on the Republic or Imperial Fleet!
T.H.O.R.N. wishes to remind you that plague symptoms can be treated if they are identified in the early stages of infection. Whether or not you have travel plans, please consult your nearest trusted medical supply droid and get vaccinated!
FEATURED REWARDS:
Reputation with THORN
Merciless Seeker's Armor Set
THORN Epicenter and Dark Vector Armor Sets
Outbreak Response Weapons
Alliance Contact – Doctor Lokin
Infected Varactyl and Infected Dewback Mounts
Ferocious Rakghoul Mini-pets
…and more!