Did you miss the Developer livestream about 7.1, coming on August 2nd? Got you covered!
FREE CODE: LotSofMalgus https://swtor.com/redeem-code
Stream kicks off with #SWTOR Charles Boyd, soon to be moving on, and Jackie the Community Manager.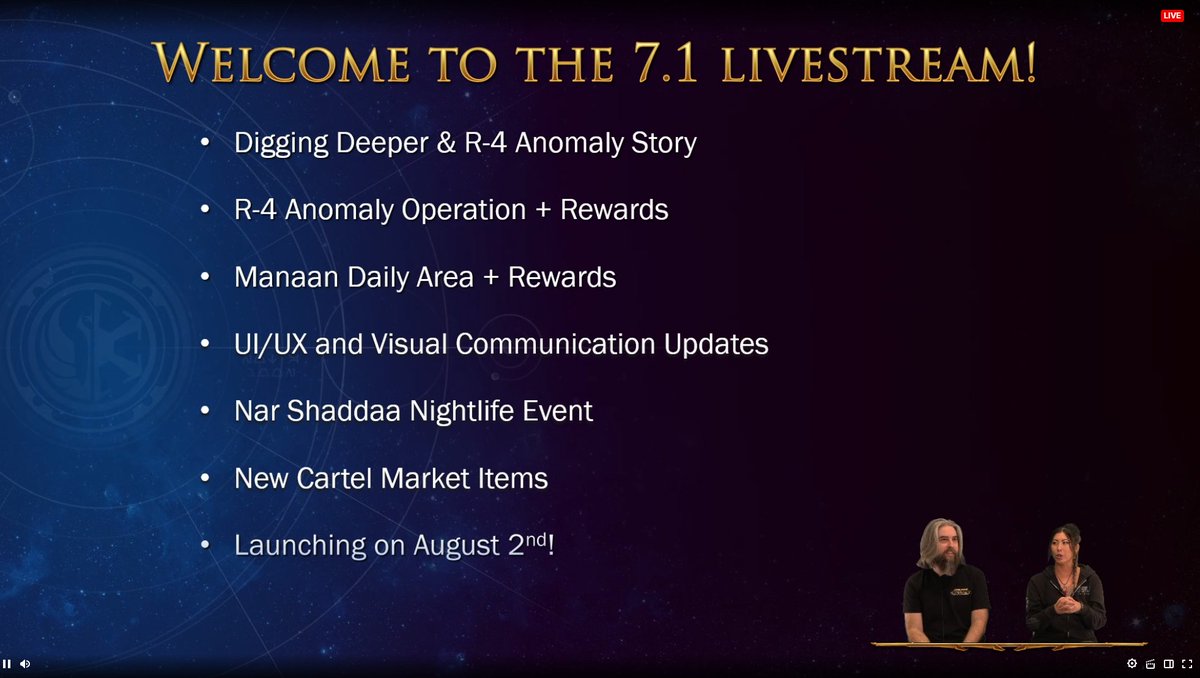 "You are without a doubt one of the best people I've ever worked with." Jackie shares some sweet sentiments with Charles Boyd on the livestream. #SWTOR
NEW FREE #SWTOR STUFF!
• Darth Malgus Stronghold Decoration
• Code: LotSMalgus
• Redeem at: (swtor.com/redeem-code)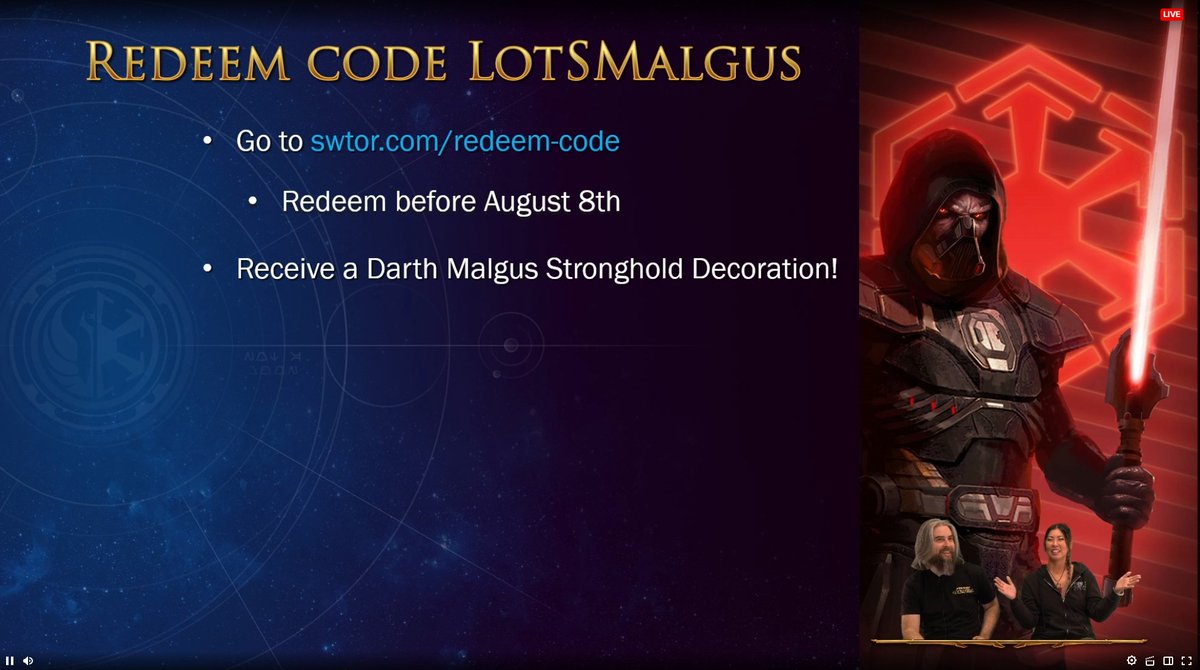 Ashley Ruhl, Narrative Director and Caitlin Sullivan Kelly, Lead Writer talk about Digging Deeper, go back to Elom with task force nova or hand of the empire to investigate what Malgus was trying to find or do on Elom, to try and figure out what his plan was.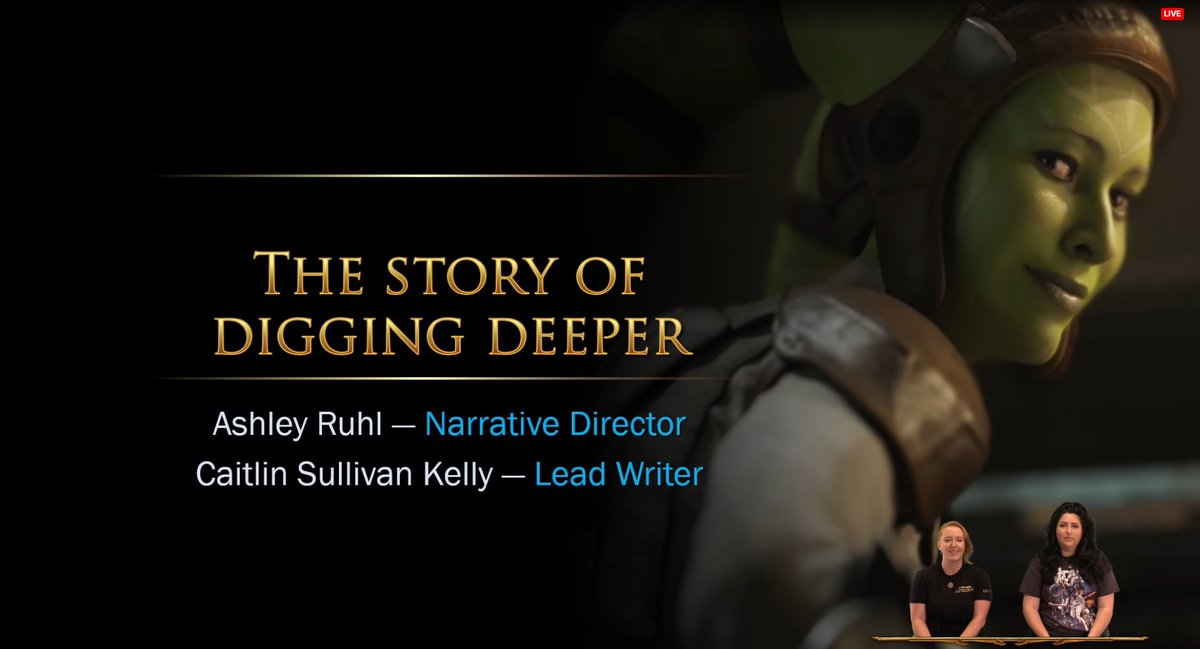 We also see more of Sahar and talk to Malgus and see what he has planned for the galaxy in Digging Deeper in 7.1. #SWTOR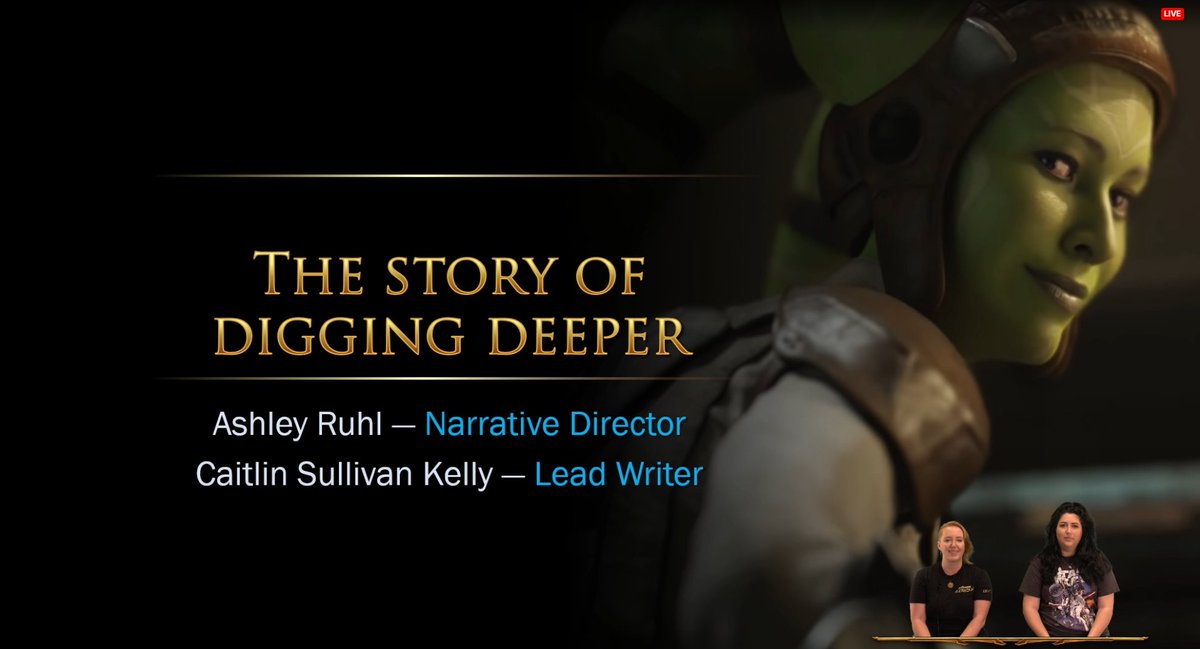 We got a teaser video about walking up to Malgus to speak to him in his prison! #SWTOR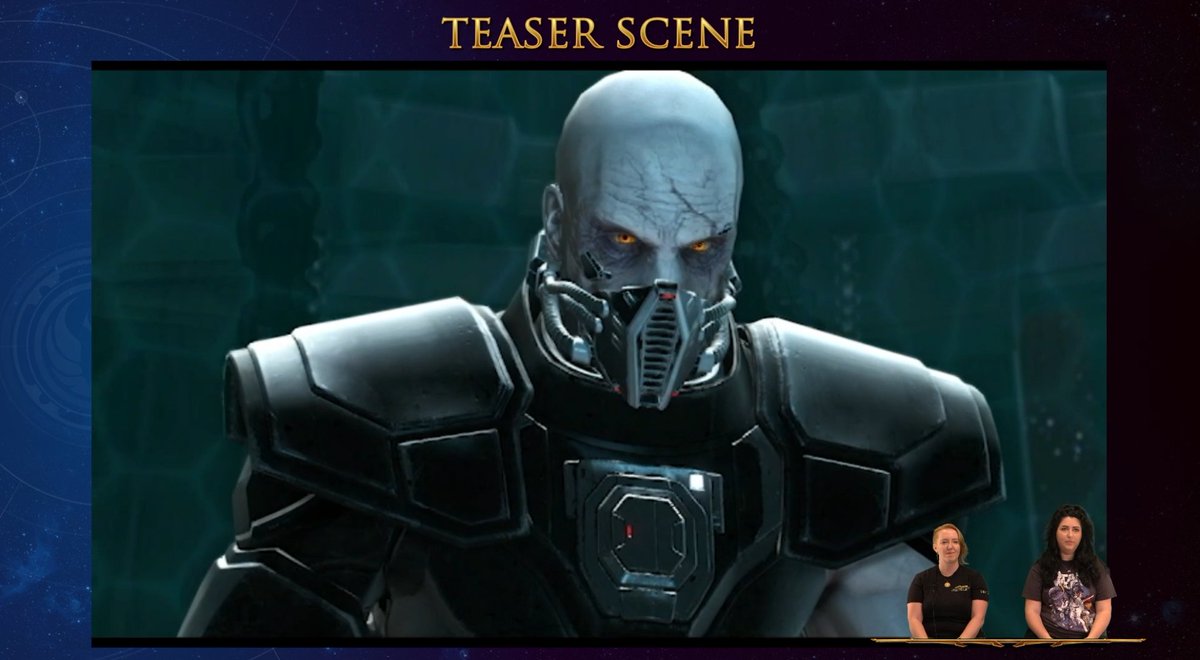 Manaan will have two new storylines, one Imperial, one Republic, where you'll be either cautiously optimistically aligning with the Republic/Manaan, or joining in on the Empire who has taken over the surface of Manaan. #SWTOR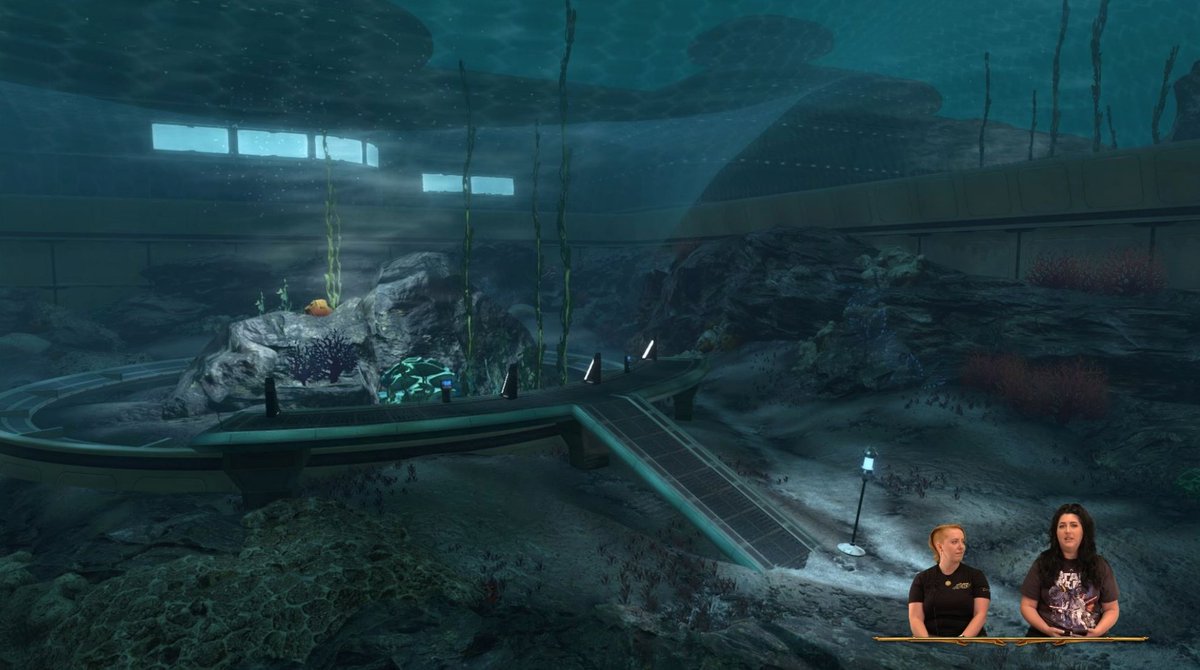 All this takes place during a Selkath Isolationist Revolt, in a really cool underwater environment. #SWTOR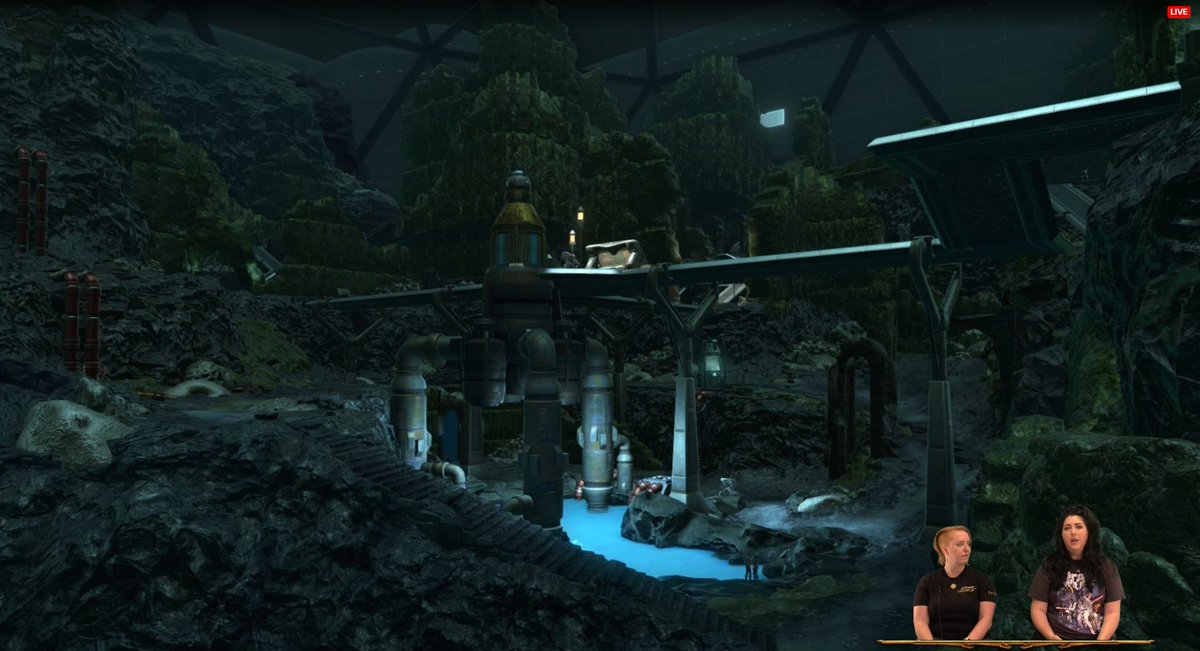 Minn Ishkah is the Republic Ambassador, a new character. #SWTOR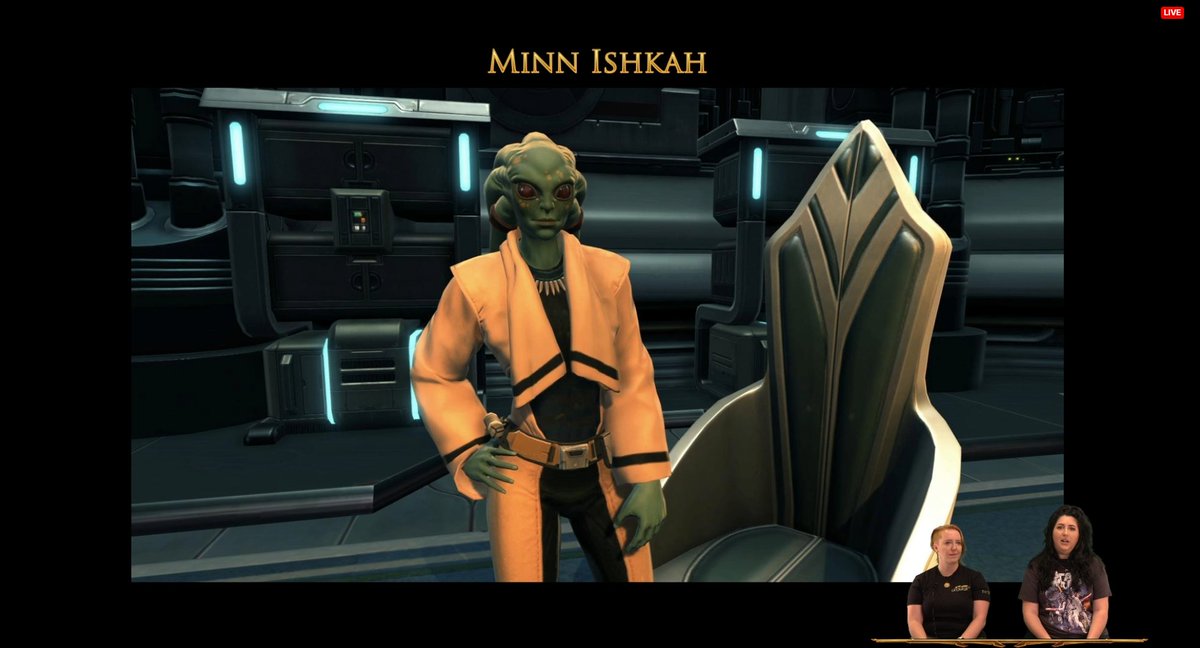 Captain Wo is the Selkath represtative, who puts the needs of the Selkath first. You may have met them already! #SWTOR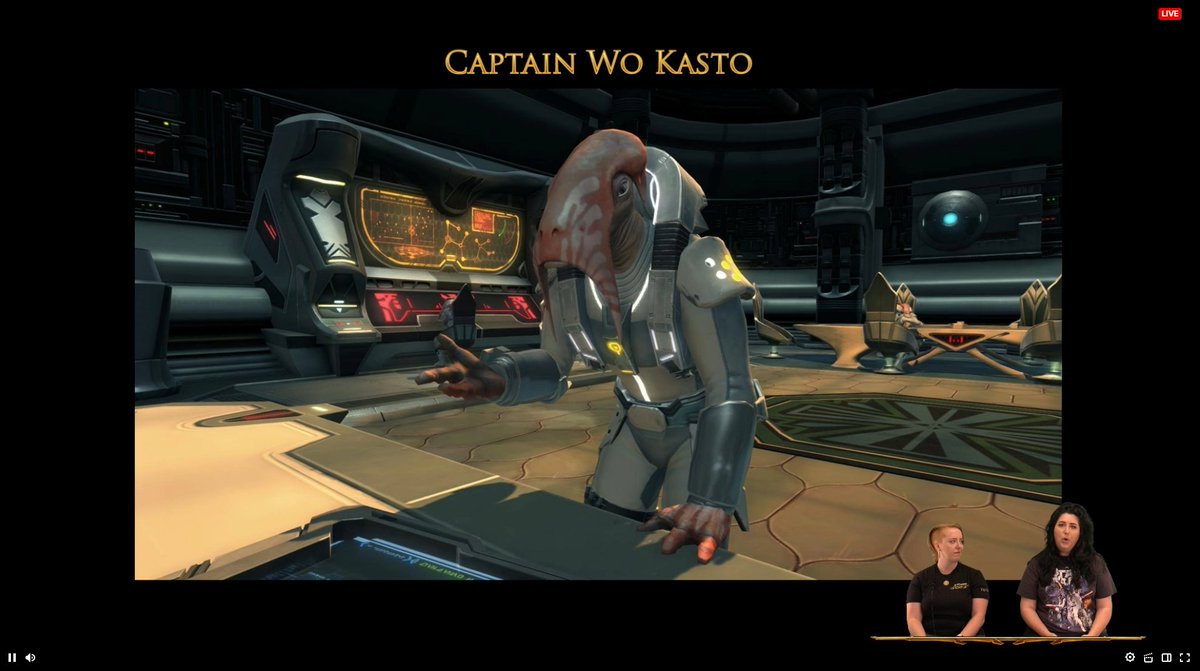 The Imperial representative, tied with with Darth Xarion! #SWTOR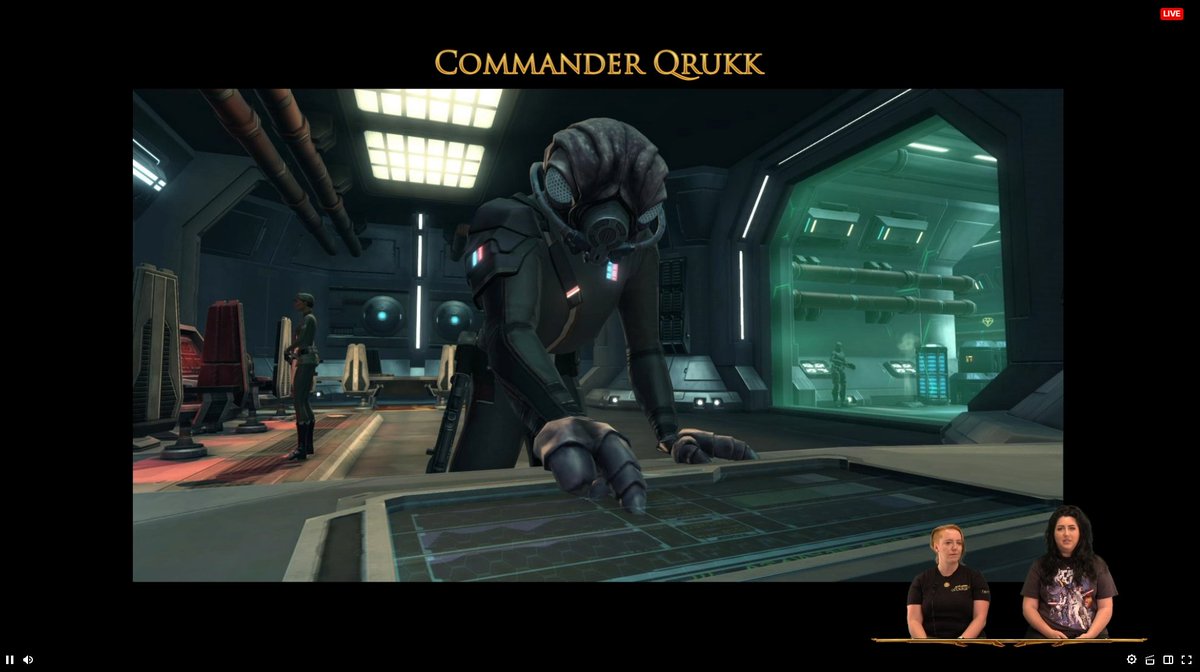 The new R-4 Anomaly operation story was teased as well! #SWTOR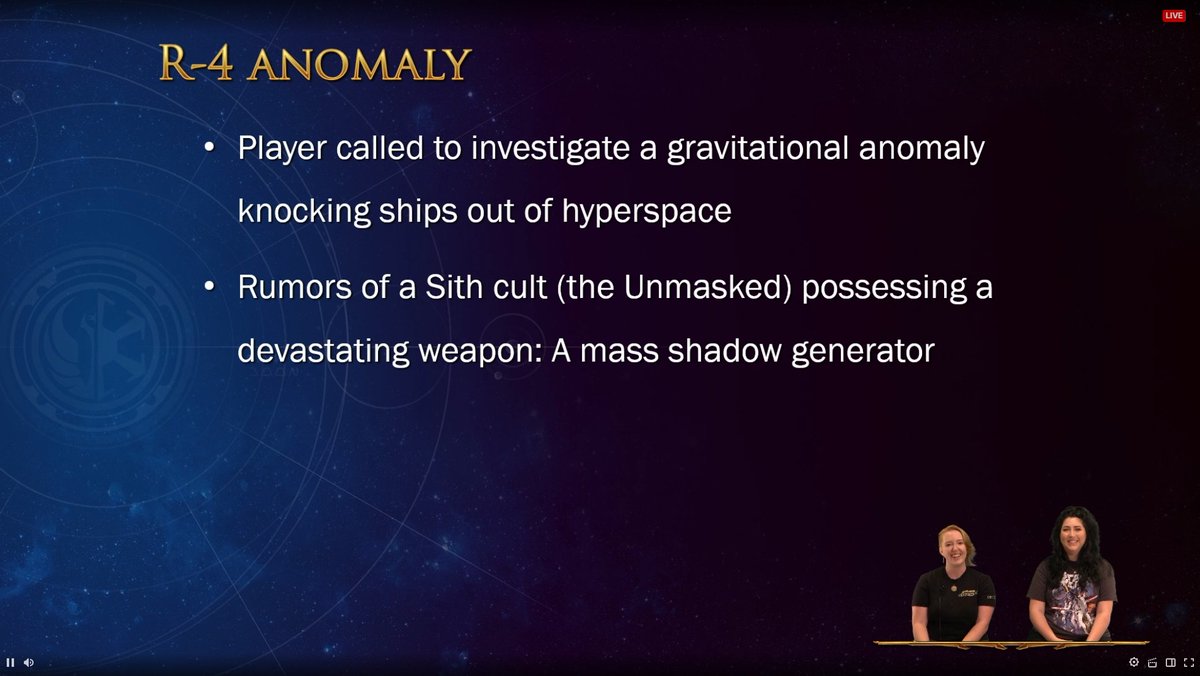 The new Operation, R-4, will have 4 bosses, for 8 players, in both Story and Veteran mode. #SWTOR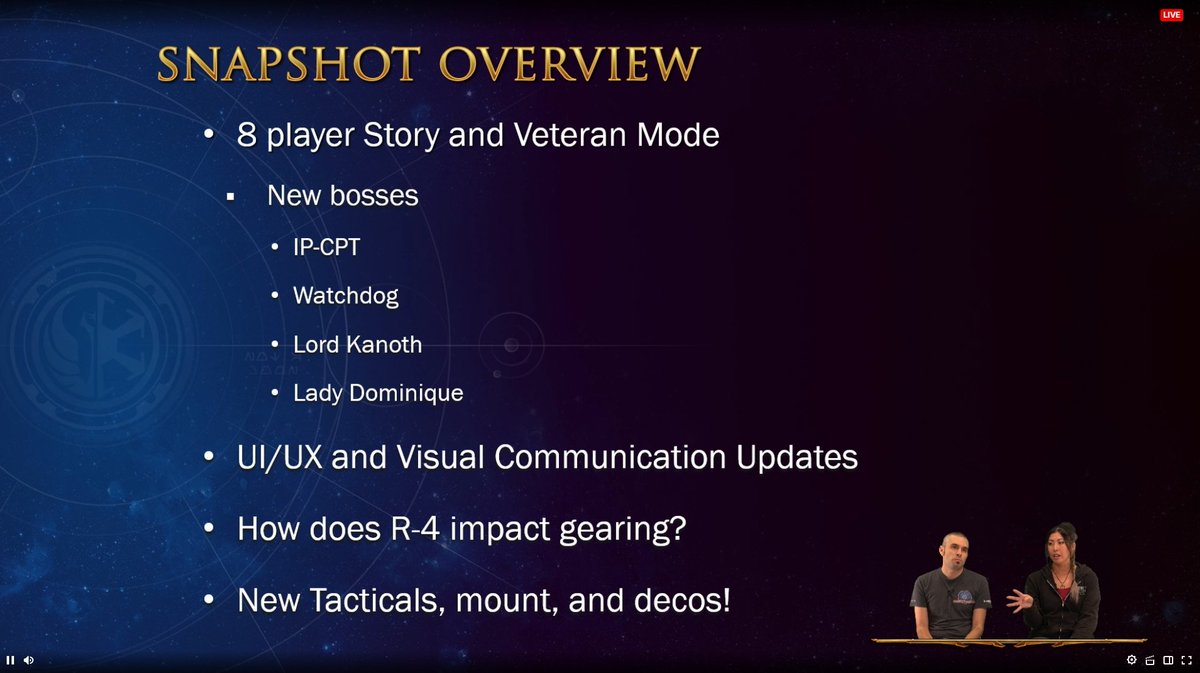 Oh cool! If you play this in Veteran mode, everyone gets a guaranteed decoration. #SWTOR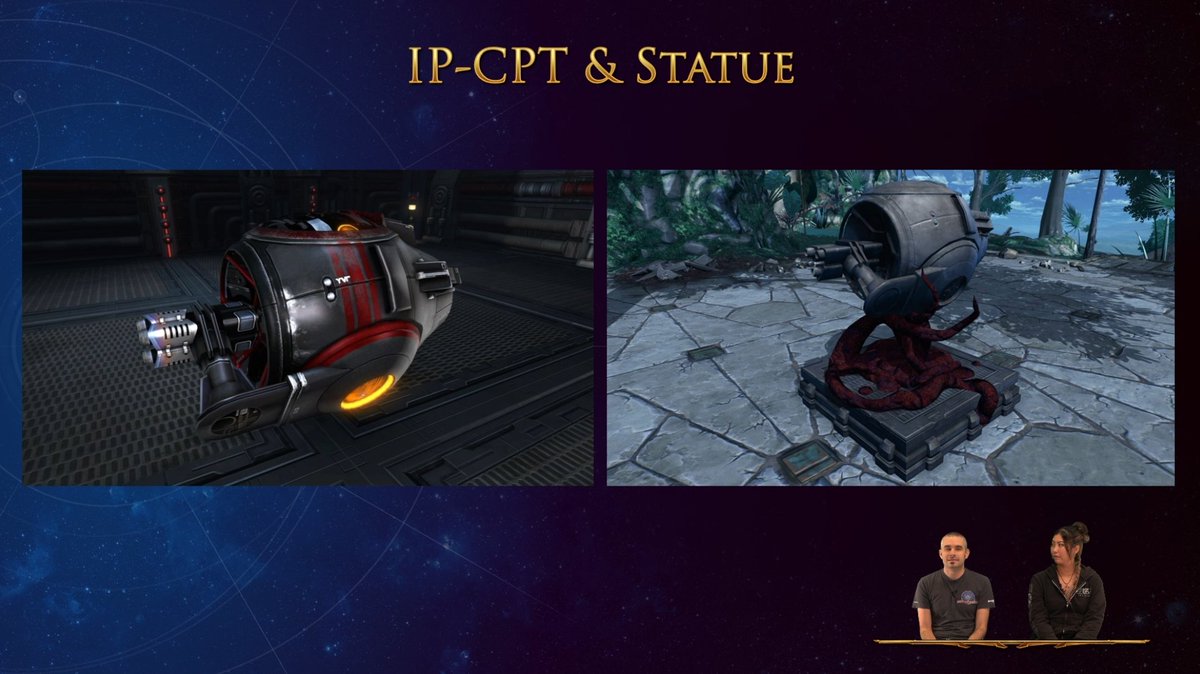 Here's the third boss and its deco. Jokes about the deco not being a statue. #SWTOR They brought the horror creep to the deco instead.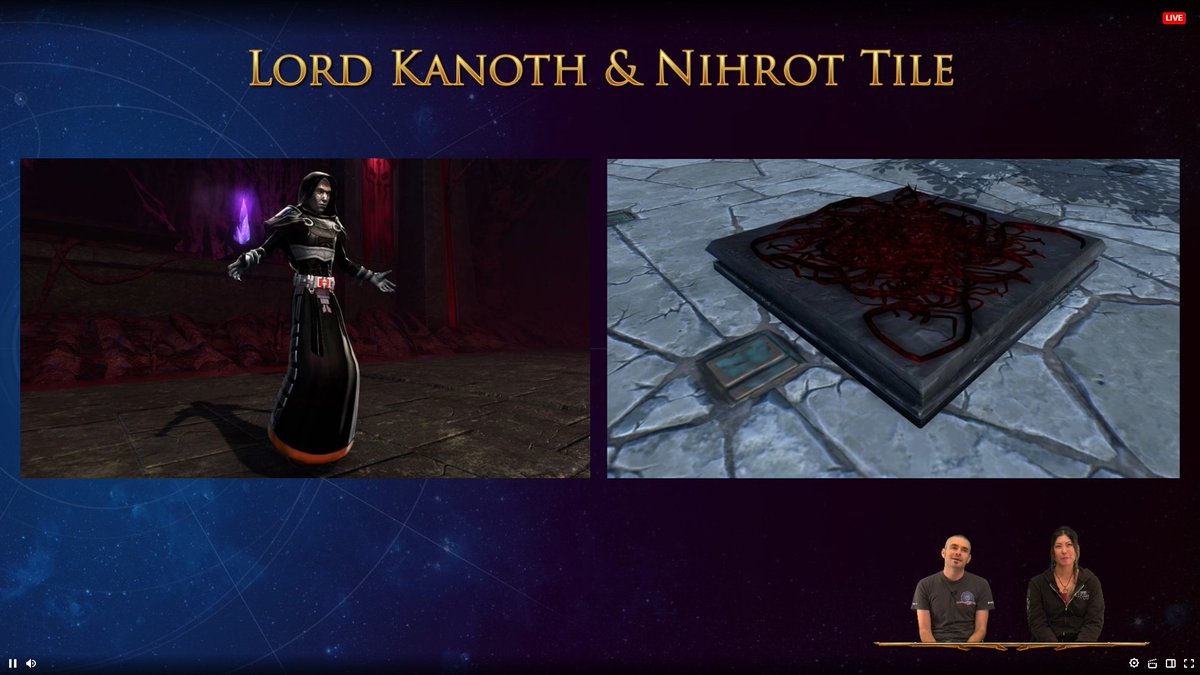 Lady Dominique is the final boss. "big step on me energy" lol. #SWTOR Shoutout the to players on the PTS who sent in feedback and VODS to help build R-4.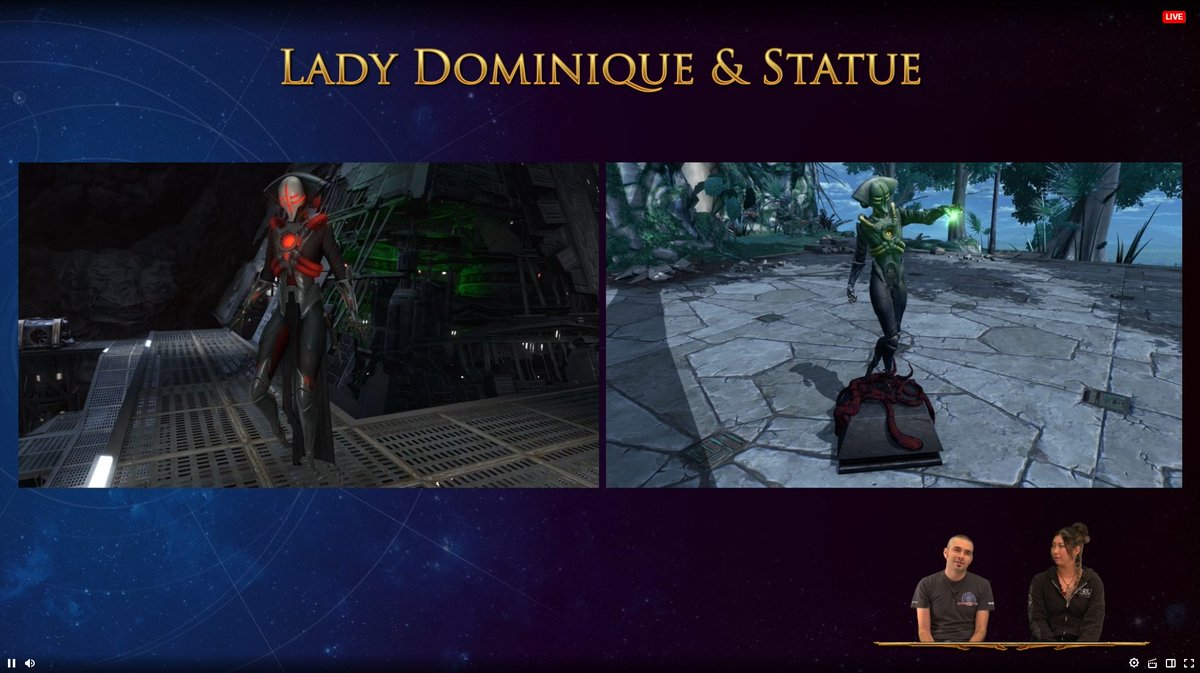 The Wings of Nihrot are a RARE DROP from Lord Kanoth. #SWTOR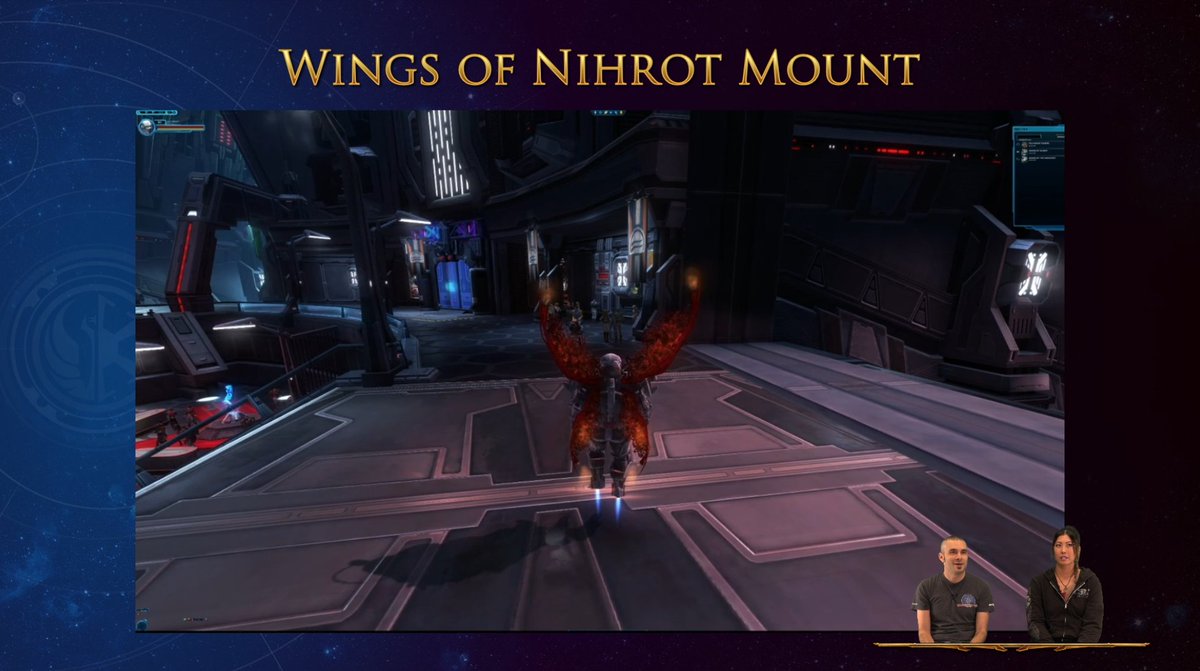 A lot of love went in the WFX and Visuals for this operation. #SWTOR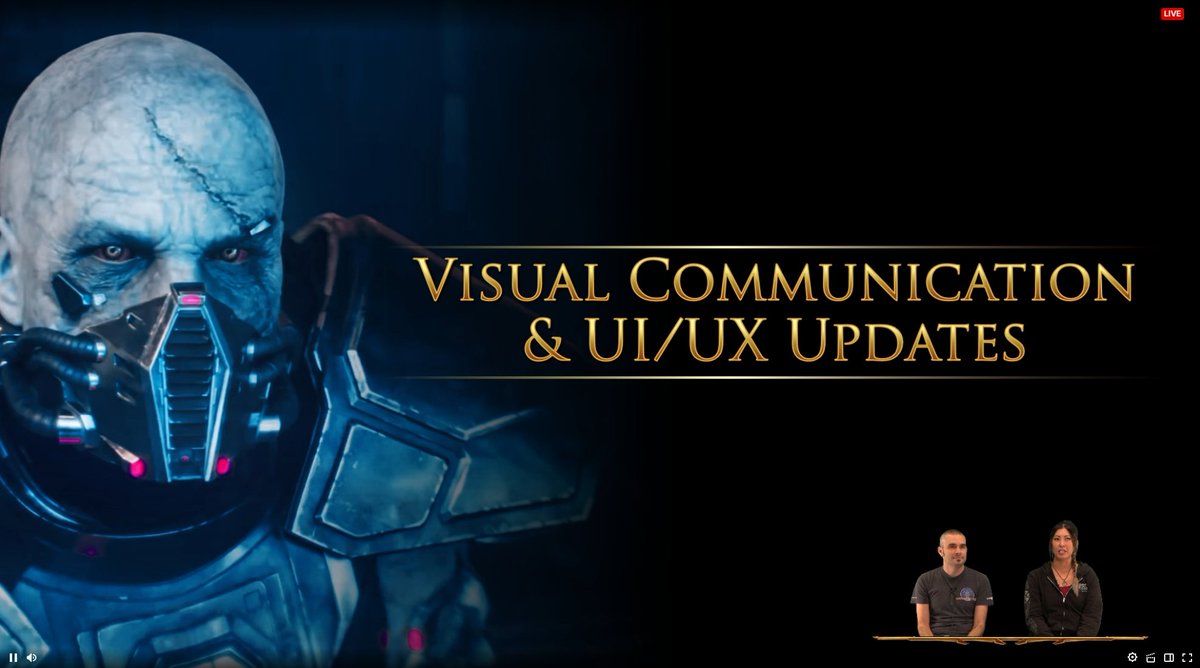 So the players could understand what was happening, and mechanics were visible without overwhelming the player. #SWTOR (I saw a lot of these improvements happening on iterations of the test server!)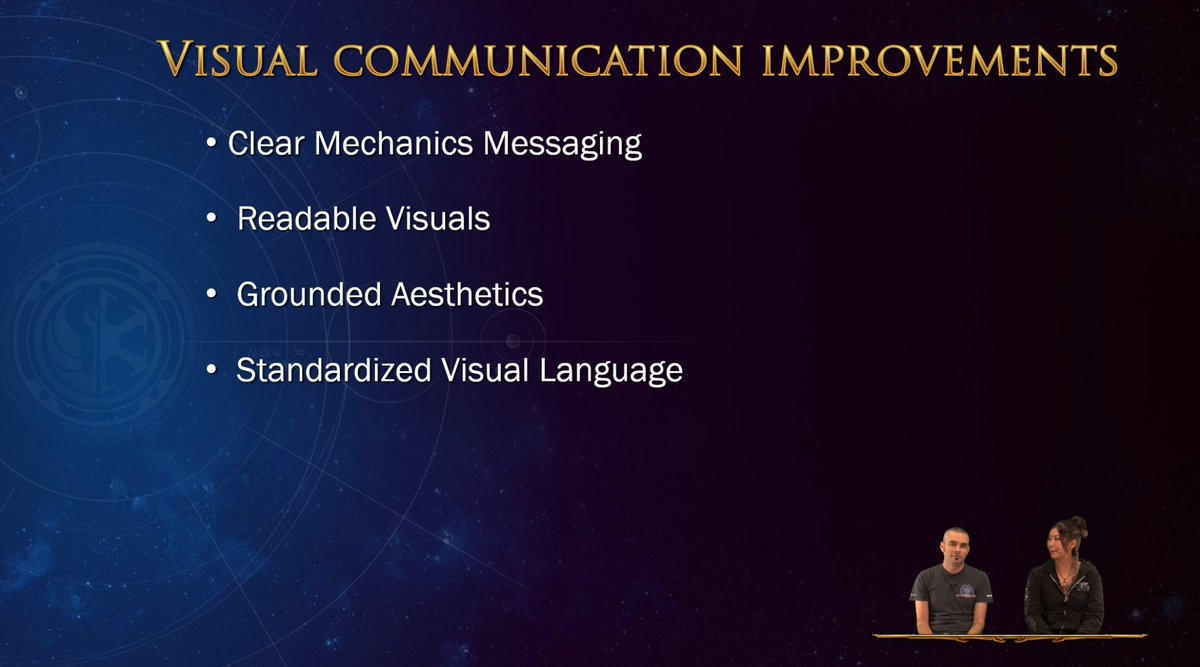 They showed off the floor hazards in the first boss as an example. #SWTOR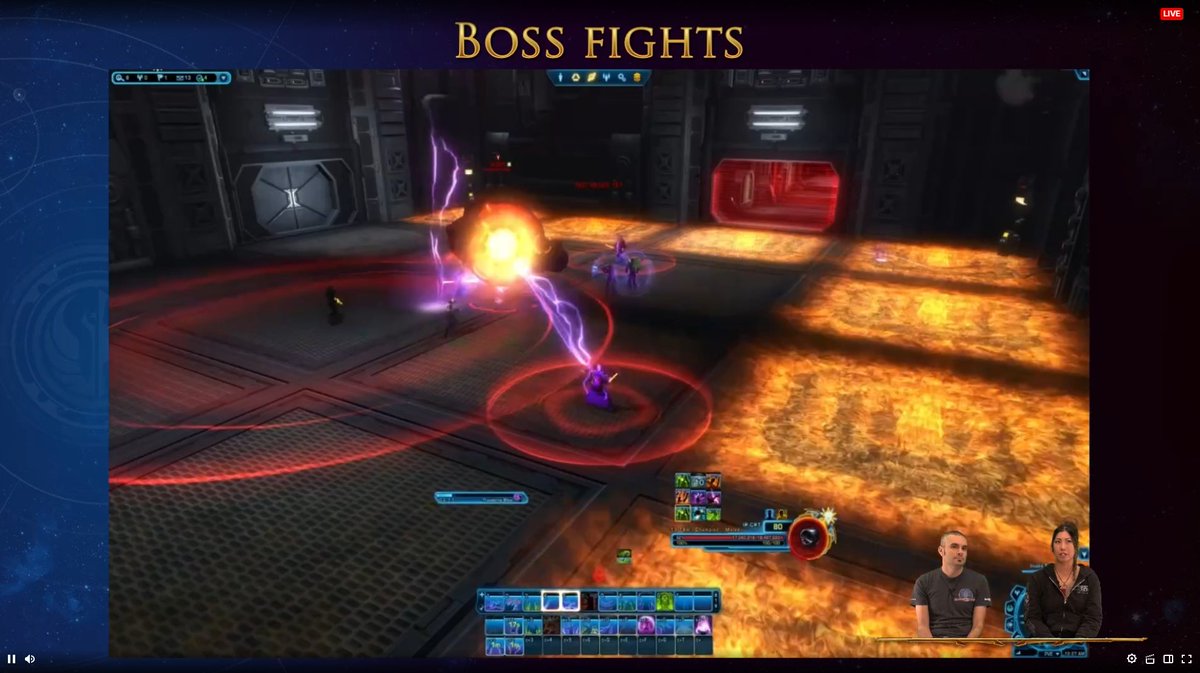 WATCH YOUR FEET! lol. #SWTOR Second boss.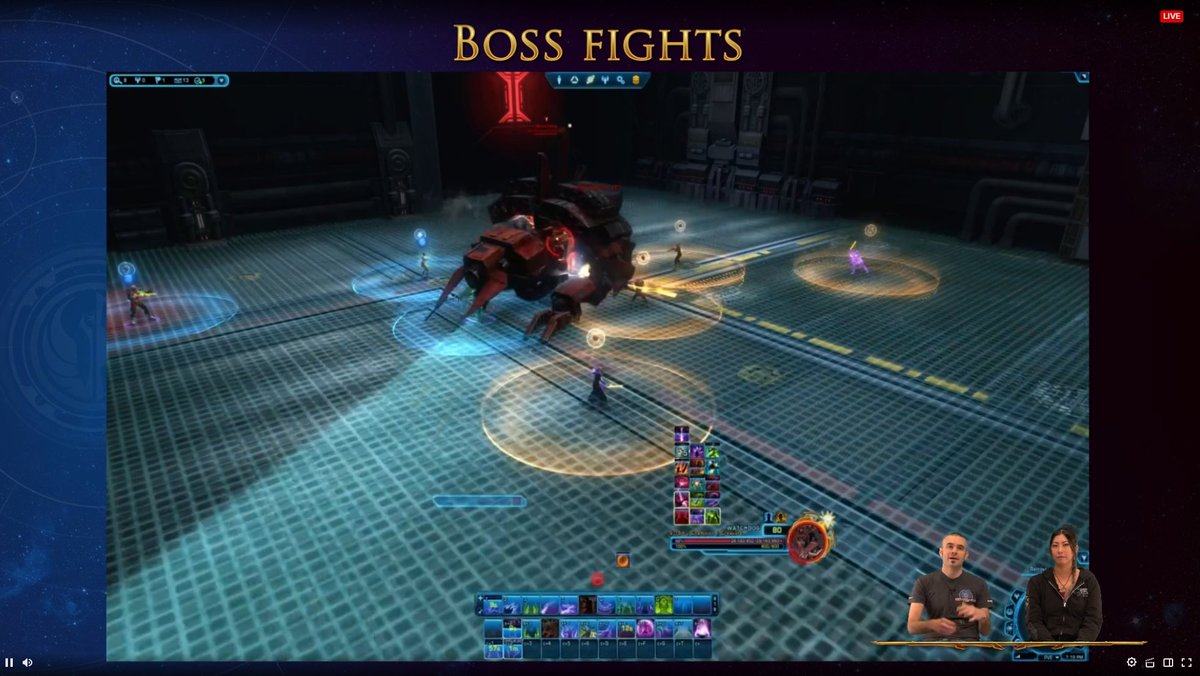 Showing off more of the "visual communications" in Lady Dominique. #SWTOR
The devs wanted to balance immersion and understanding to complete the encounter for the visual effects.
"Respect the Mechanics"!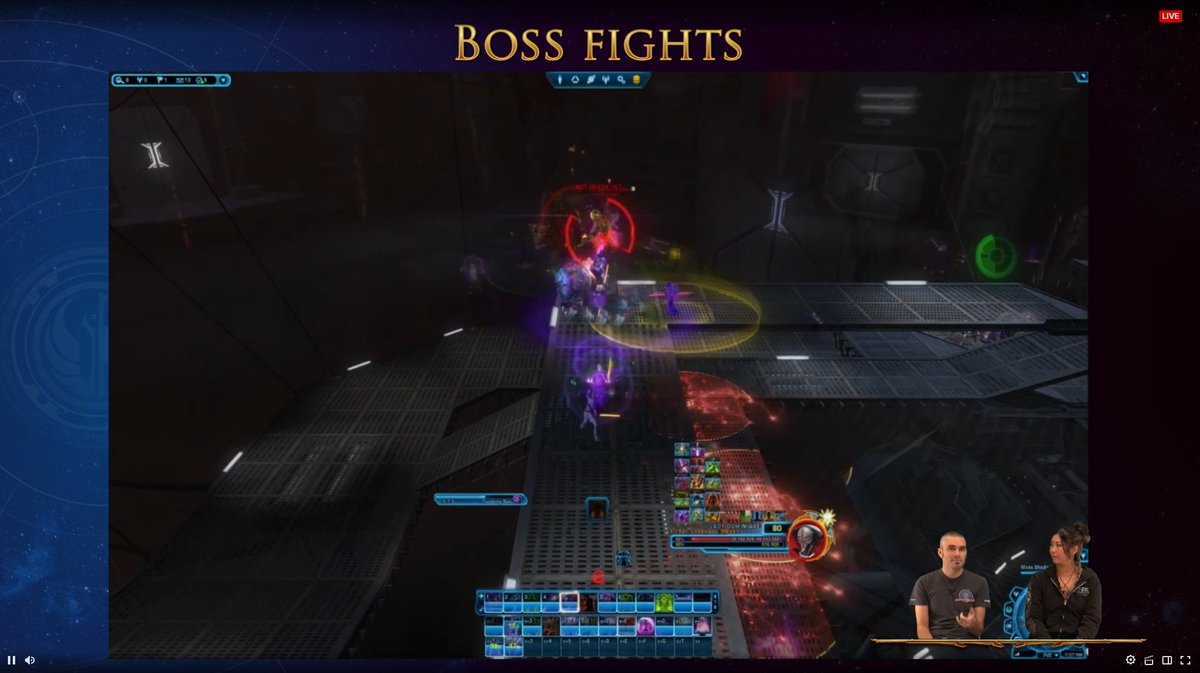 UI/UX Updates. #SWTOR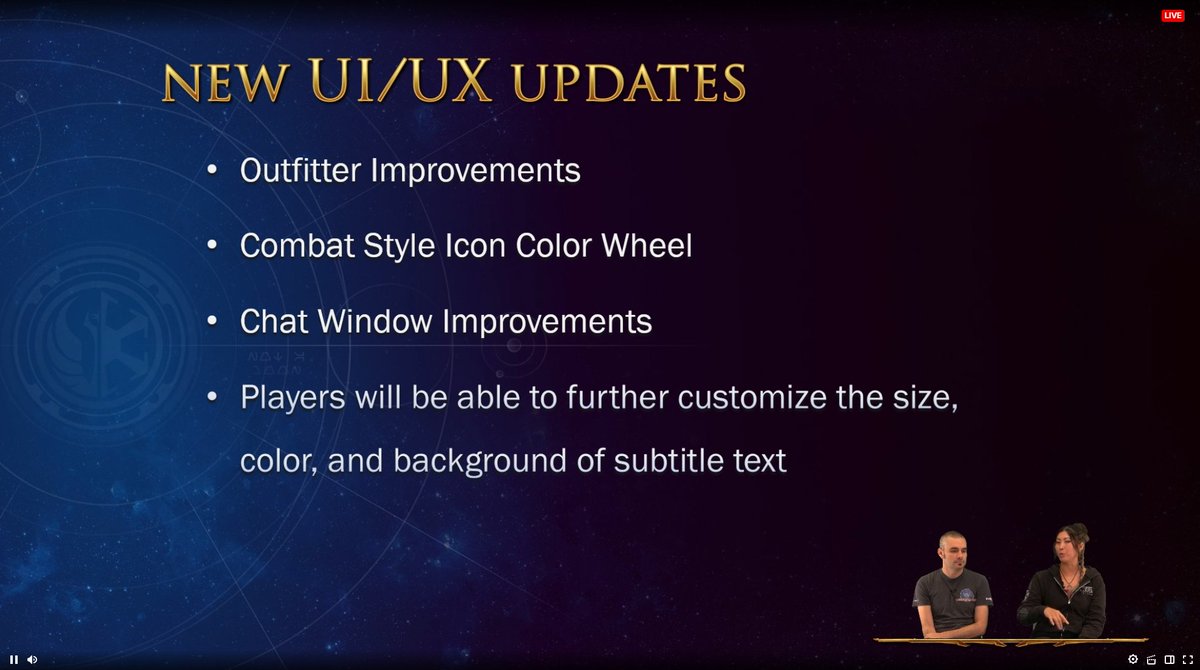 Character Outfitter now has the zoom, spin etc, like the preview window, and the outfits are easier to browse through. #SWTOR 7.1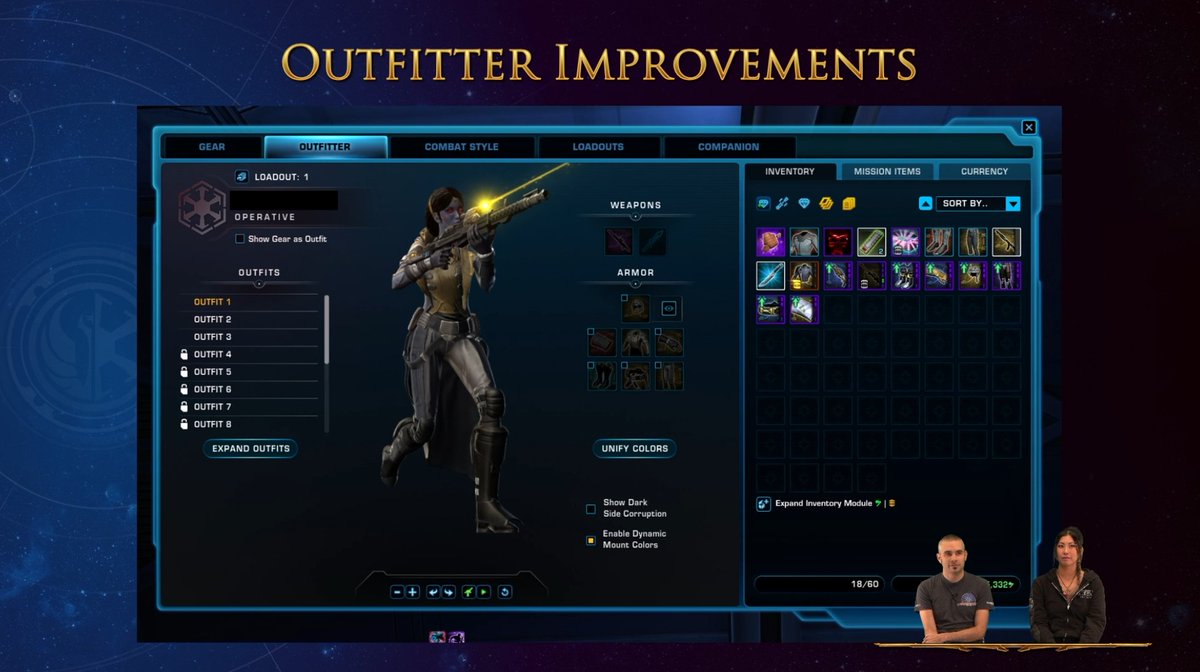 Combat Styles Icon Color Selection Wheel.
– Classic, pre-7.0 options
– Colorblind mode, protanopia or deuteranopia preset
– Or custom, pick what you want or need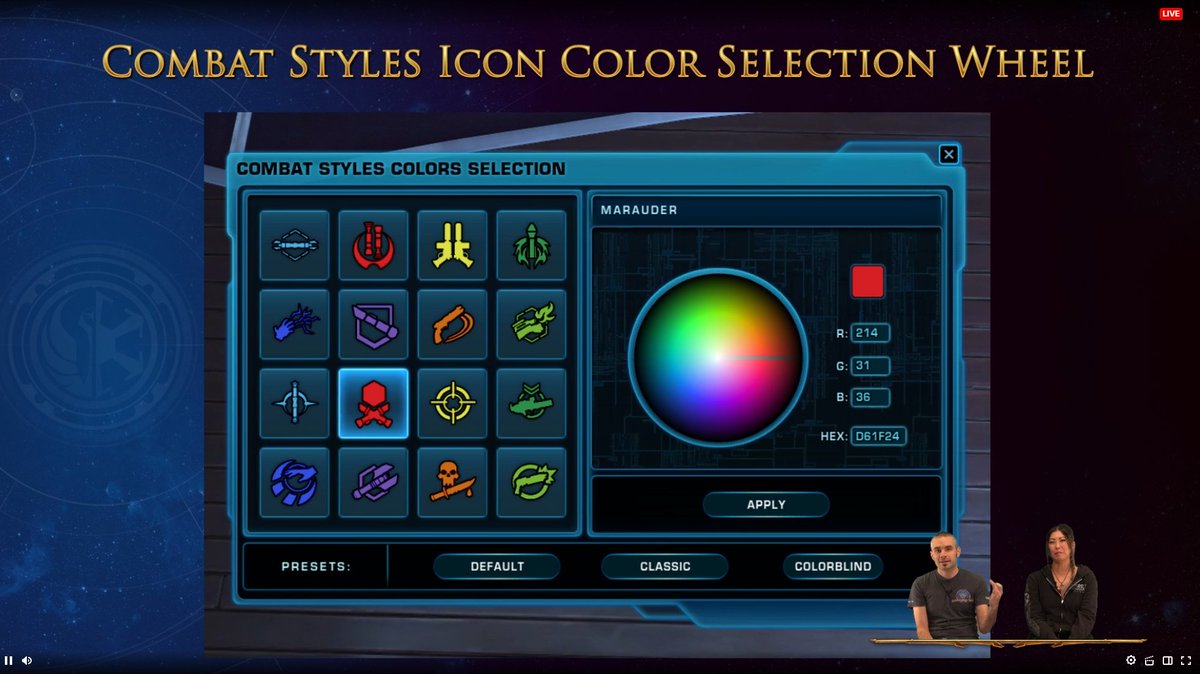 Chat Window size customization!!! in 7.1 for more accessibility #SWTOR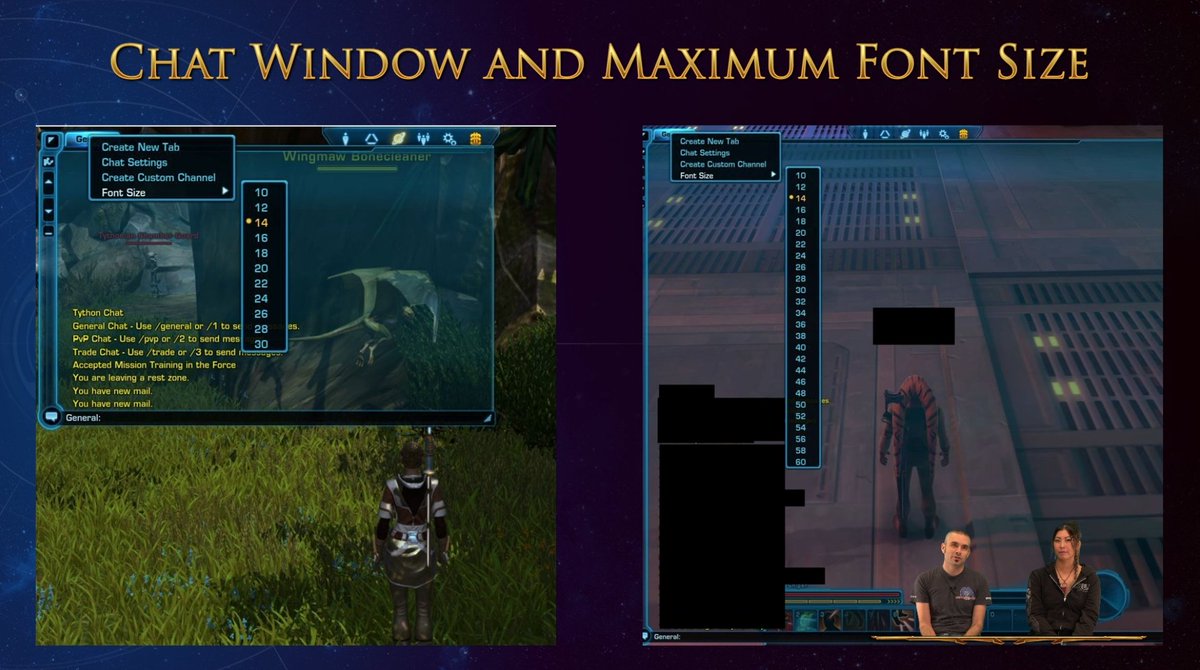 Subtitle Customization! Size increase customization and color customization! You can mkae it even bigger than this screenshot. #SWTOR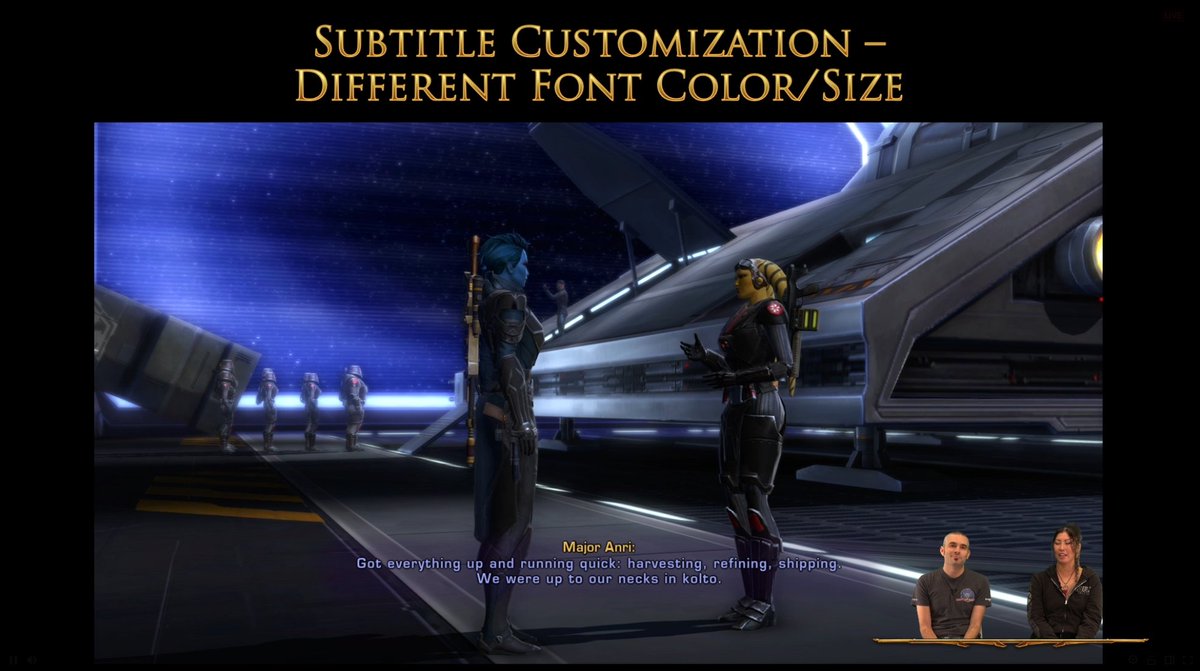 Talking for Gearing and 7.0s gearing and item-rating. #SWTOR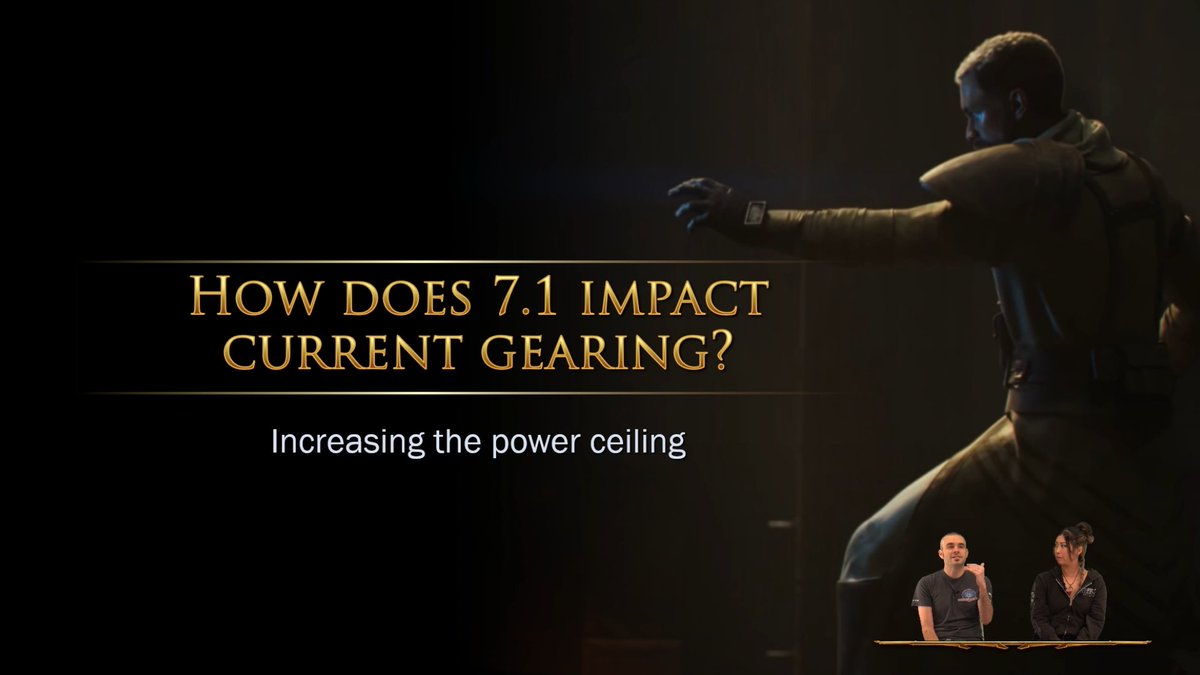 Showing off what you'll now be able to upgrade your gear to in 7.1. #SWTOR
So everyone across the board will be able to upgrade the 'ceiling' of what you can get, whether you're a solo player or ops player.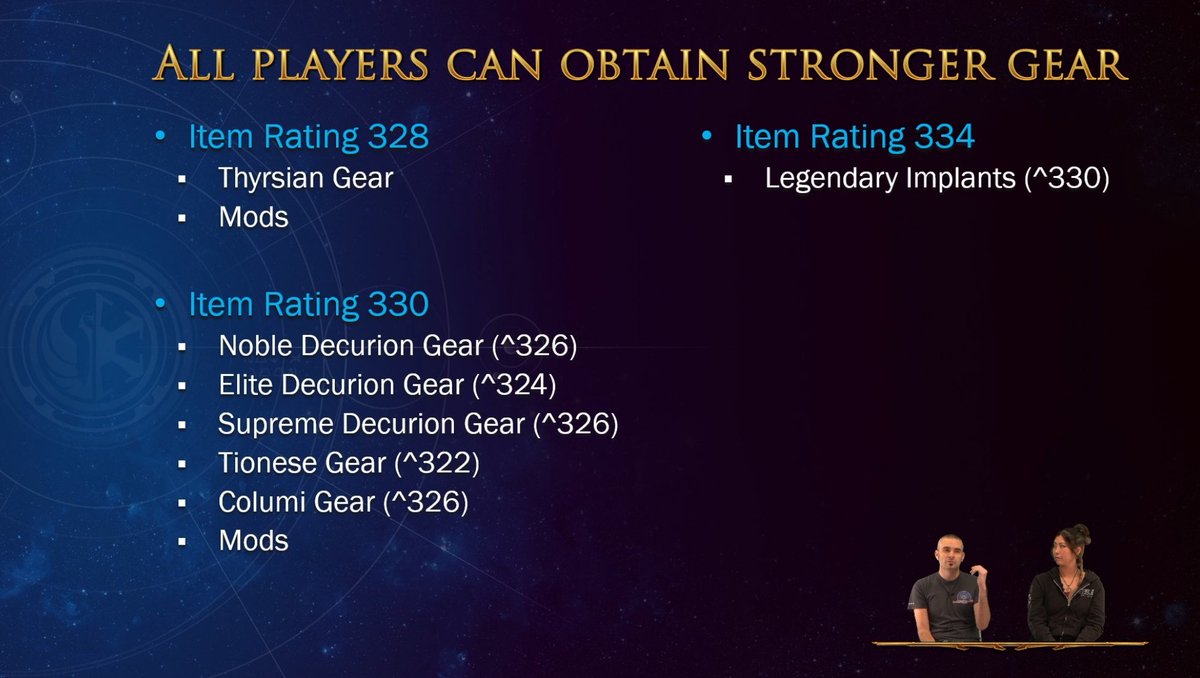 and of course these which we had seen on the forums #SWTOR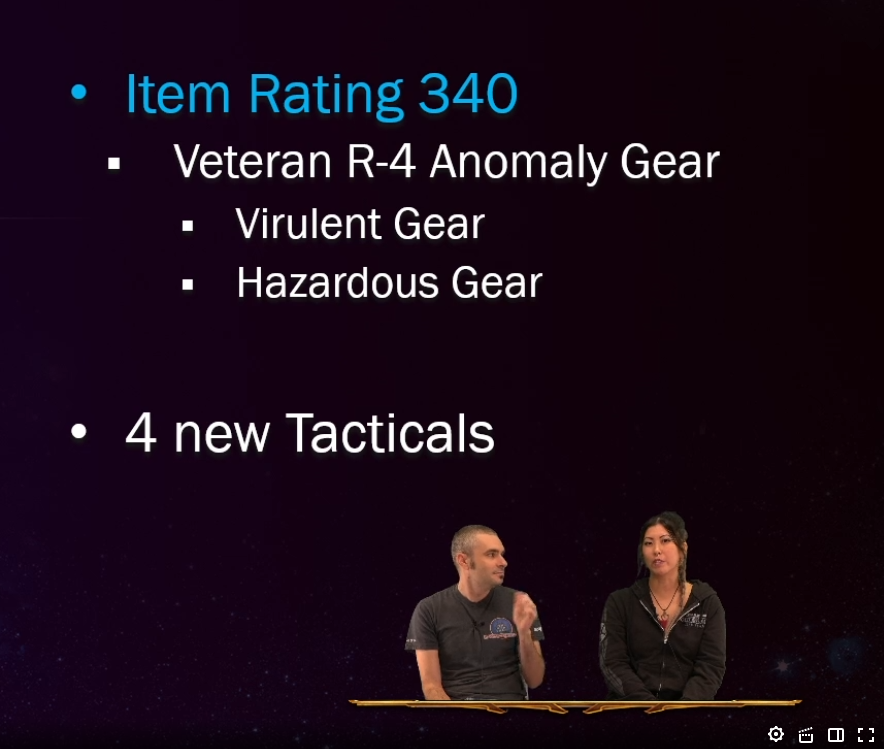 Showing off the new rewards. #SWTOR Don't forget you need to finish Legacy of the Sith (Manaan/Elom) to start the Manaan Dailies.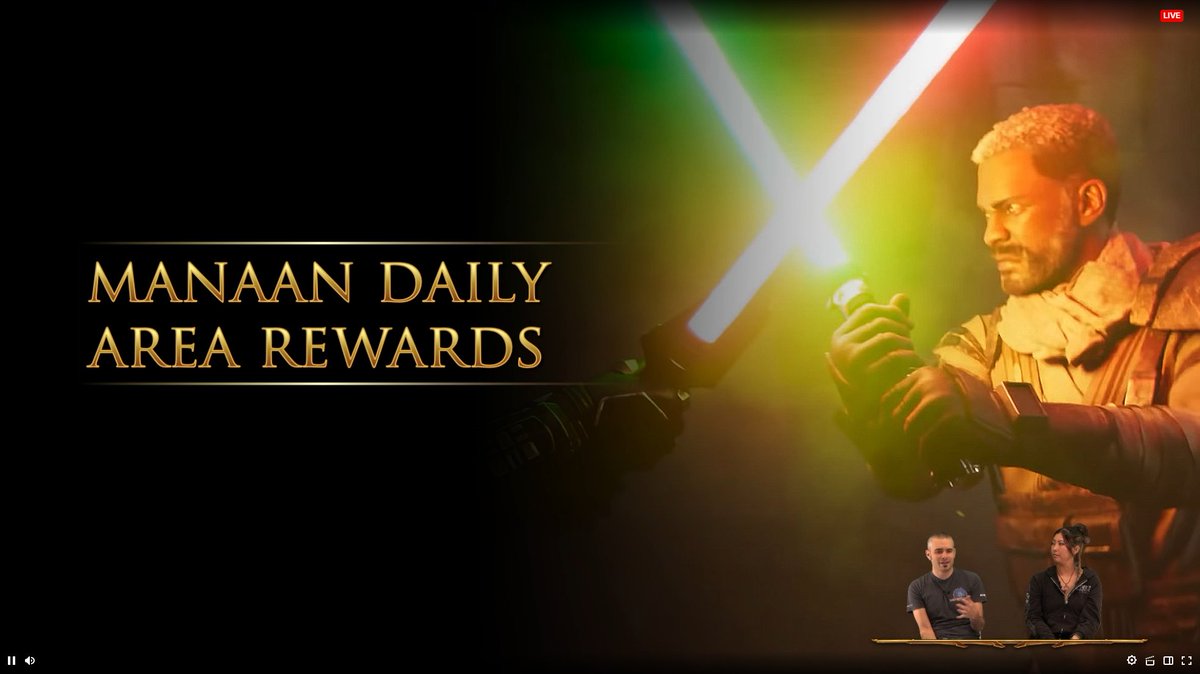 Previews of some of the new Manaan daily reward weapons. #SWTOR Here's our guide so far!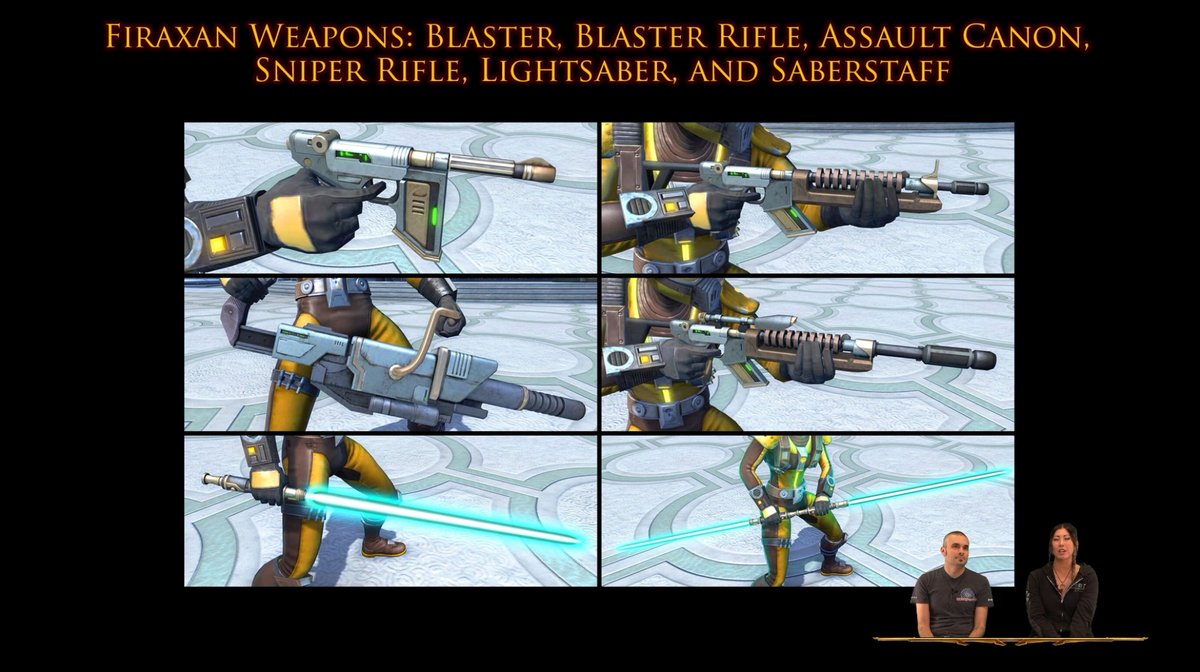 Some more manaan rewards – TURTLE! #SWTOR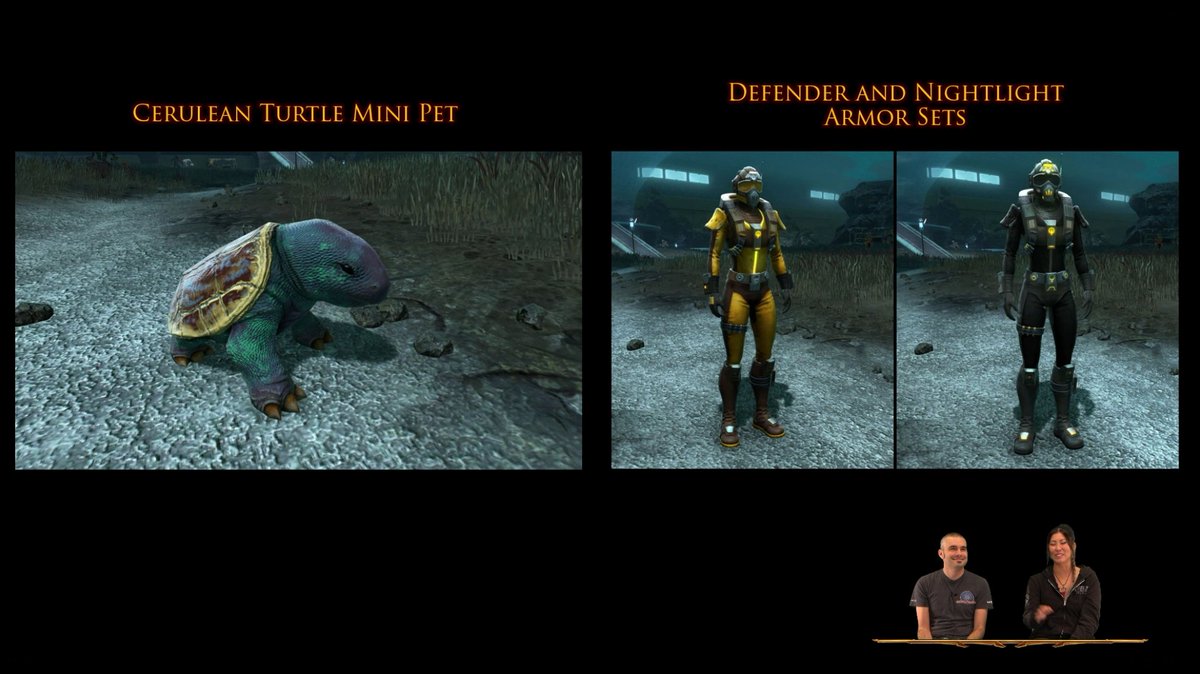 Some of the Manaan Decos. #SWTOR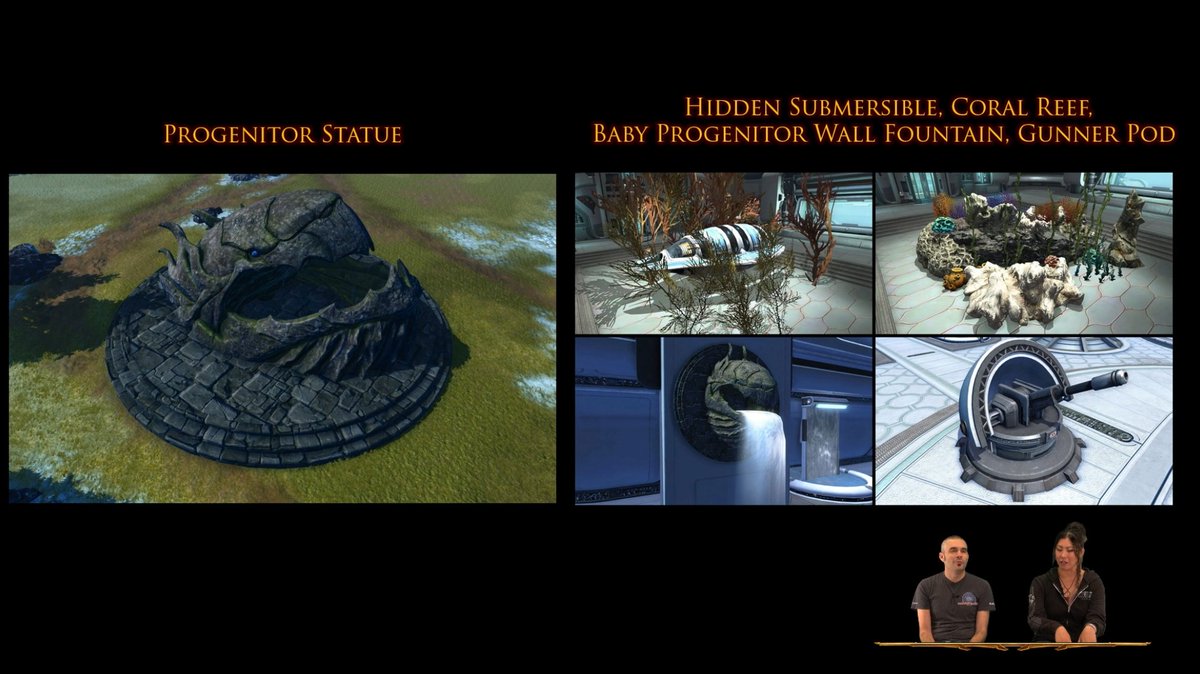 New Rewards previews #SWTOR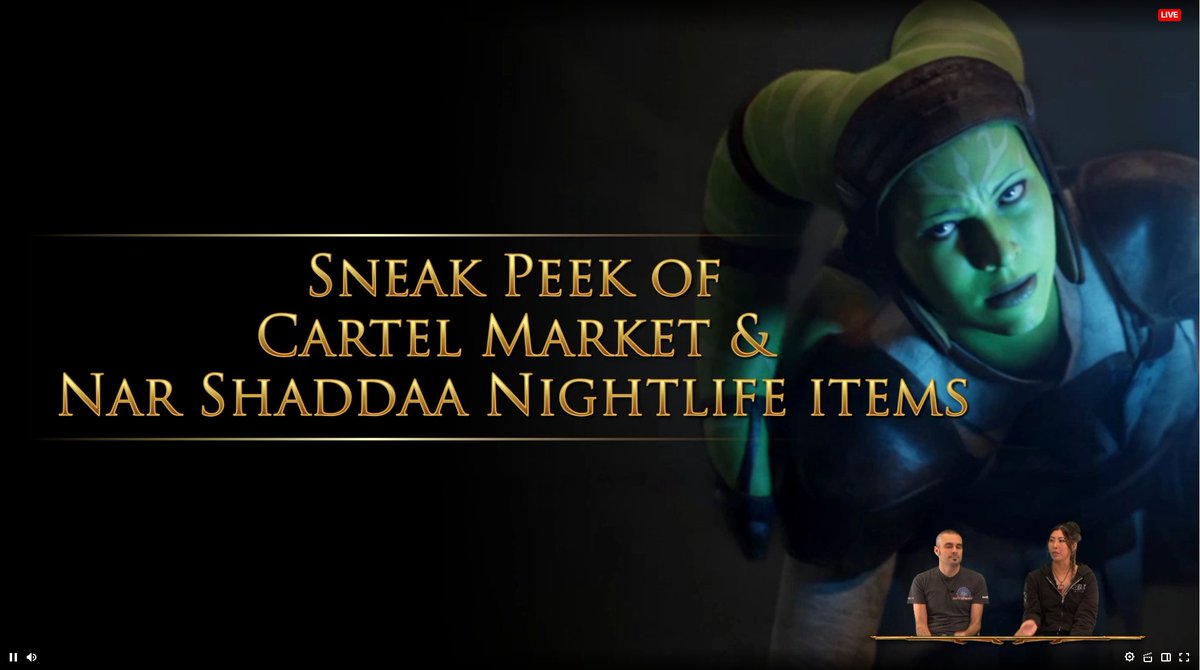 New Cartel weapons coming up, more on the way too #SWTOR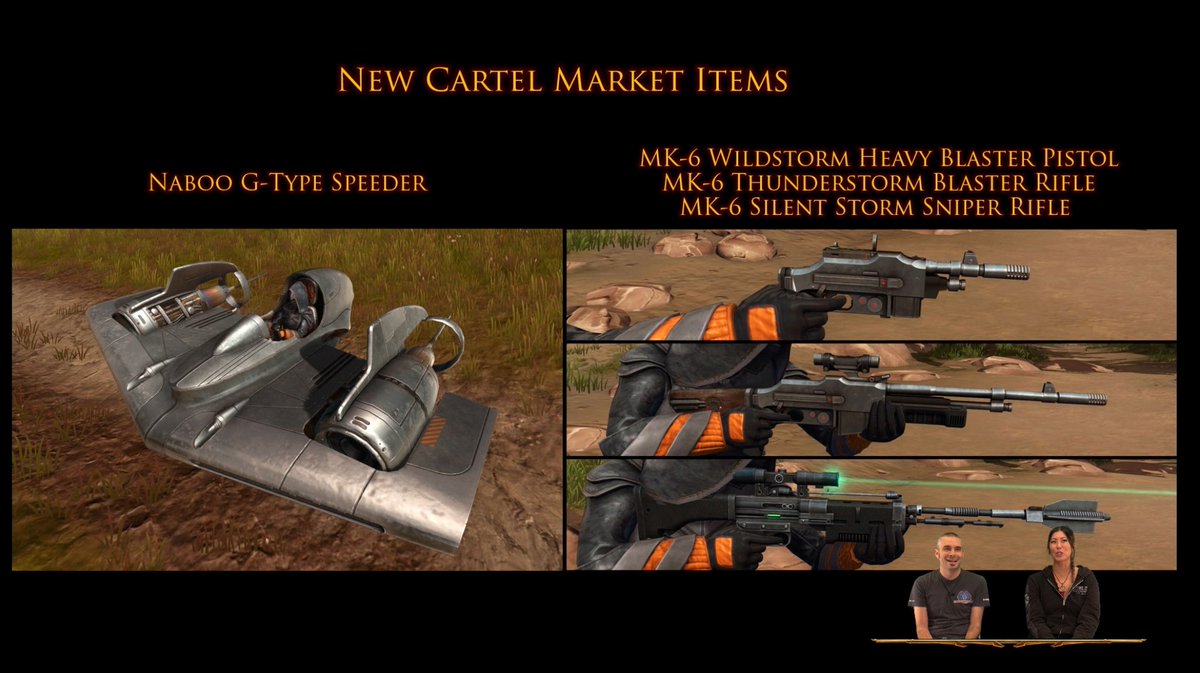 New armors in 7.1 cartel market #SWTOR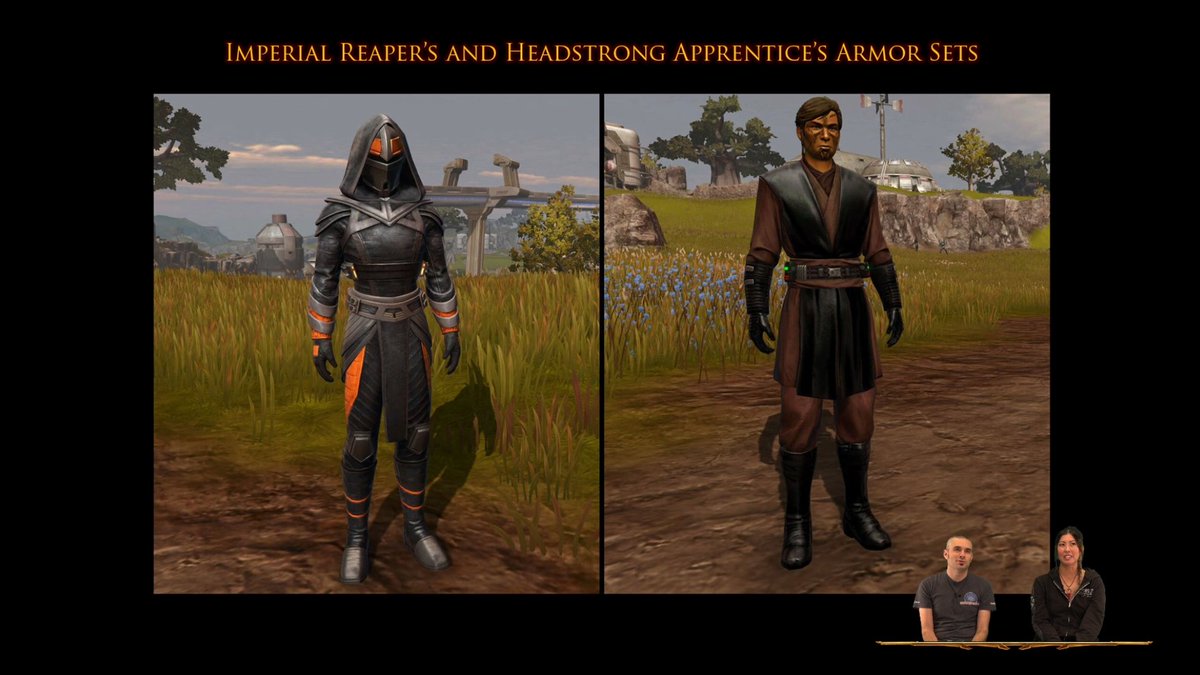 New Nar Shaddaa Nightlife rewards weapons and changes to the way they work too #SWTOR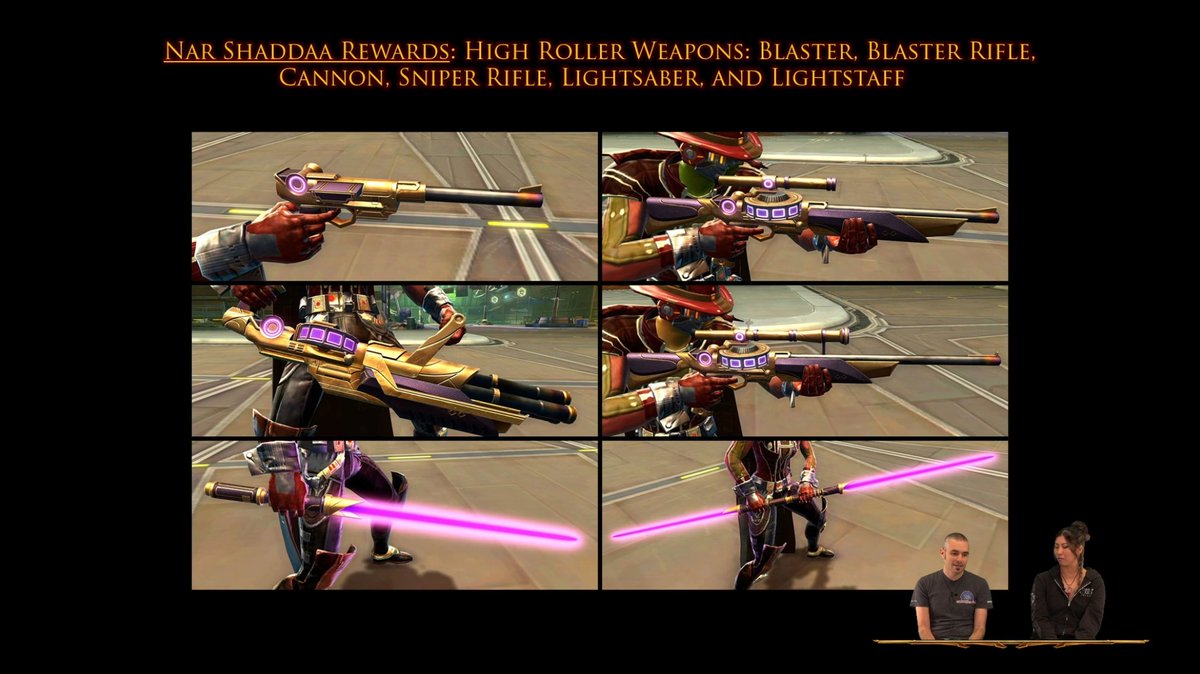 Oh! Nar Shaddaa Nightlife is dropping August 2, 2022 with 7.1 #SWTOR surprise!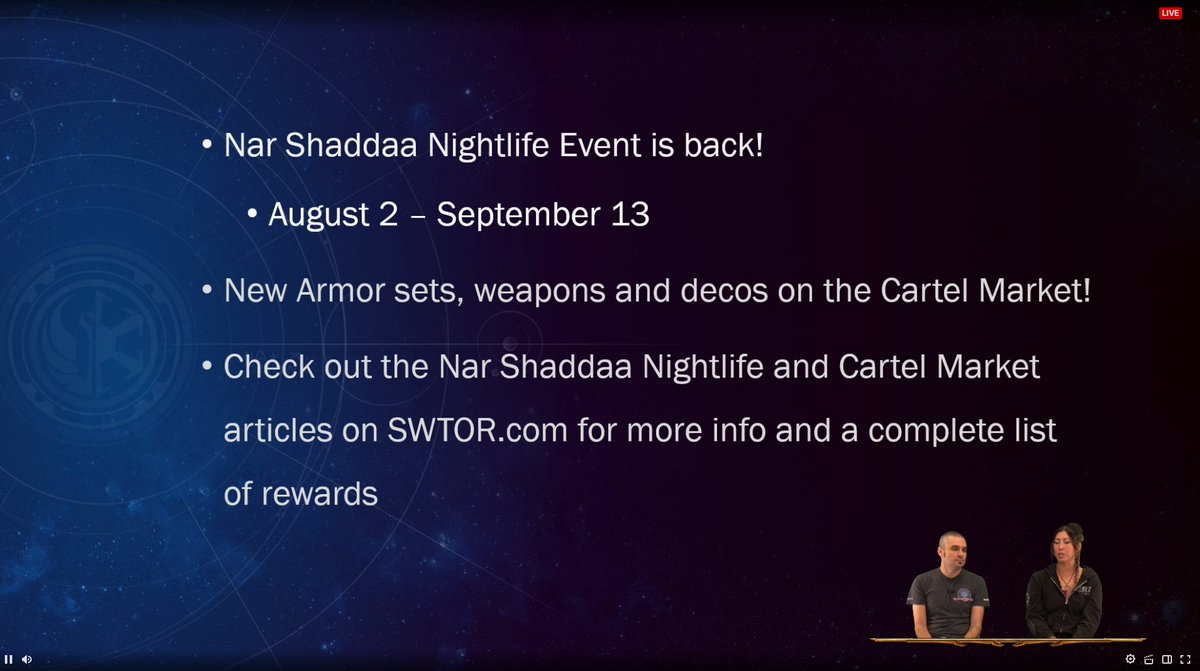 Summary of everything coming in 7.1 covered in the livestream #SWTOR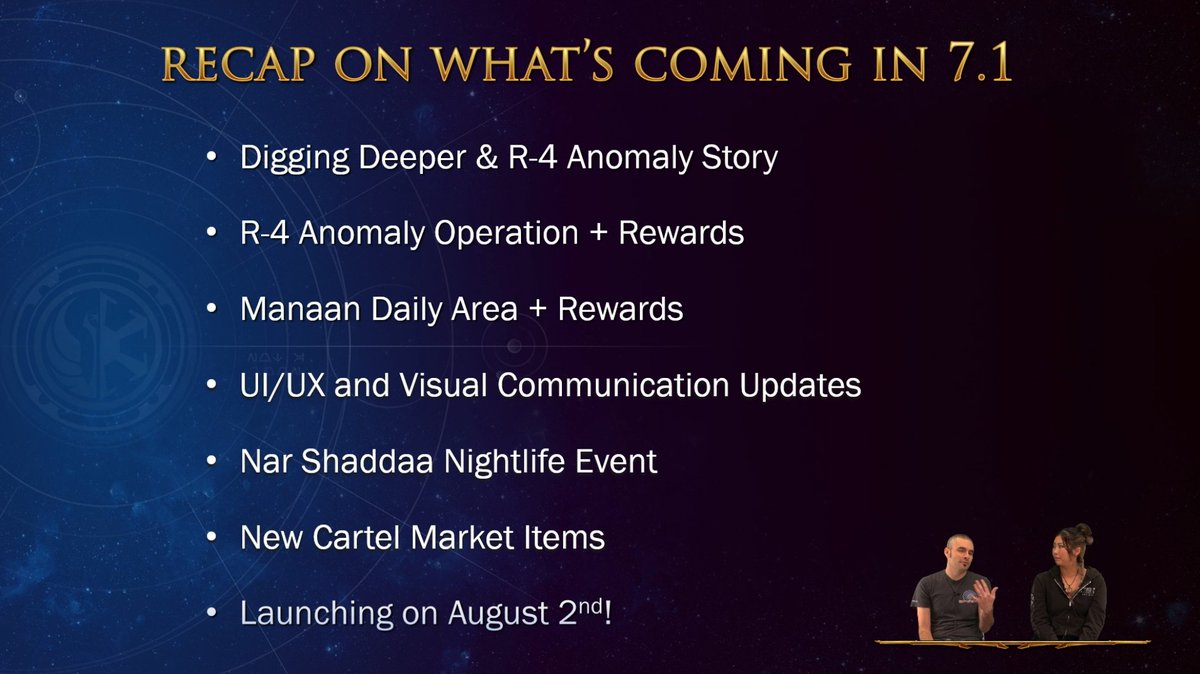 "We've probably done streams for ten years together." – Eric Musco about Charles Boyd, reminiscing #SWTOR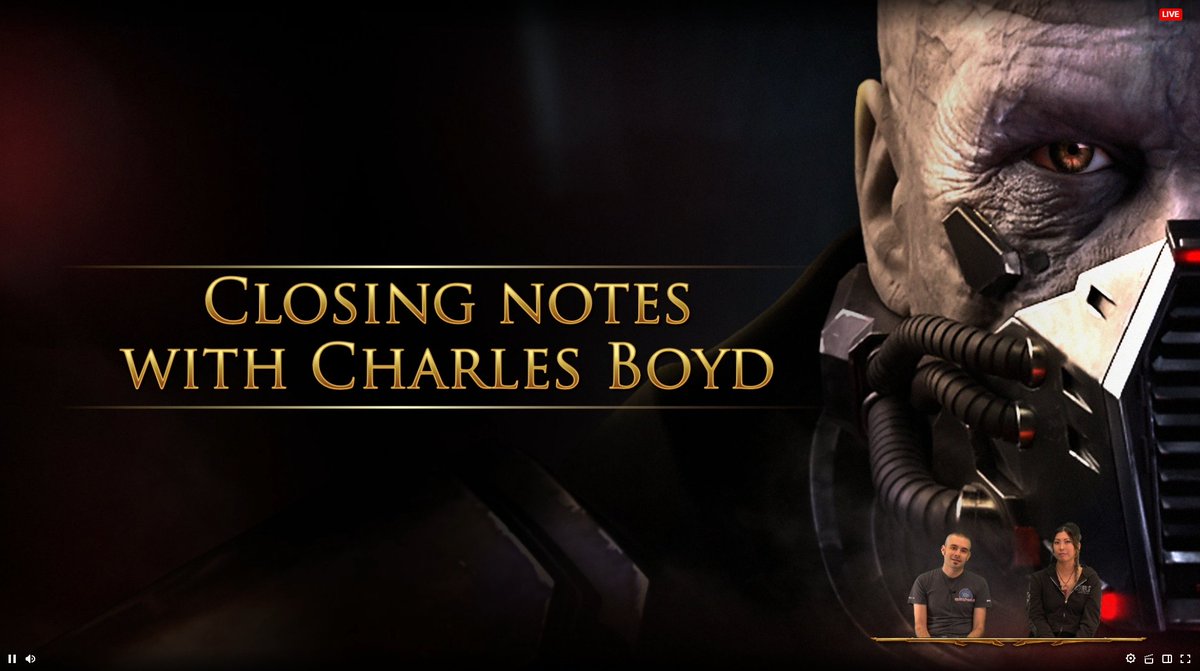 Charles Boyd talks about the future of #SWTOR:
• revamps to pvp
• improvements to outfitter
• whole new planet, completely new to Star Wars galaxy called Arunich (sp?) after 7.1
• after that more of everything
"As Malgus says, this is only the beginning."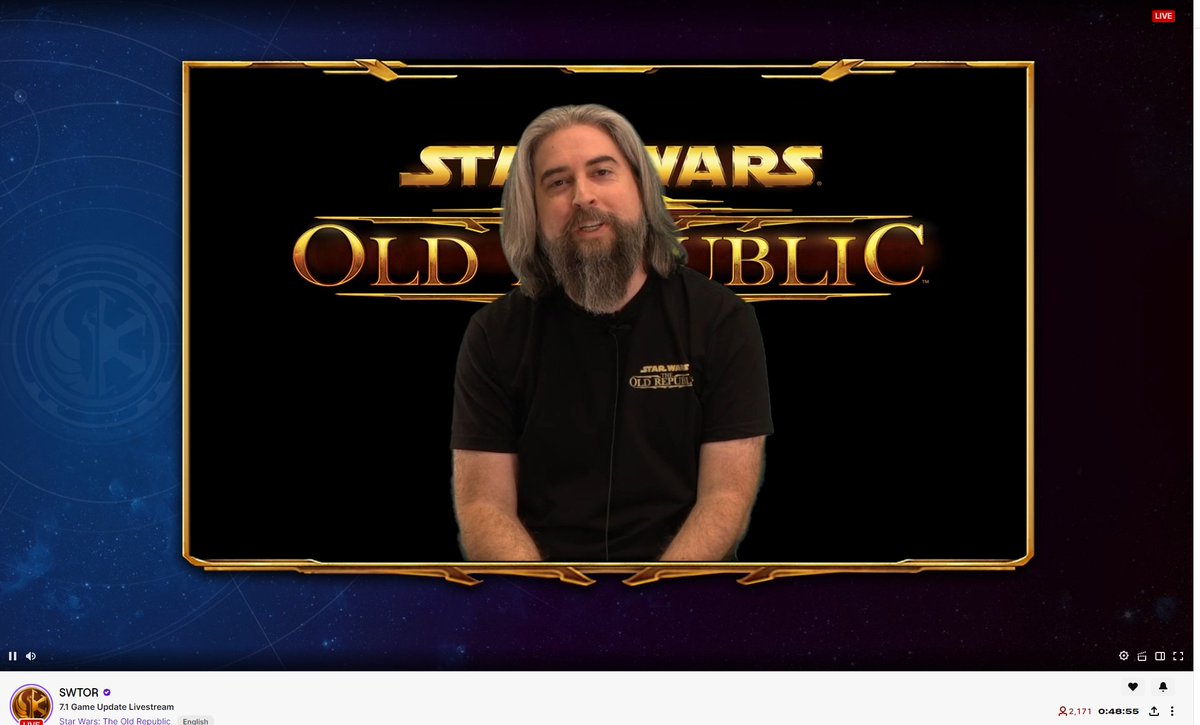 Charles says thank you to the team and the player base, and says it means so much to him. #SWTOR "I can't thank you enough, from the bottom of my heart."