Have a suggestion or correction? A volunteer can help update the website! To report an issue, go to the Swtorista Website Discord and post your report as a single message in the #report-issue channel. You will need to make a free Discord account.
Similar Armor Sets
These armors have a very similar shape to the Force Herald armor set.
Sanctified Caretaker
Omenbringer
Jedi Initiate
Galactic Command Tier 1 Armors
These armors are obtained in similar ways.
Vicious Adept
Underworld Enforcer
Ruthless Challenger
Recon Spotter
Mandalorian Enforcer
Disciplined Conscript
Devout Overseer
More Jedi Consular Armors
Tattered Ritualist's
Saber Master
Romex Force Expert's
Citadel Duelist
Citadel Bulwark
Redeemer's Harness
Martial Pilgrim's Amor Set
Citadel Force-healer
War Hero Survivor (Rated)
Defiant Onslaught MK-26 (Synthweaving) (Imperial)
Hypercloth Aegis
Shasa Adherent's
More Jedi Consular Armors
More Fancy Hat Armors
Fancy Reveler
Dark Augur's
Acolyte
Dantooine Homesteader
Stately Diplomat
Casual Connoisseur's
Emperor's Mantle
Sniper
Anointed Demicot
Ottegan Force Expert
Traditional Demicot
Resort Swimwear
More Fancy Hat Armors
More Orange Armors
The Slow Road
Frasium Asylum
Minimalist Gladiator Chestguard
War Hero Stalker
Charismatic Mandalorian's
Republic Pilot
Culling Blade
Mythosaur Hunter
War Hero War Leader
Experimental Pilot Suit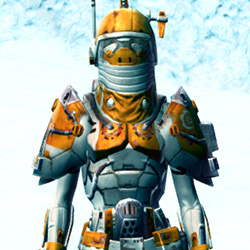 Hazardous Recon
CorSec
More Orange Armors
Outfit Database ID: 1589 - Added: 2018-12-08 22:15:02 - Opposite: 0 - Identical: 0 - Similar: 1121
Like this

guide?Pledge to support Swtorista videos, guides and lists!
✚ Support with Patreon
✚ Support with YouTube
✚ Support with Twitch
In return, get:
Discord Chat
50+ Lore Audio Readings
Ensure future of guides!