Have a suggestion or correction? A volunteer can help update the website! To report an issue, go to the Swtorista Website Discord and post your report as a single message in the #report-issue channel. You will need to make a free Discord account.
Similar Armor Sets
These armors have a very similar shape to the Deadeye armor set.
RD-07A Vendetta
Galactic Command Crate Tier 4 Armors
These armors are obtained in similar ways.
Ardent Warden
Devious Outlaw
Frenzied Instigator
Frontline Mercenary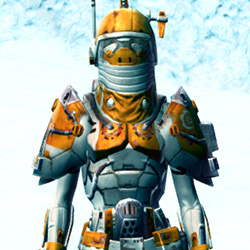 Hazardous Recon
Majestic Augur
Omniscient Master
More Imperial Agent Armors
Sniper
Enhanced Surveillance
Casual Connoisseur's
Concealed Bodysuit
Wayward Voyager
CZ-27K Stealth Ops Suit
Spec Ops
Sniper Elite
Advanced Slicer
Remnant Dreadguard Agent
Revealing Bodysuit
Nightlife Operative's
More Imperial Agent Armors
More Goggles Armors
Eternal Brawler Duelist's
Mercenary
Intelligence Officer
Repositioning
Calo Nord's
Rim Runner
Discharged Infantry
Agent's Renowned
Remnant Yavin Smuggler
Port Nowhere Mobster's
Dashing Rogue
Outlaw's
More Goggles Armors
More Gray Armors
Eternal Commander MK-3 Warleader
Core Miners
Synthleather Jacket (Imperial)
Titanium Asylum
Scout Trooper
Dark Initiate's Robe
Emperor's Mantle
Eternal Commander MK-15 Vindicator
Series 510 Cybernetic
Sith Hermit's
Bantha Hide
Timberland Scout
More Gray Armors
More Light Pants Armors
Mercenary Elite
Thermal Retention
Imperial Cadet's
TD-07A Panther
Rakata Enforcer (Rep)
Reaver's
Resourceful Engineer's
Underworld Instigator's
Scout
Redeemer's Harness
Citadel Pummeler
Mullinine Asylum
More Light Pants Armors
Outfit Database ID: 1610 - Added: 0000-00-00 00:00:00 - Opposite: 0 - Identical: 0 - Similar: 1610
Like this

guide?Pledge to support Swtorista videos, guides and lists!
✚ Support with Patreon
✚ Support with YouTube
✚ Support with Twitch
In return, get:
Discord Chat
50+ Lore Audio Readings
Ensure future of guides!