Have a suggestion or correction? A volunteer can help update the website! To report an issue, go to the Swtorista Website Discord and post your report as a single message in the #report-issue channel. You will need to make a free Discord account.
Similar Armor Sets
These armors have a very similar shape to the Deadeye armor set.
RD-07A Vendetta
Galactic Command Crate Tier 4 Armors
These armors are obtained in similar ways.
Ardent Warden
Devious Outlaw
Frenzied Instigator
Frontline Mercenary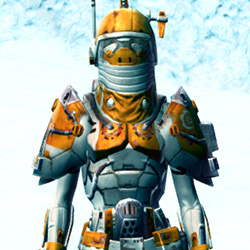 Hazardous Recon
Majestic Augur
Omniscient Master
More Imperial Agent Armors
Agile Reconnaissance's
Eternal Conqueror Targeter
Terenthium Onslaught
Trimantium Onslaught
Deep Cover Operative's
Fortified Lacqerous
Scout
Lone-Wolf
Polyplast Ultramesh
Classic Spymaster's Auxiliary
Voltaic Vandal
Casual Vandal
More Imperial Agent Armors
More Goggles Armors
Reinforced Phobium
Calo Nord's
Eternal Brawler Duelist's
Guardian's Exalted
Agent's Exalted
Veda Force Expert's
Plasteel Battle
Resourceful Engineer's
Frontline Slicer
Dust Viper Bandit's
Dynamic Sleuth
Smuggler's Exalted
More Goggles Armors
More Gray Armors
Rodian Flame Force Expert
Trailblazer's
Outlander Maverick's
MA-44 Combat
Veda Force Expert's
Intelligence Officer
Titanium Onslaught
CZ-13K Guerrilla
Berserker
Blade Tyrant
Agent's Renowned
Mandalorian Clansman's
More Gray Armors
More Light Pants Armors
Exposed Extrovert
Elegant Loungewear
Debilitator
Tionese Field Medic (Rep)
Exiled Knight's
Overwatch Officer
Remnant Arkanian Agent
Defiant Onslaught MK-26 (Armormech) (Republic)
Onderonian Duelist
Eternal Commander MK-15 Combat Medic
Temple Guardian
Tionese Combat Medic (Rep)
More Light Pants Armors
Outfit Database ID: 1610 - Added: 0000-00-00 00:00:00 - Opposite: 0 - Identical: 168 - Similar: 1610
Like this

guide?Pledge to support Swtorista videos, guides and lists!
✚ Support with Patreon
✚ Support with YouTube
✚ Support with Twitch
In return, get:
Discord Chat
50+ Lore Audio Readings
Ensure future of guides!