Have a suggestion or correction? A volunteer can help update the website! To report an issue, go to the Swtorista Website Discord and post your report as a single message in the #report-issue channel. You will need to make a free Discord account.
Galactic Command Crate Tier 2 Armors
These armors are obtained in similar ways.
Agile Sharpshooter
Concealed Hunter
Cunning Vigilante
Dark Praetorian
Savage Despot
Stately Diplomat
Unbreakable Defender
Veteran Infantry
More Trooper Armors
Citadel Med-tech
Czerka Security
Holoshield Trooper
Quadranium Asylum
Makeb Assault
Frontline Scourge
Battlemaster Combat Medic
Diatium Onslaught
Exarch Asylum MK-26 (Synthweaving)
Shield Warden
Forward Recon
Havoc Squad Specialist's
More Trooper Armors
More Plated Leg Armor Armors
Ciridium Asylum
RD-17A Phalanx
Enhanced Assailant's
Battlefield Commander's
Battlemaster Eliminator
Outlander Fixer's
Battlemaster Combat Tech
Remnant Resurrected Knight
Quadranium Asylum
Frenzied Zealot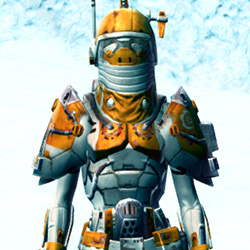 Hazardous Recon
War Hero Combat Medic
More Plated Leg Armor Armors
More Orange Armors
Horizon's Razor
War Hero Combat Medic (Rated)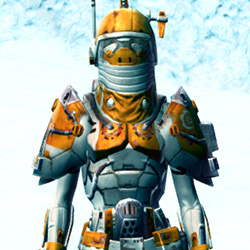 Hazardous Recon
Citadel Mender
Ardent Warden
Imperial Containment Officer
Reinforced Diatium
Force Herald
Frasium Asylum
War Hero Enforcer (Rated)
Republic Pilot
Experimental Pilot Suit
More Orange Armors
Outfit Database ID: 1600 - Added: 0000-00-00 00:00:00 - Opposite: 0 - Identical: 0 - Similar: 0
Like this

guide?Pledge to support Swtorista videos, guides and lists!
✚ Support with Patreon
✚ Support with YouTube
✚ Support with Twitch
In return, get:
Discord Chat
50+ Lore Audio Readings
Ensure future of guides!