Similar Armor Sets
These armors have a very similar shape to the Energized Infantry armor set.
TD-17A Colossus
Trooper's Exalted
Stalwart Protector
Galvanized Infantry
Ironclad Soldier
Tactical Infantry
Diatium Onslaught
Lacqerous Mesh
Ciridium Asylum
More Trooper Armors
Xonolite Asylum
Holoshield Trooper
Concentrated Fire
Seasoned Professional's
Battlemaster Supercommando
Defiant Asylum MK-16 (Armormech)
Exarch Asylum MK-26 (Synthweaving)
Forward Recon
Snowtrooper's
Electrum Onslaught
Stationary Grit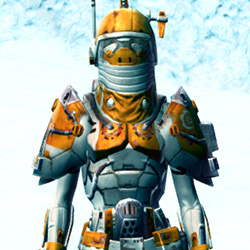 Hazardous Recon
More Trooper Armors
More Animated Armors
Battleworn Engineer's
Overloaded Interrogator
Escape Artists
Potent Champion
Battlefield Technician's
Dynamic Sleuth
Righteous Mystic
Righteous Harbinger
Energetic Champion
Dread Mystic
Voltaic Vandal
Enigmatic Hero's
More Animated Armors
More Plated Leg Armor Armors
Volatile Shock Trooper
Republic Huttball Away Uniform
Rotworm Huttball Home Uniform
Battlemaster Eliminator
Remnant Dreadguard Trooper
RD-17A Hellfire
Contract Hunter (alternate)
Classic Conservator's
Remnant Resurrected Bounty Hunter
Conservator's
Ruthless Commander
Revanite Vindicator's
More Plated Leg Armor Armors
More Orange Armors
Horizon's Razor
GSI Infiltration
War-Forged MK-0 (Armormech)
Guardian's Renowned
Hadrium Asylum
THORN Epicenter (Red)
War Hero Field Medic (Rated)
Citadel Mender
The Slow Road
Republic Pilot
Force Herald
Citadel Targeter
More Orange Armors
More White Armors
Remnant Dreadguard Inquisitor
White Scalene
Trooper's Renowned
Remnant Resurrected Consular
Zakuulan Preserver's
Traditional Demicot
Trimantium Asylum
Lab Technician
Seasoned Professional's
Rodian Flame Force Expert
Eternal Commander MK-15 Force-Mystic
Galvanized Manhunter
More White Armors
Outfit Database ID: 888 - Added: 0000-00-00 00:00:00 - Opposite: 0 - Identical: 0 - Similar: 641
Like this

guide?Pledge to support Swtorista videos, guides and lists!
✚ Support with Patreon
✚ Support with YouTube
✚ Support with Twitch
In return, get:
Discord Chat
50+ Lore Readings
Ensure future of guides!
✚ Support with Merch
Sci-fi & Fantasy inspired pins
Real-life collector items
Beautiful, check!