Have a suggestion or correction? A volunteer can help update the website! To report an issue, go to the Swtorista Website Discord and post your report as a single message in the #report-issue channel. You will need to make a free Discord account.
Similar Armor Sets
These armors have a very similar shape to the Omniscient Master armor set.
Feral Visionary
Death Knell
Galactic Command Crate Tier 4 Armors
These armors are obtained in similar ways.
Ardent Warden
Deadeye
Devious Outlaw
Frenzied Instigator
Frontline Mercenary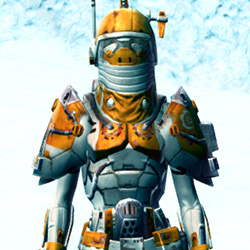 Hazardous Recon
Majestic Augur
More Sith Inquisitor Armors
Eradicator's Warsuit
Darth Sion's
XoXaan's
Callous Conqueror
Nanosilk Force Expert's
Defiant Onslaught MK-26 (Synthweaving) (Republic)
Decelerator
Lashaa Force Expert's
Dark Advisor's
Noble Councillor's
Naga Sadow's
Gathering Storm
More Sith Inquisitor Armors
More Revealing Armors
Ventilated Triumvirate
Vintage Brawler
Dashing Hero's
Ablative Lacqerous
Traditional Demicot
Nightlife Socialite
Reveler's Finery
Expert Fighter
Karness Muur's
Eternal Battler Duelist
XoXaan's
Ablative Resinite
More Revealing Armors
More Fancy Hat Armors
Anointed Demicot
Imperial Cadet's
Traditional Nylite
Cunning Statesman's
Remnant Resurrected Consular
Eternal Battler Force-Lord
Casual Connoisseur's
Venerated Mystic
Wicked Huntress's
Patient Defender (hood)
Light Devotee
Eternal Conqueror Duelist
More Fancy Hat Armors
More Red Armors
Adept Scout
Cunning Vigilante
Unrelenting Terror's
Defiant Mender MK-26 (Synthweaving) (Imperial)
Dread Enforcer
Port Nowhere Mobster's
Relentless Insurgent's
Red Scalene
Eternal Battler Demolisher
Stimulated
Interceptor
Blade Tyrant
More Red Armors
More Black Armors
Battlemaster Vindicator
Defiant Asylum MK-26 (Synthweaving) (Republic)
Resilient Warden
Marauder's Exalted
Terenthium Onslaught
Channeler
Freelance Hunter
Dramatic Extrovert's
Juggernaut's Renowned
Shadow Purger
Ottegan Aegis
Concealed Bodysuit
More Black Armors
Outfit Database ID: 1616 - Added: 0000-00-00 00:00:00 - Opposite: 0 - Identical: 0 - Similar: 1616
Like this

guide?Pledge to support Swtorista videos, guides and lists!
✚ Support with Patreon
✚ Support with YouTube
✚ Support with Twitch
In return, get:
Discord Chat
50+ Lore Audio Readings
Ensure future of guides!