Have a suggestion or correction? A volunteer can help update the website! To report an issue, go to the Swtorista Website Discord and post your report as a single message in the #report-issue channel. You will need to make a free Discord account.
Similar Armor Sets
These armors have a very similar shape to the Frenzied Instigator armor set.
Enhanced Assailant's
Veda Force Expert's
Galactic Command Crate Tier 4 Armors
These armors are obtained in similar ways.
Ardent Warden
Deadeye
Devious Outlaw
Frontline Mercenary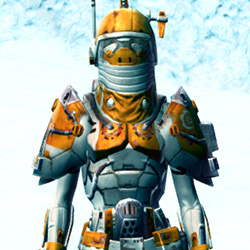 Hazardous Recon
Majestic Augur
Omniscient Master
More Sith Warrior Armors
Charged Hypercloth Aegis
Fortified Phobium
Reinforced Chanlon
Frenzied Zealot
Warrior's Pulsing
Warrior
Dramatic Extrovert's
Inquisitor
Juggernaut's Renowned
Eradicator's Warsuit
Remnant Arkanian Warrior
Descent of the Fearless
More Sith Warrior Armors
More Cybernetics Armors
Series 79 Aureate Cybernetic
Series 512 Cybernetic
Series 616 Cybernetic
Series 917 Cybernetic
Series 505 Cybernetic
B-400 Cybernetic
Series 614 Cybernetic
Bionic Warrior's
Series 510 Cybernetic
Series 617 Cybernetic
B-200 Cybernetic
B-100 Cybernetic
More Cybernetics Armors
More Plated Leg Armor Armors
Heartless Pursuer
KDY Shipwright's
Force Bound
CZ-13K Guerrilla
Electrum Onslaught
Concealed Hunter
Tech Medic
War Hero War Leader (Rated)
Jedi Stormguard
Notorious
Republic Containment Officer
Merciless Seeker's
More Plated Leg Armor Armors
More Black Armors
Expert Outlaw's
Wayward Voyager
Saava Force Expert
Ravager's
Revanite Vindicator's
War Hero Vindicator
Thexan's
War Hero Survivor (Rated)
Defiant Mender MK-16 (Armormech)
Mullinine Onslaught
Reinforced Battle
Supreme Inquisitor
More Black Armors
Outfit Database ID: 1612 - Added: 0000-00-00 00:00:00 - Opposite: 0 - Identical: 0 - Similar: 1553
Like this

guide?Pledge to support Swtorista videos, guides and lists!
✚ Support with Patreon
✚ Support with YouTube
✚ Support with Twitch
In return, get:
Discord Chat
50+ Lore Audio Readings
Ensure future of guides!