Have a suggestion or correction? Go to the Swtorista Website Discord and post your report in the #armor channel. You will need to make a free Discord account.
Similar Armor Sets
These armors have a very similar shape to the Frenzied Instigator armor set.
Enhanced Assailant's
Veda Force Expert's
Tech Fragments Armors
These armors are obtained in similar ways.
Vicious Adept
Underworld Enforcer
Ruthless Challenger
Recon Spotter
Mandalorian Enforcer
Force Herald
Disciplined Conscript
Devout Overseer
Agile Sharpshooter
Concealed Hunter
Cunning Vigilante
Dark Praetorian
Savage Despot
Stately Diplomat
Unbreakable Defender
Veteran Infantry
Brutal Executioner
Force Champion
Lone-Wolf
Rim Runner
Ruthless Commander
Shrewd Privateer
Tribal Hermit
Venerated Mystic
Ardent Warden
Deadeye
Devious Outlaw
Frontline Mercenary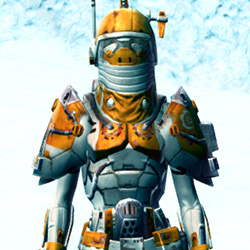 Hazardous Recon
Majestic Augur
Omniscient Master
More Sith Warrior Armors
Thana Vesh's
Marauder
Ablative Lacqerous
Dark Interrogator
Expatriate's
Fortified Phobium
Comet Champion
Kaas Warrior
Ablative Resinite
Initiate
Tarisian Warrior
Visas Marr's
More Sith Warrior Armors
More Cybernetics Armors
Series 858 Cybernetic Armor
B-200 Cybernetic
Series 917 Cybernetic
Series 79 Aureate Cybernetic
Series 510 Cybernetic
Bionic Warrior's
Series 505 Cybernetic
Series 615 Cybernetic
Series 617 Cybernetic
Series 808 Cybernetic Armor
Series 212 Cybernetic
B-100 Cybernetic
More Cybernetics Armors
More Plated Leg Armor Armors
Battlemaster Eliminator
Imperial Huttball Away Uniform
Belsavis Knight
Imperial Huttball Home Uniform
Mandalorian Seeker
Dashing Hero's
Exarch Asylum MK-26 (Armormech)
Tempest Warden
Imperial Reaper (Hood Down)
Fieldtech Gunner
Remnant Underworld Knight
Exarch Asylum MK-26 (Synthweaving)
More Plated Leg Armor Armors
More Black Armors
Lashaa Aegis
Gathering Storm
Shadow Purger
Expatriate's
Remnant Resurrected Knight
Alderaanian Warrior
Ottegan Force Expert
Channeler
Insidious Counselor
Perfect Form
TD-07A Scorpion
Classic Trailblazer's
More Black Armors
Outfit Database ID: 1612 - Added: 0000-00-00 00:00:00 - Opposite: 0 - Identical: 0 - Similar: 1553