Similar Armor Sets
These armors have a very similar shape to the Frenzied Instigator armor set.
Enhanced Assailant's
Veda Force Expert's
Galactic Command Crate Tier 4 Armors
These armors are obtained in similar ways.
Ardent Warden
Deadeye
Devious Outlaw
Frontline Mercenary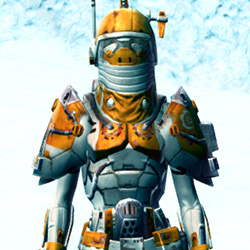 Hazardous Recon
Majestic Augur
Omniscient Master
More Sith Warrior Armors
Sorcerer
Sorcerer Adept
Remnant Resurrected Inquisitor
Traditional Brocart
Warlord Elite
Ruthless Challenger
Remnant Dreadguard Warrior
Exposed Extrovert
Traditional Thermoweave
Blade Tyrant
Traditional Demicot
Vine-silk Aegis
More Sith Warrior Armors
More Cybernetics Armors
Series 615 Cybernetic
Enforcer's Eyeguard
Series 808 Cybernetic Armor
Series 917 Cybernetic
B-200 Cybernetic
Series 901 Cybernetic Armor
Series 617 Cybernetic
Series 858 Cybernetic Armor
B-300 Cybernetic
Series 512 Cybernetic
Series 505 Cybernetic
Series 510 Cybernetic
More Cybernetics Armors
More Plated Leg Armor Armors
Proficient Hitman's
Electrum Onslaught
Squad Leader
Eternal Conqueror Demolisher
Dashing Hero's
War Hero Combat Medic (Rated)
Makeb Assault
Exarch Mender MK-26 (Synthweaving)
Contract Hunter (alternate)
Chanlon Onslaught
Hypercloth Force Expert's
Remnant Underworld Knight (Hoodless)
More Plated Leg Armor Armors
More Black Armors
Outlaw's
Revanite Champion's
Calculated Mercenary's
Shadow Disciple's
Alliance Reconnaissance
Chaotic Force-Master's
Trimantium Body Armor
Charged Interrogator
Revanite Pursuer
Channeler
Consular
Tribal Champion
More Black Armors
Outfit Database ID: 1612 - Added: 0000-00-00 00:00:00 - Opposite: 0 - Identical: 0 - Similar: 1553
Like this

guide?Pledge to support Swtorista videos, guides and lists!
✚ Support with Patreon
✚ Support with YouTube
✚ Support with Twitch
In return, get:
Discord Chat
50+ Lore Readings
Ensure future of guides!
✚ Support with Merch
Sci-fi & Fantasy inspired pins
Real-life collector items
Beautiful, check!