Similar Armor Sets
These armors have a very similar shape to the Devious Outlaw armor set.
Arkan's
Restored Columi Smuggler's
RD-07A Viper
Trimantium Onslaught
Battlemaster Enforcer
Battlemaster Field Tech
Galactic Command Crate Tier 4 Armors
These armors are obtained in similar ways.
Ardent Warden
Deadeye
Frenzied Instigator
Frontline Mercenary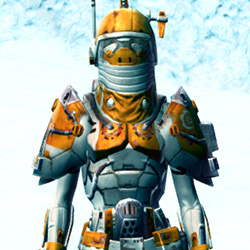 Hazardous Recon
Majestic Augur
Omniscient Master
More Smuggler Armors
Canderous Ordo's
War Hero Field Medic (Rated)
Quadranium Onslaught
Shrewd Rascal's
Eternal Commander MK-3 Weaponmaster
Wayward Voyager
Iokath MK-5 Supercommando
Citadel Boltblaster
Eternal Commander MK-15 Enforcer
Citadel Mender
Drelliad
Classic Trailblazer's
More Smuggler Armors
More Brimmed Hat Armors
Bounty Tracker
Kingpin
Star Forager
Remnant Dreadguard Smuggler
Dynamic Vandal
Freelance Hunter
Outlaws Parlay
Battlemaster Field Medic
Outer Rim Gunslinger's
Shrewd Rascal's
Voltaic Vandal
More Capes Armors
Wayfarer's Robe
Remulus Dreypa's
Exar Kun's
Tribal Champion
Reclusive Master's
Resilient Lacqerous
Sith Archon
Masterwork Ancient Force-Master
Masterwork Ancient Field Tech
Malak's Shadow
Wicked Huntress's
Fortified Defender
More Capes Armors
More Red Armors
Ubrikkian Industries Corporate
Warstorm Veteran's
Blade Tyrant
Exposed Extrovert
Dathomir Shaman's
Dire Warmaster's Body Armor
Warrior's Pulsing
Ulgo Loyalist
Eternal Brawler Mender's
Underworld Anarchist's
Remnant Underworld Smuggler
Galvanized Manhunter
More Red Armors
More Light Pants Armors
Exterminator's
TD-17A Imperator
War Hero Survivor (Rated)
Eternal Commander MK-3 Eliminator
War Hero Stalker (Rated)
Dreamsilk Force Expert
Underwater Adventurer
War Hero War Leader
Resilient Lacqerous
Warlord
Midnight Racer's
Quadranium Onslaught
More Light Pants Armors
Outfit Database ID: 1611 - Added: 0000-00-00 00:00:00 - Opposite: 0 - Identical: 0 - Similar: 767
Like this

guide?Pledge to support Swtorista videos, guides and lists!
✚ Support with Patreon
✚ Support with YouTube
✚ Support with Twitch
In return, get:
Discord Chat
50+ Lore Readings
Ensure future of guides!
✚ Support with Merch
Sci-fi & Fantasy inspired pins
Real-life collector items
Beautiful, check!