Have a suggestion or correction? Go to the Swtorista Website Discord and post your report in the #armor channel. You will need to make a free Discord account.
Similar Armor Sets
These armors have a very similar shape to the Devious Outlaw armor set.
Arkan's
Restored Columi Smuggler's
RD-07A Viper
Trimantium Onslaught
Battlemaster Enforcer
Battlemaster Field Tech
Tech Fragments Armors
These armors are obtained in similar ways.
Vicious Adept
Underworld Enforcer
Ruthless Challenger
Recon Spotter
Mandalorian Enforcer
Force Herald
Disciplined Conscript
Devout Overseer
Agile Sharpshooter
Concealed Hunter
Cunning Vigilante
Dark Praetorian
Savage Despot
Stately Diplomat
Unbreakable Defender
Veteran Infantry
Brutal Executioner
Force Champion
Lone-Wolf
Rim Runner
Ruthless Commander
Shrewd Privateer
Tribal Hermit
Venerated Mystic
Ardent Warden
Deadeye
Frenzied Instigator
Frontline Mercenary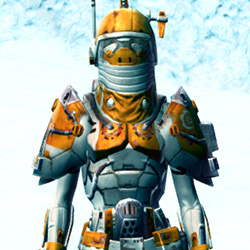 Hazardous Recon
Majestic Augur
Omniscient Master
More Smuggler Armors
Rakata Targeter (Republic)
Madilon Onslaught
Eternal Commander MK-15 Warleader
Belsavis Smuggler
Frasium Onslaught
War-Forged MK-3 (Armormech)
Gunslinger
Black Vulkar Swooper
Nar Shaddaa Smuggler
Gunslinger Elite
eternal Commander MK-15 Supercommando
Eternal Commander MK-3 Field tech
More Smuggler Armors
More Brimmed Hat Armors
Rakata Targeter (Republic)
Kingpin
Bounty Tracker
Rakata Mender (Republic)
Outlaws Parlay
Dynamic Vandal
Battlemaster Field Medic
Star Forager
Outer Rim Drifter
Shrewd Rascal's
Voltaic Vandal
Outer Rim Gunslinger's
More Brimmed Hat Armors
More Capes Armors
Amplified Champion
Dark Marauder
Exarch Onslaught MK-26 (Armormech)
Exarch Onslaught MK-26 (Synthweaving)
Darth Malgus's
Ulgo Statesman's
Wasteland Crusader's
Murderous Revelation
Remnant Arkanian Smuggler
Masterwork Ancient Field Tech
Tribal Champion
Exarch Mender MK-26 (Synthweaving)
More Capes Armors
More Red Armors
Madilon Onslaught
Exarch Asylum MK-26 (Synthweaving)
Interceptor
Proficient Hitman's
Port Nowhere Mobster's
Shadowsilk Aegis
Revanite Pursuer
Eternal Brawler Mender's
Ravager's
Veda Aegis
Hoth Smuggler
Kingpin
More Red Armors
More Light Pants Armors
Ambitious Warrior
Reinforced Phobium
Reinforced Chanlon
Saul Karath's
Dark Legionnaire's
Imperial Bastion's
Thana Vesh's
Phobium Onslaught
Terenthium Asylum
Plasteel Battle Jacket (Rep)
Tionese Eliminator (Rep)
Columi Combat Medic (Rep)
More Light Pants Armors
Outfit Database ID: 1611 - Added: 0000-00-00 00:00:00 - Opposite: 0 - Identical: 195 - Similar: 767