Similar Armor Sets
These armors have a very similar shape to the Consular's Exalted armor set.
Charged Peacemaker
Overloaded Peacemaker
Traditional Thermoweave
Stately Diplomat
Rodian Flame Force Expert
Saava Force Expert
Legacy Vendor Armors
These armors are obtained in similar ways.
Trooper's Exalted
Agent's Renowned
Consular's Renowned
Guardian's Renowned
Hunter's Renowned
Inquisitor's Renowned
Juggernaut's Renowned
Marauder's Renowned
Sentinel's Renowned
Smuggler's Renowned
Trooper's Renowned
Agent's Exalted
Guardian's Exalted
Hunter's Exalted
Inquisitor's Exalted
Juggernaut's Exalted
Marauder's Exalted
Sentinel's Exalted
Smuggler's Exalted
More Jedi Consular Armors
Patient Defender (no hood)
Hypercloth Force Expert's
Classic Conservator's
Ceremonial
War Hero Force-Mystic (Rated)
Classic Preceptor's
Tund Sorcerer's
Lashaa Force Expert's
Shadowsilk Force Expert's
Citadel Duelist
Remnant Underworld Knight (Hoodless)
Dashing Hero's
More Jedi Consular Armors
More Fancy Hat Armors
Resort Swimwear (no cape)
Magnificent Dancer
Imperial Advisor's
Venerated Mystic
Ciridium Onslaught
Force Magister
Nathema Zealot's Robes
Wicked Huntress's
Patient Defender (hood)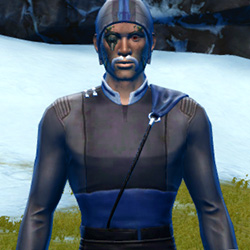 Formal
Luxurious Dress
Remnant Resurrected Consular
More Fancy Hat Armors
More White Armors
Commando
Agile Reconnaissance's
Alliance Emissary's
Spymaster's Auxiliary
Remnant Dreadguard Consular
RD-07A Vendetta
Force Bound
Energized Infantry
Hailstorm Brotherhood
Energetic Combatant
Eternal Battler Force-Healer
Eternal Commander MK-15 Weaponmaster
More White Armors
Outfit Database ID: 1259 - Added: 0000-00-00 00:00:00 - Opposite: 0 - Identical: 1781 - Similar: 1386
Like this

guide?Pledge to support Swtorista videos, guides and lists!
✚ Support with Patreon
✚ Support with YouTube
✚ Support with Twitch
In return, get:
Discord Chat
50+ Lore Readings
Ensure future of guides!
✚ Support with Merch
Sci-fi & Fantasy inspired pins
Real-life collector items
Beautiful, check!