Similar Armor Sets
These armors have a very similar shape to the Hunter's Renowned armor set.
Hydraulic Press
Legacy Vendor Armors
These armors are obtained in similar ways.
Trooper's Exalted
Agent's Renowned
Consular's Renowned
Guardian's Renowned
Inquisitor's Renowned
Juggernaut's Renowned
Marauder's Renowned
Sentinel's Renowned
Smuggler's Renowned
Trooper's Renowned
Agent's Exalted
Consular's Exalted
Guardian's Exalted
Hunter's Exalted
Inquisitor's Exalted
Juggernaut's Exalted
Marauder's Exalted
Sentinel's Exalted
Smuggler's Exalted
More Bounty Hunter Armors
Mullinine Asylum
Eternal Battler Med-Tech
Bionic Raider
Dark Legionnaire's
Woads Instinct
Game Plan
Dune Stalker
War Hero Eliminator
Ciridium Asylum
Furious Gladiator
Stalker's
Frontline Mercenary
More Bounty Hunter Armors
More Leg Wraps Armors
Cutthroat Buccaneer
Frenzied Warrior's
Furious Gladiator
Ablative Plasteel
Freedon Nadd's
Sith Recluse
Mandalore the Preserver's
Revealing Bodysuit
Empowered Restorer
Reinforced Chanlon
Shrewd Privateer
Rim Runner
More Leg Wraps Armors
More Butt Cape Armors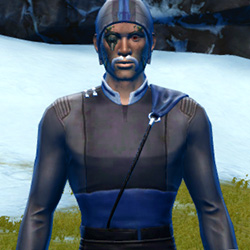 Formal
Darth Andeddu's
Agile Reconnaissance's
Chanlon Onslaught
Primeval Stalker's
Ardent Oracle's
Charged Hypercloth Force Expert's
Sogan Sur's
Exposed Extrovert
Trimantium Onslaught
Ablative Lacqerous
Galvanized Manhunter
More Butt Cape Armors
More Green Armors
Tempered Laminoid
Forgemaster
Czerka Corporate Shirt
Quick Thinker
Xonolite Onslaught
Quadranium Onslaught
Emergency Responder's Overcoat
Citadel Med-tech
Citadel Demolisher
Phobium Onslaught
Citadel Boltblaster
War Hero Force-Mystic
More Green Armors
More Light Pants Armors
Berserker
Eternal Commander MK-3 Force-master
Ruthless Scion's
War Hero Force-Mystic (Rated)
Panteer Loyalist
Septsilk Aegis
MA-52 Med-Tech Chestplate
TD-07A Scorpion
Veda Cloth Body Armor
Duststorm Survivor's
Defiant Onslaught MK-26 (Armormech) (Republic)
K-23 Hazmat
More Light Pants Armors
Outfit Database ID: 1251 - Added: 0000-00-00 00:00:00 - Opposite: 0 - Identical: 0 - Similar: 1251
Like this

guide?Pledge to support Swtorista videos, guides and lists!
✚ Support with Patreon
✚ Support with YouTube
✚ Support with Twitch
In return, get:
Discord Chat
50+ Lore Readings
Ensure future of guides!
✚ Support with Merch
Sci-fi & Fantasy inspired pins
Real-life collector items
Beautiful, check!