Have a suggestion or correction? A volunteer can help update the website! To report an issue, go to the Swtorista Website Discord and post your report as a single message in the #report-issue channel. You will need to make a free Discord account.
Social Armors
These armors are obtained in similar ways.
Hailstorm Brotherhood
Slave Girl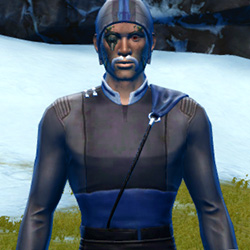 Formal
Prisoner
Voss Mystic
Death Claw
Elegant
Sand People
CorSec
Ulgo Noble
Balmorran Resistance
Hutt Cartel
More Hoth Armors
Snowtrooper's
Arctic Scout's
Thermal Retention
Outer Rim Officer
Hoth Ranger's
Unshakable Trooper's
Able Hunter
Polar Exploration
Winter Outlaw
Arctic Trooper
Hoth Defender's
More Leg Wraps Armors
Rim Runner
Zakuulan Preserver's
Revanite Avenger
Subversive
Dread Enforcer
Empowered Restorer
Orbalisk
Dathomir Shaman's
Cutthroat Buccaneer
Freedon Nadd's
Righteous Enforcer
Mullinine Asylum
More Leg Wraps Armors
More White Armors
Trimantium Onslaught
Potent Combatant
Unshakable Trooper's
Classic Forward Recon
Relaxed Uniform
Temple Guardian
Outcast
Apex Sovereign's
Battlemaster Combat Medic
Eternal Commander MK-15 Warleader
Overwatch Shield
XoXaan's
More White Armors
More Light Pants Armors
Honored Saberist's Harness
Defiant Asylum MK-26 (Armormech) (Imperial)
TD-07A Panther
Keeper of Iokath's
Mullinine Asylum
Battlemaster Weaponmaster
Desert Scavenger's
Ablative Lacqerous
War Hero Vindicator
Underwater Explorer
Primeval Stalker's
Trailblazer's
More Light Pants Armors
Outfit Database ID: 29 - Added: 0000-00-00 00:00:00 - Opposite: 0 - Identical: 0 - Similar: 0
Like this

guide?Pledge to support Swtorista videos, guides and lists!
✚ Support with Patreon
✚ Support with YouTube
✚ Support with Twitch
In return, get:
Discord Chat
50+ Lore Audio Readings
Ensure future of guides!