Have a suggestion or correction? Go to the Swtorista Website Discord and post your report in the #armor channel. You will need to make a free Discord account.
Similar Armor Sets
These armors have a very similar shape to the Trimantium Asylum armor set.
Republic Containment Officer
Section Guardian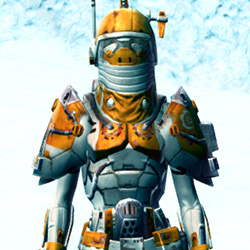 Hazardous Recon
Imperial Containment Officer
Crafting Armormech Crew Skills Trainer Armors
These armors are obtained in similar ways.
Terenthium Asylum
Mullinine Asylum
Xonolite Asylum
Titanium Asylum
Quadranium Asylum
Ciridium Asylum
Frasium Asylum
Vandinite Asylum
Hadrium Asylum
Terenthium Onslaught
Mullinine Onslaught
Xonolite Onslaught
Titanium Onslaught
Quadranium Onslaught
Ciridium Onslaught
Frasium Onslaught
Trimantium Onslaught
Vandinite Onslaught
Hadrium Onslaught
Terenthium Onslaught
Mullinine Onslaught
Xonolite Onslaught
Titanium Onslaught
Quadranium Onslaught
Ciridium Onslaught
Frasium Onslaught
Trimantium Onslaught
Vandinite Onslaught
Terenthium Asylum
Mullinine Asylum
Xonolite Asylum
Titanium Asylum
Quadranium Asylum
Ciridium Asylum
Frasium Asylum
Trimantium Asylum
Vandinite Asylum
Shadowsilk Aegis
Lashaa Aegis
Dramassian Aegis
Septsilk Aegis
Charged Hypercloth Force Expert's
Shadowsilk Aegis
Lashaa Aegis
Dramassian Aegis
Septsilk Aegis
Defiant Asylum MK-16 (Armormech)
Defiant Mender MK-16 (Armormech)
Defiant Onslaught MK-16 (Armormech)
Veda Cloth Body Armor
Veda Cloth Vestments
War-Forged MK-2 (Armormech)
War-Forged MK-0 (Armormech)
More Trooper Armors
Columi Boltblaster (Republic)
Resolute Protector
Revealing Bodysuit
Veteran Ranger
Madilon Asylum
Tionese Demolisher (Republic)
Remnant Arkanian Trooper
Citadel Med-tech
Eternal Battler Demolisher
Battlemaster Eliminator
Frontline Veteran's
Makeb Assault
More Trooper Armors
More Butt Cape Armors
Jedi Strategist's
Distinguished Warden's
Thana Vesh's
Lacqerous Mesh
Merciless Seeker's
Remnant Yavin Trooper
Dark Legionnaire's
Resort Swimwear
Remnant Dreadguard Inquisitor
Exposed Extrovert
Game Plan
Chanlon Onslaught
More Butt Cape Armors
More White Armors
Belsavis Smuggler
Dreamsilk Force Expert
Eternal Brawler Force-Lord's
Dust Viper Bandit's
Coruscanti Consular
Alderaanian Agent
Alderaanian Trooper
Wayfarer's Robe
Gav Daragon's
Eternal Commander MK-15 Combat Medic
Coruscanti Smuggler
name
More White Armors
More Light Pants Armors
Troublemaker
MA-53 Overwatch Chestplate
Relnex's
Bestial Fanatic's
Warlord
Underworld Enforcer
Zakuulan Inquisitor's
Mercenary
Deathwarden's Body Armor
Sith Annihilator
Expert Outlaw's
Canderous Ordo's
More Light Pants Armors
Outfit Database ID: 1486 - Added: 0000-00-00 00:00:00 - Opposite: 1516 - Identical: 0 - Similar: 1486