Similar Armor Sets
These armors have a very similar shape to the Guardian's Renowned armor set.
Energetic Champion
Potent Champion
Apprentice
Legacy Vendor Armors
These armors are obtained in similar ways.
Trooper's Exalted
Agent's Renowned
Consular's Renowned
Hunter's Renowned
Inquisitor's Renowned
Juggernaut's Renowned
Marauder's Renowned
Sentinel's Renowned
Smuggler's Renowned
Trooper's Renowned
Agent's Exalted
Consular's Exalted
Guardian's Exalted
Hunter's Exalted
Inquisitor's Exalted
Juggernaut's Exalted
Marauder's Exalted
Sentinel's Exalted
Smuggler's Exalted
More Jedi Knight Armors
Jolee Bindo's
Remnant Yavin Consular
Exiled Knight's
Flawless Riposte
Ossus Explorer
Masterwork Ancient Weaponmaster
Remnant Arkanian Knight
Masterwork Ancient Combat Medic
Fortified Defender
Septsilk Force Expert's
Ceremonial Guard
Remnant Dreadguard Consular
More Jedi Knight Armors
More Orange Armors
The Slow Road
Voss Dignitary
Charismatic Mandalorian's
Republic Containment Officer
Culling Blade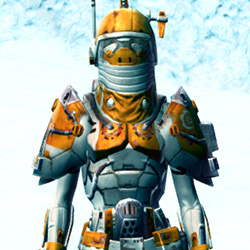 Hazardous Recon
Force Herald
Lord of Pain
Huttsbane's Garments
Republic Pilot
Naga Sadow's
War Hero Force-Master (Rated)
More Orange Armors
More Light Pants Armors
Remnant Resurrected Agent
Eternal Commander MK-3 Supercommando
Badlands Explorer
Tionese Stalker (Imp)
War Hero Stalker (Rated)
Triumphant Predator's
War-Forged MK-0 (Armormech)
Rune Seeker's
Outlander Scavenger's
Overwatch Officer
Elegant Duelist's
Citadel Med-tech
More Light Pants Armors
Outfit Database ID: 1250 - Added: 0000-00-00 00:00:00 - Opposite: 0 - Identical: 1620 - Similar: 1062
Like this

guide?Pledge to support Swtorista videos, guides and lists!
✚ Support with Patreon
✚ Support with YouTube
✚ Support with Twitch
In return, get:
Discord Chat
50+ Lore Readings
Ensure future of guides!
✚ Support with Merch
Sci-fi & Fantasy inspired pins
Real-life collector items
Beautiful, check!