Similar Armor Sets
These armors have a very similar shape to the Feral Visionary armor set.
Omniscient Master
Death Knell
More Sith Inquisitor Armors
Marka Ragnos's
Remnant Arkanian Warrior
Defiant Mender MK-26 (Synthweaving) (Republic)
Je'daii Warrior (Hood Up)
Overloaded Interrogator
Charged Hypercloth Aegis
War Hero Stalker
Remnant Underworld Inquisitor
Armor of Darth Revan
Stimulated
Eradicator's Mask
Order of Zildrog
More Sith Inquisitor Armors
More Revealing Armors
Eternal Battler Duelist
Exposed Extrovert
Eternal Brawler Force-Lord's
Unburdened Champion
Bold Hellion's
Eternal Battler Force-Lord
Relaxed Vestments
Relaxed Vestments
Casual Connoisseur's
Minimalist Gladiator Chestguard
Ablative Lacqerous
Revealing Bodysuit
More Revealing Armors
More Unique Hat Armors
Trimantium Body Armor
War-Forged MK-0 (Armormech)
Ottegan Force Expert
Winter Outlaw
Unshakable Trooper's
Veda Cloth Vestments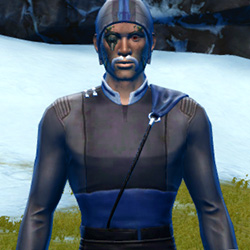 Formal
Series 616 Cybernetic
Prisoner
Feast Attire
Luxurious Dress
War-Forged MK-3 (Armormech)
More Unique Hat Armors
More Gray Armors
Imperial Practice Jersey
Exchange Corporate Shirt
Strategist
Series 615 Cybernetic
Fortified Electrum
Mandalorian Seeker
Fortified Lacqerous
Wasteland Crusader's
Destroyer
Eternal Commander MK-15 Vindicator
Remnant Underworld Trooper
Sith Hermit's
More Gray Armors
Outfit Database ID: 916 - Added: 0000-00-00 00:00:00 - Opposite: 0 - Identical: 0 - Similar: 1616
Like this

guide?Pledge to support Swtorista videos, guides and lists!
✚ Support with Patreon
✚ Support with YouTube
✚ Support with Twitch
In return, get:
Discord Chat
50+ Lore Readings
Ensure future of guides!
✚ Support with Merch
Sci-fi & Fantasy inspired pins
Real-life collector items
Beautiful, check!