Similar Armor Sets
These armors have a very similar shape to the Death Knell armor set.
Feral Visionary
Omniscient Master
Set Bonus Armors
These armors are obtained in similar ways.
Avenger
Tech Medic
The Entertainer
Taskmaster
Gathering Storm
Decelerator
Shadow Purger
Empowered Restorer
Berserker
Rapid Response
Repositioning
Saber Master
Stationary Grit
Soulbenders
Quick Thinker
Probe Tech
Nimble Master
Notorious
Established Foothold
Descent of the Fearless
Dire Retaliation
Efficient Termination
Tactician
Right Price
The Slow Road
The Undying
The Victor
Precise Targeter
Tormented
Trishins Retort
Lord of Pain
Debilitator
Stimulated
Strategist
Revitalized Mystic
Aggressive Treatment
Amplified Champion
Concentrated Fire
Dashing Blademaster
Perfect Form
Squad Leader
Game Plan
Hunter Killer
The Final Breath
Flawless Riposte
Culling Blade
Preserver
Endless Offensive
Rebuking Assault
Apex Predator
Emergency Power
Veteran Ranger
Authority
Outlaws Parlay
Meteor Brawler
More Sith Inquisitor Armors
Lashaa Aegis
Ceremonial Mystic's
Investigator's
Sorcerer Adept
Battlemaster Survivor
War Hero Force-Mystic
War Hero Force-Mystic (Rated)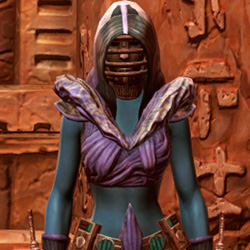 Grand Inquisitor
Sorcerer
Saava Force Expert
Chaotic Force-Master's
Revanite Champion's
More Sith Inquisitor Armors
More Red Armors
Eternal Battler Duelist
Mandalorian Stormbringer
Ablative Plasteel
Underworld Enforcer
Eternal Conqueror Boltblaster
Savage Despot
Revan Reborn
War Hero Supercommando (Rated)
Republic Protector's
Plasteel Battle
Remnant Resurrected Trooper
Defiant Mender MK-26 (Synthweaving) (Imperial)
More Red Armors
Outfit Database ID: 2150 - Added: 0000-00-00 00:00:00 - Opposite: 0 - Identical: 1942 - Similar: 1616
Like this

guide?Pledge to support Swtorista videos, guides and lists!
✚ Support with Patreon
✚ Support with YouTube
✚ Support with Twitch
In return, get:
Discord Chat
50+ Lore Readings
Ensure future of guides!
✚ Support with Merch
Sci-fi & Fantasy inspired pins
Real-life collector items
Beautiful, check!