Similar Armor Sets
These armors have a very similar shape to the Dark Legionnaire's armor set.
Nimble Master
More Trooper Armors
Titanium Asylum
War Hero Combat Tech (Rated)
Frasium Asylum
MA-35 Forward Ops Chestplate
Classic Forward Recon
Trooper's Renowned
Battlemaster Combat Medic
Ciridium Asylum
Defiant Asylum MK-16 (Armormech)
Minimalist Gladiator Chestguard
Volatile Shock Trooper
Tech Medic
More Trooper Armors
More Bounty Hunter Armors
Professional
Mandalore the Preserver's
Drifter
Battlemaster Supercommando
Relic Plunderer's
Classic Contractor's
Mandalorian Enforcer
War Hero Supercommando (Rated)
Mandalorian Tracker's
Eternal Conqueror Demolisher
Silent Ghost's
Quadranium Asylum
More Bounty Hunter Armors
More Butt Cape Armors
Royal Guardian's
Battlemaster Weaponmaster
Dramatic Extrovert's
Sovereign Executioner
Ruthless Scion's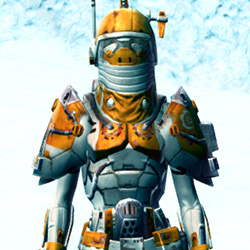 Hazardous Recon
Jedi Survivalist's
Reaver's
Hunter Killer
Charged Hypercloth Force Expert's
Despot's
Darth Andeddu's
More Butt Cape Armors
More Black Armors
Remnant Dreadguard Agent
Remnant Resurrected Knight
Ruthless Oppressor
Ablative Lacqerous
Juggernaut's Renowned
The Undying
Darth Malgus's
Order of Zildrog
Omniscient Master
Sith Recluse
Series 512 Cybernetic
Remnant Resurrected Bounty Hunter
More Black Armors
More Light Pants Armors
Jungle Ambusher
THORN Containment
Mercenary Slicer's
Sith Dueling
Scout
Fortified Electrum
Relaxed Vestments
Saberist's Body Armor
Battlemaster Force-Master
RD-07A Vendetta
Tionese Stalker (Imp)
Drelliad
More Light Pants Armors
Outfit Database ID: 849 - Added: 0000-00-00 00:00:00 - Opposite: 0 - Identical: 0 - Similar: 849
Like this

guide?Pledge to support Swtorista videos, guides and lists!
✚ Support with Patreon
✚ Support with YouTube
✚ Support with Twitch
In return, get:
Discord Chat
50+ Lore Readings
Ensure future of guides!
✚ Support with Merch
Sci-fi & Fantasy inspired pins
Real-life collector items
Beautiful, check!