Have a suggestion or correction? A volunteer can help update the website! To report an issue, go to the Swtorista Website Discord and post your report as a single message in the #report-issue channel. You will need to make a free Discord account.
Similar Armor Sets
These armors have a very similar shape to the Energized Manhunter armor set.
Galvanized Manhunter
Chanlon Onslaught
Lacqerous Mesh
Vagabond
More Bounty Hunter Armors
Hydraulic Press
Woads Instinct
Professional
Cybernetic Pauldron
TT-17A Hydra
Ciridium Asylum
Relic Plunderer's
Revered Huntmaster's
Frasium Asylum
Eternal Conqueror Demolisher
Infamous Bounty Hunter
Mercenary
More Bounty Hunter Armors
More Animated Armors
Apex Sovereign's
Galvanized Infantry
Series 808 Cybernetic Armor
Dread Harbinger
Dread Mystic
Battleworn Engineer's
Righteous Enforcer
Righteous Harbinger
Hazardous Physician
Dynamic Vandal
Charismatic Mandalorian's
Righteous Mystic
More Animated Armors
More Plated Leg Armor Armors
War Hero Combat Tech
Ardent Warden
Remnant Underworld Knight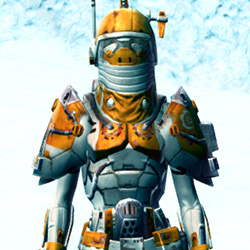 Hazardous Recon
Imperial Containment Officer
Chanlon Onslaught
Battlemaster Eliminator
Diatium Onslaught
Tempered Laminoid
Tempest Warden
GSI Tactical
Frogdog Huttball Home Uniform
More Plated Leg Armor Armors
More Butt Cape Armors
Esne Fanatic's
Ablative Lacqerous
Dune Stalker
Trimantium Asylum
Trimantium Onslaught
Zakuul Knight-Captain's
Remnant Resurrected Trooper
Outcast
Calculated Mercenary's
Despot's
Jedi Strategist's
Frenzied Warrior's
More Butt Cape Armors
More Purple Armors
Imperial Advisor's
Orbalisk
Sovereign Executioner
Traditional Brocart
Malevolent Interrogator
Balanced Combatant's
Anointed Zeyd-Cloth
Traditional Demicot
Remnant Underworld Inquisitor
Rotworm Huttball Away Uniform
War Hero Force-Master (Rated)
Dire Overlord's Vestments
More Purple Armors
Outfit Database ID: 889 - Added: 0000-00-00 00:00:00 - Opposite: 0 - Identical: 0 - Similar: 1461
Like this

guide?Pledge to support Swtorista videos, guides and lists!
✚ Support with Patreon
✚ Support with YouTube
✚ Support with Twitch
In return, get:
Discord Chat
50+ Lore Audio Readings
Ensure future of guides!