Social Armors
These armors are obtained in similar ways.
Hailstorm Brotherhood
Slave Girl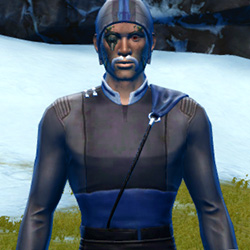 Formal
Prisoner
Voss Mystic
Death Claw
Elegant
Sand People
CorSec
Ulgo Noble
Balmorran Resistance
Hutt Cartel
More Tatooine Armors
Artifact Seeker's
Enigmatic Hero's
Gifted Wanderer's
Desert Scavenger's
Sand People Pillager
Renowned Duelist
Dust Viper Bandit's
Tund Sorcerer's
Diligent Engineer's
Fearless Hunter's
Relaxed Vestments
Dune Stalker
More Tatooine Armors
More No Jetpack Armors
Sentinel's Renowned
Outfit Database ID: 31 - Added: 0000-00-00 00:00:00 - Opposite: 0 - Identical: 0 - Similar: 0
Like this

guide?Pledge to support Swtorista videos, guides and lists!
✚ Support with Patreon
✚ Support with YouTube
✚ Support with Twitch
In return, get:
Discord Chat
50+ Lore Readings
Ensure future of guides!
✚ Support with Merch
Sci-fi & Fantasy inspired pins
Real-life collector items
Beautiful, check!