Have a suggestion or correction? A volunteer can help update the website! To report an issue, go to the Swtorista Website Discord and post your report as a single message in the #report-issue channel. You will need to make a free Discord account.
Social Armors
These armors are obtained in similar ways.
Hailstorm Brotherhood
Slave Girl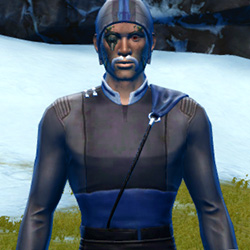 Formal
Prisoner
Voss Mystic
Death Claw
Elegant
Sand People
CorSec
Ulgo Noble
Balmorran Resistance
Hutt Cartel
More Bounty Hunter Armors
Mythosaur Hunter
Powered Exoguard
Heartless Pursuer
Diatium Onslaught
Madilon Asylum
Relic Plunderer's
Apex Predator
Ruthless Challenger
Eternal Conqueror Med-Tech
Eternal Battler Boltblaster
Dune Stalker
War Hero Combat Tech
More Bounty Hunter Armors
More Goggles Armors
Port Nowhere Mobster's
War Hero Enforcer (Rated)
Interceptor
Voltaic Sleuth
Mercenary
Sly Operator's
Pathfinder's
Lone-Wolf
Thermal Retention
Resourceful Engineer's
Xonolite Asylum
Laminoid Battle
More Goggles Armors
More Light Pants Armors
Remnant Yavin Agent
Dust Viper Bandit's
Turncoat
Laminoid Battle
Ulgo Statesman
Battleworn Engineer's
Vagabond
Reinforced Diatium
Mullinine Onslaught
Hardweave
Dire Eliminator's Chestguard
Hunter's Renowned
More Light Pants Armors
Outfit Database ID: 38 - Added: 0000-00-00 00:00:00 - Opposite: 0 - Identical: 0 - Similar: 0
Like this

guide?Pledge to support Swtorista videos, guides and lists!
✚ Support with Patreon
✚ Support with YouTube
✚ Support with Twitch
In return, get:
Discord Chat
50+ Lore Audio Readings
Ensure future of guides!