Have a suggestion or correction? A volunteer can help update the website! To report an issue, go to the Swtorista Website Discord and post your report as a single message in the #report-issue channel. You will need to make a free Discord account.
Social Armors
These armors are obtained in similar ways.
Hailstorm Brotherhood
Slave Girl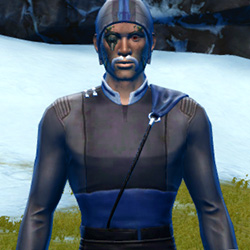 Formal
Prisoner
Voss Mystic
Death Claw
Elegant
Sand People
CorSec
Ulgo Noble
Balmorran Resistance
Hutt Cartel
More Revealing Armors
Minimalist Gladiator Chestguard
Elegant Loungewear
Relaxed Tracksuit
Vintage Brawler
Traditional Brocart
Karness Muur's
Magnificent Dancer
Traditional Demicot
Exquisite Dancer
Aspiring Knight
Relaxed Jumpsuit
Casual Connoisseur's
More Revealing Armors
More Bikini Bottom Armors
Stylish Dancer's
Magnificent Dancer
Exquisite Dancer
Reveler's Finery
Fancy Reveler
Elegant Loungewear
Ventilated Scalene
Ventilated Triumvirate
More Pink Armors
Reveler's Finery
Stately Dress
Elite Regulator
Chaotic Force-Master's
Outfit Database ID: 28 - Added: 0000-00-00 00:00:00 - Opposite: 0 - Identical: 0 - Similar: 0
Like this

guide?Pledge to support Swtorista videos, guides and lists!
✚ Support with Patreon
✚ Support with YouTube
✚ Support with Twitch
In return, get:
Discord Chat
50+ Lore Audio Readings
Ensure future of guides!