Have a suggestion or correction? A volunteer can help update the website! To report an issue, go to the Swtorista Website Discord and post your report as a single message in the #report-issue channel. You will need to make a free Discord account.
Similar Armor Sets
These armors have a very similar shape to the Balmorran Resistance armor set.
Sith Dueling
Hardweave
Social Armors
These armors are obtained in similar ways.
Hailstorm Brotherhood
Slave Girl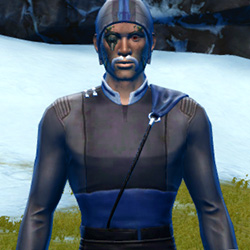 Formal
Prisoner
Voss Mystic
Death Claw
Elegant
Sand People
CorSec
Ulgo Noble
Hutt Cartel
More Environment Armors
Outlander Fixer's
Rugged Infantry
Outlander Guerrilla's
THORN Dark Vector (Green)
Arctic Scout's
Skiff Guard's
Relic Plunderer's
Republic Protector's
THORN Epicenter (Red)
Wastelander's
Relentless Insurgent's
Interceptor
More Environment Armors
More Light Jacket Armors
Artifact Seeker's
Shrewd Rascal's
Mira's
Remnant Dreadguard Smuggler
Remnant Arkanian Agent
Mantellian Privateer
Interstellar Privateer
Outer Rim Gunslinger's
Huttsbane's Garments
Remnant Resurrected Smuggler
Resistance Fighter's
Shrewd Privateer
More Light Jacket Armors
More Brown Armors
Relaxed Vestments
Jedi Stormguard
Preceptor's
Dust Viper Bandit's
Elegant Duelist's
Traveler (Republic)
Dying Precision
Onderon Guardian
Citadel Force-lord
Dramassian Force Expert's
Eternal Conqueror Bulwark
Jedi Survivalist's
More Brown Armors
More Light Pants Armors
Saul Karath's
RV-03 Speedsuit
Jedi Myrmidon
Fieldtech Operator's
K-23 Hazmat
Imperial Pilot
Reinforced Diatium
Bounty Tracker
Series 858 Cybernetic Armor
Honored Saberist's Harness
Eternal Commander MK-3 Stalker
TD-17A Talon
More Light Pants Armors
Outfit Database ID: 37 - Added: 0000-00-00 00:00:00 - Opposite: 0 - Identical: 0 - Similar: 1396
Like this

guide?Pledge to support Swtorista videos, guides and lists!
✚ Support with Patreon
✚ Support with YouTube
✚ Support with Twitch
In return, get:
Discord Chat
50+ Lore Audio Readings
Ensure future of guides!