Have a suggestion or correction? A volunteer can help update the website! To report an issue, go to the Swtorista Website Discord and post your report as a single message in the #report-issue channel. You will need to make a free Discord account.
Similar Armor Sets
These armors have a very similar shape to the Balmorran Resistance armor set.
Sith Dueling
Hardweave
Social Armors
These armors are obtained in similar ways.
Hailstorm Brotherhood
Slave Girl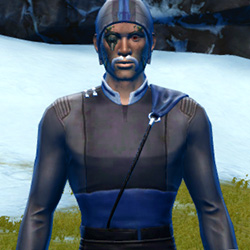 Formal
Prisoner
Voss Mystic
Death Claw
Elegant
Sand People
CorSec
Ulgo Noble
Hutt Cartel
More Environment Armors
Outlander Patroller's
Skiff Guard's
THORN Sanitization
Guerrilla Tactician's
Interceptor
Outlander Maverick's
Wasteland Raider's
THORN Dark Vector (Green)
Imperial Field Agent's
Relic Plunderer's
Wastelander's
Mantellian Separatist
More Environment Armors
More Light Jacket Armors
Scout
Mantellian Privateer
Recon Spotter
Trailblazer's
Hadrium Asylum
Remnant Resurrected Smuggler
Hadrium Onslaught
Xonolite Onslaught
Remnant Yavin Agent
Cunning Vigilante
Spec Ops
Classic Phantom
More Light Jacket Armors
More Brown Armors
Exiled Padawan
Enigmatic Hero's
Battleborn
Dune Stalker
Valiant Jedi
Citadel Force-healer
Battleworn Engineer's
Classic Preceptor's
Able Hunter
Contract Hunter (alternate)
Ablative Laminoid
Diligent Engineer's
More Brown Armors
More Light Pants Armors
Outer Rim Gunslinger's
Red Scalene
Laminoid Battle
Canderous Ordo's
Thermal Retention
Dark Seeker's
Resilient Lacqerous
Iokath MK-5 Combat Medic
Orbalisk
Reinforced Diatium
Defiant Mender MK-16 (Synthweaving)
Zayne Carrick's
More Light Pants Armors
Outfit Database ID: 37 - Added: 0000-00-00 00:00:00 - Opposite: 0 - Identical: 0 - Similar: 1396
Like this

guide?Pledge to support Swtorista videos, guides and lists!
✚ Support with Patreon
✚ Support with YouTube
✚ Support with Twitch
In return, get:
Discord Chat
50+ Lore Audio Readings
Ensure future of guides!