Have a suggestion or correction? A volunteer can help update the website! To report an issue, go to the Swtorista Website Discord and post your report as a single message in the #report-issue channel. You will need to make a free Discord account.
Similar Armor Sets
These armors have a very similar shape to the Inscrutable Pursuer's armor set.
Duststorm Survivor's
More Bounty Hunter Armors
Energized Manhunter
Dense Cuirass (Imperial)
Contract Hunter (alternate)
Proficient Hitman's
Eternal Brawler Med-Tech's
Dark Legionnaire's
Mandalorian Stormbringer
Refurbished Scrapyard
Ruthless Challenger
Bionic Raider
Tythian Disciple's
War Hero Combat Medic
More Bounty Hunter Armors
More Blue Armors
Soulbenders
Resilient Warden
Ciridium Onslaught
Righteous Enforcer
War Hero Combat Tech
Woads Instinct
Force Apprentice's
Shadow Purger
Defiant Asylum MK-26 (Armormech) (Imperial)
Flawless Riposte
Mercenary Elite
Alde Statesman's
More Blue Armors
More Purple Armors
Initiate
War Hero Force-Master (Rated)
Savage Despot
Xonolite Onslaught
Balanced Combatant's
Agent's Exalted
Lacqerous Battle
Midnight Racer's
Overloaded Interrogator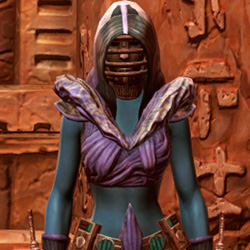 Grand Inquisitor
Inquisitor's Renowned
Mining Vest (Imperial)
More Purple Armors
More Light Pants Armors
Exterminator's
Savage Hunter
Series 617 Cybernetic
MA-35 Forward Ops Chestplate
Squadron Leader's
Reaver's
Ciridium Onslaught
Chanlon Onslaught
Tionese Supercommando (Rep)
Series 917 Cybernetic
Reinforced Diatium
Series 510 Cybernetic
More Light Pants Armors
Outfit Database ID: 971 - Added: 0000-00-00 00:00:00 - Opposite: 0 - Identical: 0 - Similar: 874
Like this

guide?Pledge to support Swtorista videos, guides and lists!
✚ Support with Patreon
✚ Support with YouTube
✚ Support with Twitch
In return, get:
Discord Chat
50+ Lore Audio Readings
Ensure future of guides!