Similar Armor Sets
These armors have a very similar shape to the Dire Taskmaster's Robe armor set.
Dire Overlord's Vestments
More Sith Inquisitor Armors
Battlemaster Force-Master
Eradicator's Mask
Dark Disciple
Revanite Champion's
War Hero Force-Mystic
Mining Vest (Imperial)
Sith Cultist's
War Hero Stalker
Classic Phantom
Supreme Inquisitor
Remnant Dreadguard Inquisitor
Death Knell
More Sith Inquisitor Armors
More Purple Armors
Agent's Exalted
Traditional Brocart
Matriarchal
Anointed Zeyd-Cloth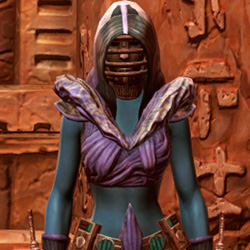 Grand Inquisitor
Remnant Yavin Warrior
War Hero Force-Master (Rated)
Balanced Combatant's
Acolyte
Charged Peacemaker
Endless Offensive
Rotworm Huttball Home Uniform
More Purple Armors
More Light Pants Armors
Nefarious Bandit's
Sentinel Elite
Arctic Scout's
Agent's Renowned
Eternal Brawler Pummeler's
Unyielding Tracker's
Eternal Conqueror Targeter
Fortified Lacqerous
Experimental Pilot Suit
War Hero Enforcer (Rep)
Columi Supercommando (Rep)
Energized Triumvirate
More Light Pants Armors
Outfit Database ID: 866 - Added: 0000-00-00 00:00:00 - Opposite: 0 - Identical: 0 - Similar: 865
Like this

guide?Pledge to support Swtorista videos, guides and lists!
✚ Support with Patreon
✚ Support with YouTube
✚ Support with Twitch
In return, get:
Discord Chat
50+ Lore Readings
Ensure future of guides!
✚ Support with Merch
Sci-fi & Fantasy inspired pins
Real-life collector items
Beautiful, check!