Have a suggestion or correction? A volunteer can help update the website! To report an issue, go to the Swtorista Website Discord and post your report as a single message in the #report-issue channel. You will need to make a free Discord account.
Similar Armor Sets
These armors have a very similar shape to the Midnight Racer's armor set.
TD-17A Imperator
Phobium Onslaught
Terenthium Asylum
More Environment Armors
Balmorran Resistance
Core Miners
Outlander Scavenger's
THORN Sanitization
Mantellian Separatist
Wastelander's
Death Claw
Hoth Ranger's
Outlander Fixer's
Underwater Explorer
Outlander Explorer's
Outlander Guerrilla's
More Environment Armors
More Purple Armors
Traditional Demicot
Rotworm Practice Jersey
Energized Manhunter
Mining Vest (Imperial)
Sovereign Executioner
Traditional Brocart
Stylish Dress
War Hero Force-Mystic (Rated)
Hallowed Gothic
Inscrutable Pursuer's
Lacqerous Battle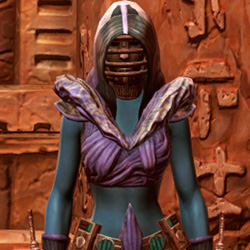 Grand Inquisitor
More Purple Armors
More Light Pants Armors
Brutal Executioner
Citadel Pummeler
Eternal Commander MK-15 Warleader
Polar Exploration
Trimantium Jacket
Remnant Yavin Trooper
Dire Taskmaster's Robe
Lacqerous Battle
Tionese Supercommando (Rep)
Battleworn Engineer's
Iokath MK-5 Eliminator
GSI Infiltration
More Light Pants Armors
Outfit Database ID: 1020 - Added: 0000-00-00 00:00:00 - Opposite: 0 - Identical: 0 - Similar: 1509
Like this

guide?Pledge to support Swtorista videos, guides and lists!
✚ Support with Patreon
✚ Support with YouTube
✚ Support with Twitch
In return, get:
Discord Chat
50+ Lore Audio Readings
Ensure future of guides!