Star Wars: The Old Republic is now available on Steam!
Why is SWTOR on Steam?
Although players can easily download Star Wars: The Old Republic from SWTOR.com, there are some nice benefits of SWTOR being available on Steam.
Steam is a giant library of games, and more new players can discover Star Wars: The Old Republic through Steam's library system.
Gamers often use Steam as a way to chat and connect with friends. Steam allows you to show which games you are currently playing, so friends can join in or discuss what you're playing. You could previously add SWTOR manually to Steam, but now it is available natively.
Steam acts as a library of games especially for gamers with many games installed or purchased. SWTOR may be one of hundreds of games a player owns, and instead of having desktop icons and folders players can access all their games shortcuts through Steam if a majority of their collection is available there.
Steam offers another way to purchase Subscription and Cartel Coins. This is great for players who may have country restrictions that make it difficult to buy directly from SWTOR.com, especially since Amazon has stopped selling subscription code cards which was the only good "alternative" way to buy a subscription. You can also pay with Paypal on Steam.
Steam gift cards are a very popular gift to give to gamers and this allows players to spend any Steam funds easily on SWTOR if that's what they want to buy.
Steam makes it very easy to take and share screenshots. Many players enjoy using it for cataloging their SWTOR adventure.
For gamers who already enjoy Steam, they can add to their Steam collection with SWTOR Trading Cards, Badges, Emoticons and Backgrounds, which are Steam collectible items you can collect, trade and show off.
Later in the year, you will be able to share and track your Achievements outside of the game with Steam.
Playing and Downloading on Steam vs SWTOR.com
Once you installl the game, either through SWTOR.com with the normal launcher or though the special Steam SWTOR launcher, you will be playing the same game as everyone else, and you can log in to either launcher with your SWTOR log in details. All your progress is saved to SWTOR's servers, so it does not matter if you log in through Steam or with the normal launcher. The only benefit to launcher through Steam is that you get all the Steam-related perks – there are no actual benefits ingame. If you are a plyer who has never used Steam before, you do not need to start using Steam. The Steam launcher looks exactly the same as the normal launcher and the only difference is that the Steam launcher does not use Bitraider to install the game. Bitraider is the technology that allows you to download a small percentage of the game and start playing right away, instead of having to wait until the entire download is complete.
How to Link SWTOR Account and Steam Account
Log in to your Steam account
Install SWTOR through Steam, this will install the Steam SWTOR launcher
Open the Steam SWTOR Launcher through Steam
Log in to your SWTOR account in the Steam SWTOR Launcher
Once you log in to the Steam SWTOR Launcher with your SWTOR Account credentials, your Steam and SWTOR accounts will be officially linked. You do not need to continue installing the entire game, and can even technically go back to using the original SWTOR.com launcher if you'd like.
You can double-check they are properly linked by logging in to your account on swtor.com and then going to https://account.swtor.com/user/steam
How to Unlink your SWTOR Account and Steam Account
Log in to swtor.com and then going to https://account.swtor.com/user/steam
On that page, click the "Unlink Account" button
This should unlink your Steam and SWTOR account. The next SWTOR account you log in to with the Steam SWTOR launcher will become linked with your Steam account.
If you are playing on an account that does not have the ability to log in to SWTOR.com, for example it doesn't have an email attached to it, you will probably have to contact customer support for some help.
Link Multiple SWTOR Accounts to Steam
If you are playing through Steam, you may only have one SWTOR account attached to your Steam account, unlike the normal launcher that you can use with multiple accounts. The easiest fix for this is to make a second free Steam account and simply attach your second SWTOR account to that second Steam account.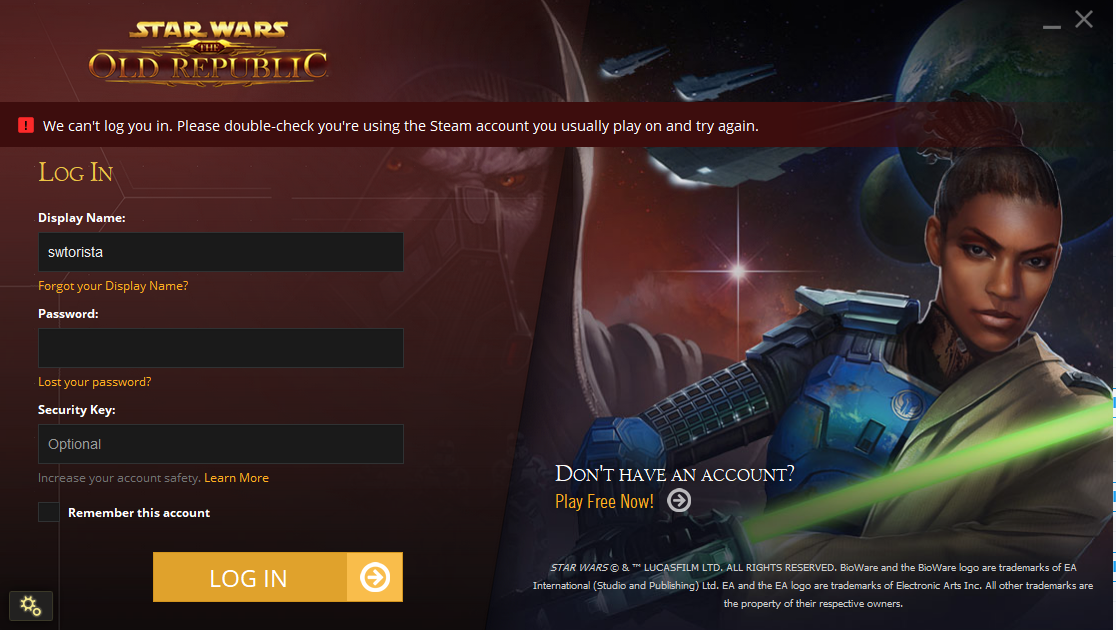 If you try to log in to two SWTOR accounts in one SWTOR Steam launcher / Steam Account, you may create linking issues. What fixed this for me was logging in to both accounts on swtor.com and then going to https://account.swtor.com/user/steam on each one, then the next time I logged in through the SWTOR Steam launcher my account became properly linked instead of in multiple-account limbo where none of them were properly linked.
Already have SWTOR installed?
If you already have SWTOR installed, when you launch SWTOR through Steam, it will attempt to download the game from scratch in to Steam's game folders.
If you have the bitraider version of SWTOR, which most players have, you will have to re-download a majority of the game if you want to play it on Steam. If you downloaded the game and have never editted the game files, this is the version you will have. You can copy files over but only some of them will "work" and you might wind up with some useless files taking up space on your hard drive. I decided to do a fresh re-install to save space, it took about 4 hours during the slow part of the day when everyone was trying to download it.
If you currently have the non-bitraider version of SWTOR installed, you can actually skip a majority of the download by copying some files over and it works very well.
Here are the steps to copy your files over, written by player Teddy, that are mainly for non-bitraider players:
Download on Steam and do not launch.
Find where you have Star Wars the Old Republic installed, and ctrl-click the folders Assets and Movies, assets_swtor_main.version, assets_swtor_en_us.version, retailclient_swtor.version and movies_en_us.version. Copy them to the following step's folder.
Find where you have Steam installed, and navigate within to Steam\steamapps\common\Star Wars - The Old Republic You will be copying your files to here.
Click 'Play' in Steam and login as you would normally. Do note, you may need to redownload some files, and if you had BitRaider version prior you may need to download files that your previous launcher normally didn't acquire. (Do not replace the launcher files or Steam overlay will NOT work!)
If you were a non-bitraider player, that should have worked well, and it will only have a few small files to download with the Steam launcher.
If you are a normal player, and have the bitraider version, you will notice some of these files don't exist. You can try copying over "Assets" and "Movies". As far as I can tell the Steam launcher respects that Movies are already installed, but can't recognize "Assets" and tries to download the rest of the game.
If you have the Public Test Server installed, you'll run into an issue where those .version files mentioned are named slightly different, with the word "test" in them. I was unable to do the "copy over" trick with these "test" files. The Steam Launcher recognized the Movies folder, but then started to download the big Asssets folder.
Once the game is up and running, you can manually delete the files from your previous SWTOR folder and keep the ones in your Steam folder. If you do a proper "uninstall" it may delete a few of your settings like User Interfaces you have saved so you are better off selecting and deleting the files manually.
Your User Interfaces and other settings are saved in a totally different folder and they will be preserved if you install through Steam or if you copy+paste your files over!! Nice!
Subscribe to SWTOR Through Steam
Prices to subscribe on Steam are the same as offered on SWTOR.com, but they are one-time purchases (they do not charge you again the next month like the re-occuring prices on SWTOR.com).
IT DOES NOT MATTER HOW YOU SUBSCRIBE. Subscription benefits are the same whether you subscribe through SWTOR, Steam, Origin, or a gift card.
To actually apply your Steam subscription, you will need to launch SWTOR through Steam, then log in to the SWTOR account you want to apply it to. This will automatically link your SWTOR account and steam account. You will NOT receive a code unlike purchasing on Amazon or Origin.
And just so you know, there's a special 2-month Deluxe bundle with free Cartel Coins and free mount item on origin. This one is the best deal but you can only use it once every 6 months.
Buy Cartel Coins on Steam
You can buy Cartel Coins on steam too. They are the same price on Steam. Note there is a "secret" $99 for 14,500 Cartel Coin Deal on SWTOR that's not available on Steam.
On SWTOR.com for comparison,
Buying SWTOR Subscription or Cartel Coins as a Gift on Steam
To buy a gift for a friend, they must have a Steam account (you do not get a code they can redeem like a normal gift card).
You will need to first add them as a friend. You will need to either send them your friend link, and have them click it, or have them send you their Friend Code number. You can not just know their username and request them as a friend sadly.
Once they are your friend, select the subscription or Cartel Coins you want to buy, then choose purchase as a gift on the next page. You will then be able to pick your friend from the list.
You'll be able to send them a message with it.
This will be sent to your friend:
Your friend will also need to install the SWTOR launcher, and log in to their SWTOR account through the Steam SWTOR launcher. This will link their SWTOR account to their gifted Steam account and grant them either the subscription time or cartel coins.
If they already have SWTOR installed and don't want to re-install the entire game, prompt them to "play" the game through Steam, log in to the SWTOR launcher through steam, make sure their login goes through, and then they can exit that launcher before it downloads everything. They can then go log in how they normally play SWTOR and it should be applied to their account.
Steam SWTOR Trading Cards
A majority of games on Steam come with cool and unique Trading Cards! These virtual cards, earned by buying and playing games on Steam, can be crafted into badges that grant Steam-related rewards. Star Wars: The Old Republic has a total of eight Trading Cards featuring notable characters like Darth Malgus, Satele Shan, HK-55, and others! Collect a set of cards to earn items (like emoticons and backgrounds) you can use to customize your Steam profile and account. Trading Cards, along with emoticons and backgrounds, can also be bought and sold on the Steam Marketplace.
You can earn up to three random cards through playing the game, and the other five you will need to obtain on the Steam marketplace from other players who got them randomly. Once you collect all eight, you have the option to craft them in to a badge for your Steam profile.
How to Get SWTOR Steam Cards
To earn SWTOR Steam cards you have a few options:
Purchase SWTOR subscription, cartel coins or bundles on Steam
Turn cards from other Steam games in to Gems then use Gems to buy a SWTOR Booster Card Pack
Purchase on Steam
Card drops in free to play games (including SWTOR, which you do not need to buy to play) are rewards for spending money in game. (approximately $9.00 USD per card drop)
If your account is properly linked, and you purchase something through Steam related to SWTOR, this bar should get filled up and you should receive a card.
Gems
Badges
When you collect all eight SWTOR Trading Cards, you can craft them in to a badge. Badges show up as a small cosmetic icon on your Steam profile.
Here's a little video by player Xenoanallagy that shows what that looks like to have collected all the cards and combine them together. This will consume your cards and leave you with an empty set.
You also receive a background and Jawa emoticon.
Upgrading Badge
The first time you combine your cards and Craft with them, you will get the Level 1 Outsider badge and your cards will disappear. If you collect a second full set of cards, you can Craft with them again, and your badge will be upgraded, and you will get another random set of items like a Background and Emoticon. To upgrade your badge fully, you will need to collect 5 sets of 8 cards, for a total of 40 cards.
Level 1 Badge – Outsider

Level 2 Badge – Newcomer
Level 3 Badge – Friend
Level 4 Badge – Hero
Level 5 Badge – Champion
Emoticons
Emoticons are small symbols or pictures given to a user once they have crafted a badge, and they function the same way as the emoticons on the official SWTOR Forums. On Steam, there are a few basic emoticons that everyone can use, but most are only available if you own the emoticon. For The Old Republic, there will be a total of five Jawa-themed emoticons available to collect. To see which game-based Steam emoticons you own, you can check your Steam inventory page.
Backgrounds
Profile backgrounds can also be earned when completing a SWTOR Steam badge. These are displayed on your Steam profile page and add an extra level of customization for your Steam presence. There will be a total of six unique backgrounds available to collect. If you have earned multiple backgrounds, they can be changed at your discretion.
Onderon Background
From collecting cards and Crafting with them.
Mek-Sha Background
From collecting cards and Crafting with them.
Alderaan Background
From collecting cards and Crafting with them.
Achievements
Although SWTOR will not have Steam achievements on launch, over 100 achievements will be added with a future update later this year. All of the Steam achievements will be exact copies of their SWTOR counterparts, meaning Steam will not have exclusive or unique achievements.
Achievements will be retroactive! For example, if you have 47 achievements already unlocked in-game, those same achievements will all unlock on Steam when you launch SWTOR through the platform for the first time.