Cyborg Name Generator
In the decades since the Great War, humans in both the Republic and Empire have begun using cybernetics to heal wounds or enhance performance.
If you are looking to name your character in Star Wars: The Old Republic or in any other roleplaying game, you can use my Cyborg Name Generator to generate some name ideas!
Cyborg Names
Refresh the page to get a new batch of generated Cyborg names!
Pixel Chip
Screw Prime
Needletow
Symbio Bone
Tankpull
Spikesystem
Hot Spike
Gauge-bot
Mercy Hack
Ratchet-unit
Chiselshift
Light-wave
Cyborg Naming Rules
Cyborgs do not seem to have any canon naming rules or suggestions. A majority of cyborgs already have names before they get their implants. Cyborgs often go by nicknames, especially if they receive their implants as a way to enhance their skills – for example, Needles, a cyborg Republic Medic, likely took his nickname due to his skill in surgery, with his implants likely aiding him in his medical duties. Gearbox is another Cyborg in his squad, and he's a mechanic. Wraith is their third team member. Other famous Cyborgs, like Bao-Dur, go by their original names, or Darth Magus, who goes by a callsign unrelated to their cybernetics, much like Darth Vader and Luke Skywalker.
For this Cyborg Name generator, I decided to create code names, gang names and call signs. The best call signs are short and sweet, but those are likely already taken if you throw them into Star Wars: The Old Republic's character creator, so I got creative and modeled my generator off the of the name 'Gearbox' with two short parts randomly assigned together. For some I assigned a space, some I assigned a dash, others got no seperation at all just like Gearbox.
Custom Cyborg Name
Want to assemble your own 'Cyborg' style nickname? Here's the custom set of words I threw into my name generator, see if you can put together a combo that you like!
Antenna
Auto
Breaker
Chisel
Clutch
Cold
Crank
Crash
Data
Death
Diode
Disc
Drive
Filter
Flash
Flexi
Funnel
Gauge
Gear
Hammer
Hot
Impact
Iso
Jack
Knife
Light
Mecha
Mega
Mercy
Meter
Needle
Pixel
Plex
Punch
Ratchet
Robo
Scope
Screw
Socket
Spike
Spindle
Stand
Steel
Symbio
Tank
Tool
Torch
Torque
Trigger
Vent
Wheel
Wrench
Band
Beam
Blood
Bone
Boost
Bot
Box
Brake
Bug
Chip
Code
Crank
Crash
Disc
Drive
Drop
Fuel
Gadget
Gear
Hack
Kill
Load
Mouth
Nuke
Plast
Plate
Prime
Pull
Pulse
Pump
Punch
Saw
Scrap
Shaft
Shift
Spike
Strike
Surge
System
Tow
Unit
View
Wave
Wraith
Cyborg Lore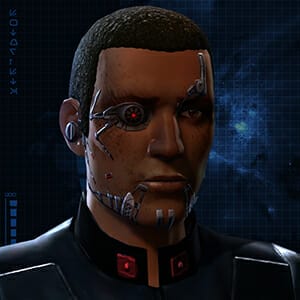 Want to learn more about Cyborgs? Read my Cyborg Lore Guide if you want to create a lore-appropriate character!
Other SWTOR Name Generators
Name Guides
Thank you @TeslaTheZabrak for the Cathar image, @Scoot_Loops for the Chiss image, @mordorgeist for the Cyborg image, @CarisaSWTOR for the Mirialan image, @aldrin_smith1 for the Rattataki image, @WardenVakarian for the Sith Pureblood image, Paradox#3991 for the Zabrak image, @rebelrealcanon for the Twi'lek image, @Caelvin_Dulany for the Miraluka image, @kittytreets for the Togruta image, @AshiaSature for the Nautolan image, and Zahk for helping test and float ideas for all the name generators!