Have a suggestion or correction? Go to the Swtorista Website Discord and post your report in the #armor channel. You will need to make a free Discord account.
Similar Armor Sets
These armors have a very similar shape to the Traditional Brocart armor set.
Voss Mystic
Voss Dignitary
Voss Ambassador
Lashaa Force Expert's
Crafting Synthweaving Schematics Armors
These armors are obtained in similar ways.
Anointed Demicot
Anointed Zeyd-Cloth
Channeler
Dark Acolyte
Inquisitor
Sorcerer
Sorcerer Adept
Traditional Brocart
Traditional Demicot
Traditional Nylite
Traditional Thermoweave
Anointed Demicot
Anointed Zeyd-Cloth
Consular
Consular Adept
Force Initiate
Jedi Initiate
Jedi Sage
Traditional Demicot
Traditional Nylite
Traditional Thermoweave
Ablative Lacqerous
Ablative Laminoid
Ablative Plasteel
Ablative Resinite
Marauder
Marauder Elite
Resilient Lacqerous
Resilient Polyplast
Sith Combatant
Sith Dueling
Warrior
Ablative Lacqerous
Ablative Laminoid
Ablative Plasteel
Ablative Resinite
Apprentice
Aspiring Knight
Blade Master
Resilient Lacqerous
Resilient Polyplast
Sentinel
Sentinel Elite
Fortified Electrum
Fortified Phobium
Reinforced Battle
Reinforced Chanlon
Reinforced Diatium
Reinforced Phobium
Warlord
Warlord Elite
Warrior's Pulsing
Fortified Electrum
Fortified Phobium
Knight's Crusade
Peacekeeper
Peacekeeper Elite
Reinforced Battle
Reinforced Chanlon
Reinforced Diatium
Reinforced Phobium
More Jedi Knight Armors
Experimental Ossan Vindicator's
Remnant Dreadguard Knight
Rectified Brawler's
Enigmatic Hero's
Satele Shan's
Vine-silk Aegis
Energetic Champion
Onderon Guardian
Resolute Guardian
Comet Champion
Righteous Enforcer
Intrepid Knight's
More Jedi Knight Armors
More Jedi Consular Armors
Rapid Response
Initiate
Remnant Dreadguard Knight
Master Orr
Charged Hypercloth Force Expert's
War Hero Force-Master (Rated)
Battlemaster Force-Mystic
Tatooinian Trooper
Acolyte
Jolee Bindo's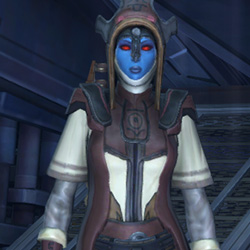 Voss Consular
Zayne Carrick's
More Jedi Consular Armors
More Brown Armors
Iokath MK-5 Combat Medic
Exiled Knight's
Eternal Commander MK-15 Combat Medic
Battleworn Engineer's
Tarisian Agent
Triumphant Predator's
Outlander Maverick's
Covert Energy
Eternal Commander MK-3 Force-master
KDY Shipwright's
Citadel Duelist
Tarisian Bounty Hunter
More Brown Armors
Outfit Database ID: 1383 - Added: 0000-00-00 00:00:00 - Opposite: 1372 - Identical: 0 - Similar: 1383