Similar Armor Sets
These armors have a very similar shape to the Outlander Guerrilla's armor set.
Drifter
More Environment Armors
Underwater Explorer
CorSec
Diligent Engineer's
Outlander Explorer's
Marshland Ambusher
Red Blade's
Death Claw
THORN Sanitization
Timberland Scout
Outlander Maverick's
Guerrilla Tactician's
THORN Containment
More Environment Armors
More Plated Leg Armor Armors
Eternal Battler Boltblaster
Ardent Warden
Energized Manhunter
Republic Huttball Home Uniform
Republic Containment Officer
War Hero Combat Medic (Rated)
Contract Hunter (alternate)
Hypercloth Force Expert's
War Hero Vindicator (Rated)
Conservator's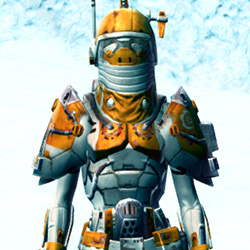 Hazardous Recon
Battlemaster Combat Tech
More Plated Leg Armor Armors
More Yellow Armors
Diatium Onslaught
Overwatch Enforcer's
Remnant Arkanian Knight
Plasteel Battle
War Hero Force-Mystic (Rated)
Rim Runner
Galvanized Infantry
Relentless Hunter's
K-23 Hazmat
Mantellian Separatist
Ciridium Onslaught
Trimantium Asylum
More Yellow Armors
More Brown Armors
Force Disciple's
Eidolon's
Carth Onasi's
Defiant Onslaught MK-26 (Armormech) (Republic)
Relentless Insurgent's
Dune Stalker
Conservator's
Jedi Stormguard
The Final Breath
Preceptor's
Eternal Commander MK-3 Eliminator
Renowned Duelist
More Brown Armors
Outfit Database ID: 1042 - Added: 0000-00-00 00:00:00 - Opposite: 0 - Identical: 0 - Similar: 871
Like this

guide?Pledge to support Swtorista videos, guides and lists!
✚ Support with Patreon
✚ Support with YouTube
✚ Support with Twitch
In return, get:
Discord Chat
50+ Lore Readings
Ensure future of guides!
✚ Support with Merch
Sci-fi & Fantasy inspired pins
Real-life collector items
Beautiful, check!