Flashpoints Armors
These armors are obtained in similar ways.
Tattered Mystic's
Tattered Mystic's Cowled
Tattered Ritualist's
Tattered Ritualist's Cowled
Shasa Adherent's
Order of Zildrog
Ascendancy Soldier
More Sith Warrior Armors
Sorcerer Adept
Enhanced Assailant's
Resilient Warden
Orbalisk
Ablative Lacqerous
Thana Vesh's
Remnant Yavin Warrior
Dashing Blademaster
Darth Skotia's
Chaotic Force-Master's
Revanite Champion's
Septsilk Aegis
More Sith Warrior Armors
More Sith Inquisitor Armors
Saava Force Expert
Omniscient Master
Exar Kun's
Soulbenders
Remnant Yavin Inquisitor
Sorcerer Adept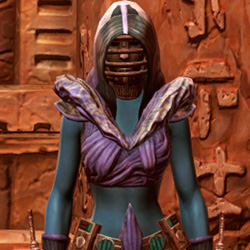 Grand Inquisitor
War Hero Force-Mystic (Rated)
Veda Force Expert's
Inquisitor's Renowned
Acolyte
Charged Interrogator
More Sith Inquisitor Armors
More Black Armors
Defiant Mender MK-26 (Synthweaving) (Imperial)
Taskmaster
Consular
Series 512 Cybernetic
Imperial Admiral's
Elegant Dress
Revanite Vindicator's
Supreme Inquisitor
Reinforced Battle
Nimble Master
Eternal Battler Boltblaster
Ablative Lacqerous
More Black Armors
Outfit Database ID: 1583 - Added: 2018-12-04 11:20:04 - Opposite: 0 - Identical: 0 - Similar: 0
Like this

guide?Pledge to support Swtorista videos, guides and lists!
✚ Support with Patreon
✚ Support with YouTube
✚ Support with Twitch
In return, get:
Discord Chat
50+ Lore Readings
Ensure future of guides!
✚ Support with Merch
Sci-fi & Fantasy inspired pins
Real-life collector items
Beautiful, check!