Have a suggestion or correction? A volunteer can help update the website! To report an issue, go to the Swtorista Website Discord and post your report as a single message in the #report-issue channel. You will need to make a free Discord account.
Similar Armor Sets
These armors have a very similar shape to the Matriarchal armor set.
Ceremonial
Majestic Augur
Ottegan Force Expert
More Formal Armors
Civilian Pilot
Elegant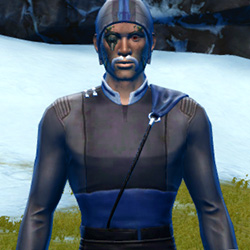 Formal
Voidmaster
Ulgo Noble
Formal Militant
Alliance Emissary's
Defiant Onslaught MK-26 (Synthweaving) (Republic)
Noble Councillor's
Luxurious Dress
Fieldtech Operator's
Dark Augur's
More Formal Armors
More Jedi Armors
Fortified Phobium
Zayne Carrick's
Honored Champion's Robe
Consular
Anointed Zeyd-Cloth
Artifact Seeker's
Jedi Myrmidon
Agile Sentinel's
Battleworn Engineer's
Anointed Demicot
Eternal Brawler Pummeler's
Traditional Demicot
More Jedi Armors
More Jedi Consular Armors
Bastila Shan's
Wartime Ambassador's
Remnant Dreadguard Consular
Redeemer's Harness
Overloaded Peacemaker
Citadel Force-lord
Traveler (Republic)
Je'daii Warrior (Hood Down)
Righteous Mystic
Light Devotee
Defiant Mender MK-16 (Synthweaving)
Vine-silk Force Expert's
More Jedi Consular Armors
More Blue Armors
Fortified Defender
Quadranium Asylum
Ciridium Asylum
Eternal Brawler Force-Lord's
Eternal Brawler Force-Healer's
Mandalorian Hunter
Scout
Ciridium Onslaught
War-Forged MK-2 (Synthweaving)
War Hero Combat Tech
Impulsive Adventurer
Civilian Pilot
More Blue Armors
More Purple Armors
Dire Taskmaster's Robe
Savage Despot
Decelerator
Ceremonial Mystic's
Inquisitor's Renowned
Sovereign Executioner
Mining Vest (Imperial)
Feast Trader
Agent's Exalted
Initiate
Traditional Brocart
Traditional Demicot
More Purple Armors
Outfit Database ID: 1018 - Added: 0000-00-00 00:00:00 - Opposite: 0 - Identical: 0 - Similar: 807
Like this

guide?Pledge to support Swtorista videos, guides and lists!
✚ Support with Patreon
✚ Support with YouTube
✚ Support with Twitch
In return, get:
Discord Chat
50+ Lore Audio Readings
Ensure future of guides!