Similar Armor Sets
These armors have a very similar shape to the MA-52 Med-Tech Chestplate armor set.
Forward Recon
MA-53 Overwatch Chestplate
Trooper's Renowned
RD-17A Phalanx
Electrum Onslaught
Terenthium Asylum
Outcast
Disciplined Conscript
More Trooper Armors
Strategist
Citadel Med-tech
Warstorm Veteran's
Quadranium Asylum
Volatile Shock Trooper
Remnant Resurrected Trooper
Elite Gunner
Snowtrooper's
Shield Warden
TD-17A Talon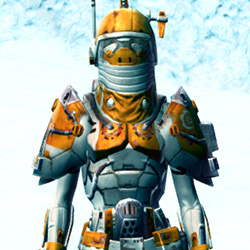 Hazardous Recon
Eternal Conqueror Boltblaster
More Trooper Armors
More White Armors
Patient Defender (no hood)
Trimantium Asylum
Overwatch Shield
Hardened Plastifold
Potent Combatant
Consular's Exalted
Nomad
Stalker's
Seasoned Professional's
Dreamsilk Force Expert
Frontline Veteran's
Remnant Resurrected Consular
More White Armors
More Light Pants Armors
Saul Karath's
Black Hole Trapper (Rep)
Turncoat
Spymaster's Auxiliary
Ulgo Statesman's
Vintage Brawler
Organa Statesman's
Mercenary Slicer's
Remnant Resurrected Inquisitor
War-Forged MK-3 (Armormech)
Juggernaut's Exalted
War Hero Field Medic (Rated)
More Light Pants Armors
Outfit Database ID: 1000 - Added: 0000-00-00 00:00:00 - Opposite: 0 - Identical: 1700 - Similar: 1479
Like this

guide?Pledge to support Swtorista videos, guides and lists!
✚ Support with Patreon
✚ Support with YouTube
✚ Support with Twitch
In return, get:
Discord Chat
50+ Lore Readings
Ensure future of guides!
✚ Support with Merch
Sci-fi & Fantasy inspired pins
Real-life collector items
Beautiful, check!