Have a suggestion or correction? A volunteer can help update the website! To report an issue, go to the Swtorista Website Discord and post your report as a single message in the #report-issue channel. You will need to make a free Discord account.
Similar Armor Sets
These armors have a very similar shape to the Jedi Stormguard armor set.
Resolute Guardian
Guardian's Exalted
Eternal Brawler Bulwark's
Hypercloth Force Expert's
Hypercloth Aegis
Eternal Battler Bulwark
Eternal Battler Pummeler
Eternal Conqueror Bulwark
Adaptive Vendor Armors
These armors are obtained in similar ways.
TD-17A Colossus
Blade Tyrant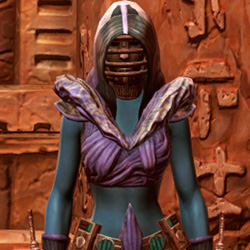 Grand Inquisitor
RD-07A Vendetta
RD-17A Hellfire
Saber Marshal
Sith Annihilator
Sith Archon
Supreme Inquisitor
TD-07A Panther
TD-07A Scorpion
TD-17A Imperator
TT-17A Hydra
Battleborn
Force Magister
Jedi Myrmidon
Omenbringer
RD-07A Spider
RD-07A Viper
RD-17A Phalanx
TD-07A Blackguard
TD-17A Talon
Voidmaster
Acolyte
Acolyte
Initiate
Initiate
Scout
Scout
Trainee
Trainee
More Jedi Knight Armors
Jarael's
Battlemaster War Leader
Eternal Brawler Pummeler's
Gifted Shadow's
Zayne Carrick's
Exiled Padawan
Defiant Asylum MK-26 (Synthweaving) (Republic)
Consular Adept
Casual Combatant
Fortified Electrum
Reinforced Phobium
Nanosilk Force Expert's
More Jedi Knight Armors
More Plated Leg Armor Armors
War Hero Vindicator (Rated)
Conservator's
Sogan Sur's
Trooper's Exalted
War Hero War Leader (Rated)
Mandalore the Preserver's
Apex Sovereign's
Remnant Resurrected Knight
Ciridium Asylum
Eternal Brawler Med-Tech's
GSI Tactical
Merciless Seeker's
More Plated Leg Armor Armors
More Goggles Armors
Smuggler's Exalted
Opportunistic Rogue's
Duststorm Survivor's
Mercenary
Hutt Cartel
Thermal Retention
Underworld Enforcer
Repositioning
Reinforced Diatium
Sniper Elite
Calo Nord's
Scout Trooper
More Goggles Armors
More Jedi Knight Best Outfits Armors
Exiled Knight's
Humble Hero
Jedi Survivalist's
Revered Master
Elegant Duelist's
Valiant Jedi
Enigmatic Hero's
Aspiring Knight
Onderon Guardian
Jedi Strategist's
Vrook Lamar's
Resilient Polyplast
More Jedi Knight Best Outfits Armors
More Green Armors
Subversive
Havoc Squad Specialist's
Drifter
Hardweave
War Hero Eliminator
Concealed Hunter
Outer Rim Hunter's
War Hero Enforcer
Ablative Resinite
Hydraulic Press
War Hero Force-Mystic
Elite Gunner
More Green Armors
More Brown Armors
Citadel Force-healer
Citadel Duelist
Citadel Bulwark
Citadel Force-lord
Masterwork Ancient Weaponmaster
Outlander Fixer's
Zakuul Knight-Captain's
Nomadic Gunslinger's
Citadel Pummeler
The Entertainer
Basic Women's Underwear
Steadfast Master
More Brown Armors
Outfit Database ID: 1348 - Added: 0000-00-00 00:00:00 - Opposite: 0 - Identical: 0 - Similar: 1093
Like this

guide?Pledge to support Swtorista videos, guides and lists!
✚ Support with Patreon
✚ Support with YouTube
✚ Support with Twitch
In return, get:
Discord Chat
50+ Lore Audio Readings
Ensure future of guides!