Have a suggestion or correction? A volunteer can help update the website! To report an issue, go to the Swtorista Website Discord and post your report as a single message in the #report-issue channel. You will need to make a free Discord account.
Similar Armor Sets
These armors have a very similar shape to the Frontline Defender armor set.
Sogan Sur's
More Trooper Armors
Outer Rim Officer
Trimantium Asylum
Terenthium Asylum
Discharged Infantry
Umbaran Guardian
Shield Warden
Disciplined Conscript
Concentrated Fire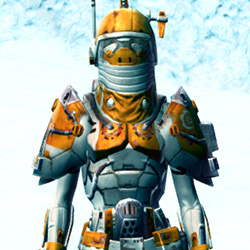 Hazardous Recon
Hadrium Asylum
Electrum Onslaught
Stationary Grit
More Trooper Armors
More Plated Leg Armor Armors
War Hero Eliminator (Rated)
BK-0 Combustion Armor
War Hero Eliminator
Holoshield Trooper
Malgus Reborn
Merciless Seeker's
Exarch Onslaught MK-26 (Armormech)
Hypercloth Force Expert's
Frasium Asylum
Battlemaster Eliminator
Jedi Stormguard
Ciridium Asylum
More Plated Leg Armor Armors
More Butt Cape Armors
Jedi Survivalist's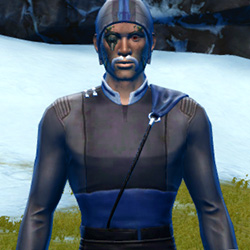 Formal
Sovereign Executioner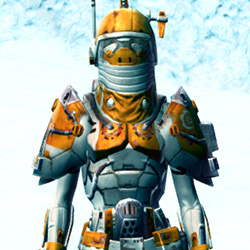 Hazardous Recon
Remnant Yavin Trooper
Resort Swimwear
Shikaakwan Royalty's
Resilient Warden
Hunter's Renowned
Zakuul Knight-Captain's
Royal Guardian's
Trimantium Asylum
More Butt Cape Armors
More White Armors
Eternal Commander MK-15 Enforcer
Hazardous Physician
Hailstorm Brotherhood
Overwatch Shield
Zakuulan Preserver's
Reclusive Master's
Jedi Knight Revan
Noble Attendant's
Ottegan Aegis
Tattered Mystic's Cowled
Eternal Conqueror Duelist
Eternal Brawler Force-Lord's
More White Armors
Outfit Database ID: 932 - Added: 0000-00-00 00:00:00 - Opposite: 0 - Identical: 1472 - Similar: 932
Like this

guide?Pledge to support Swtorista videos, guides and lists!
✚ Support with Patreon
✚ Support with YouTube
✚ Support with Twitch
In return, get:
Discord Chat
50+ Lore Audio Readings
Ensure future of guides!