Similar Armor Sets
These armors have a very similar shape to the Frenzied Zealot armor set.
Ancient Infernal
Sith Archon
Resilient Polyplast
Nanosilk Force Expert's
Nanosilk Aegis
Dark Praetorian
More Sith Warrior Armors
Ablative Lacqerous
Descent of the Fearless
Eradicator's Warsuit
Dramassian Force Expert's
Tulak Hord's
Nathema Zealot's Robes
Anointed Demicot
Vine-silk Aegis
Fearsome Harbinger
Remulus Dreypa's
Sith Combatant
Warlord
More Sith Warrior Armors
More Plated Leg Armor Armors
Fortified Electrum
Eternal Brawler Boltblaster's
Vandinite Asylum
Battlemaster Combat Tech
Malgus Reborn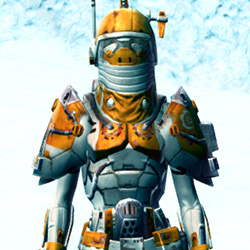 Hazardous Recon
Chanlon Onslaught
TD-17A Colossus
Remnant Underworld Knight
Guardian's Exalted
Holoshield Trooper
Phobium Onslaught
More Plated Leg Armor Armors
More Sharp Claw Gloves Armors
Callous Conqueror
Remnant Arkanian Warrior
Remnant Dreadguard Inquisitor
Charged Hypercloth Aegis
Marka Ragnos's
More Capes Armors
Ablative Laminoid
Reinforced Phobium
Darth Malak's
Masterwork Ancient Weaponmaster
Arkan's
Reclusive Master's
Exarch Asylum MK-26 (Armormech)
Trimantium Onslaught
The Entertainer
Marauder Elite
Masterwork Ancient Stalker
Descent of the Fearless
More Capes Armors
More Red Armors
Gunslinger Elite
Eternal Conqueror Mender
Experimental Ossan Combat Medic's
Karness Muur's
Red Scalene
Vintage Republic Military
Remnant Yavin Inquisitor
Confiscated Mercenary
Shield Warden
Septsilk Aegis
Lacqerous Mesh
Eternal Conqueror Force-Lord
More Red Armors
Outfit Database ID: 928 - Added: 0000-00-00 00:00:00 - Opposite: 0 - Identical: 1724 - Similar: 1394
Like this

guide?Pledge to support Swtorista videos, guides and lists!
✚ Support with Patreon
✚ Support with YouTube
✚ Support with Twitch
In return, get:
Discord Chat
50+ Lore Readings
Ensure future of guides!
✚ Support with Merch
Sci-fi & Fantasy inspired pins
Real-life collector items
Beautiful, check!