Have a suggestion or correction? A volunteer can help update the website! To report an issue, go to the Swtorista Website Discord and post your report as a single message in the #report-issue channel. You will need to make a free Discord account.
Similar Armor Sets
These armors have a very similar shape to the Conservator's armor set.
Classic Conservator's
More Jedi Knight Armors
Dying Precision
Remnant Underworld Consular
Charged Hypercloth Force Expert's
Valiant Jedi
Traditional Demicot
Lucien Draay's
Apex Sovereign's
Nimble Brawler's
Exarch Asylum MK-26 (Armormech)
Defiant Asylum MK-26 (Synthweaving) (Republic)
Eternal Brawler Pummeler's
Unbreakable Defender
More Jedi Knight Armors
More Plated Leg Armor Armors
The Undying
Unburdened Champion
Ruthless Commander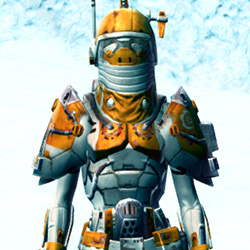 Hazardous Recon
Remnant Resurrected Knight
Battlemaster Supercommando
Revanite Vindicator's
War Hero Combat Tech (Rated)
Heartless Pursuer
CZ-13K Guerrilla
Wastelander's
TT-17A Hydra
More Plated Leg Armor Armors
More Brown Armors
Outlander Maverick's
Honored Master's Vestments
Defiant Onslaught MK-16 (Synthweaving)
eternal Commander MK-15 Supercommando
Basic Women's Underwear
Avenger
Citadel Bulwark
Masterwork Ancient Weaponmaster
Masterwork Ancient Force-Master
Exiled Padawan
Citadel Duelist
Eternal Commander MK-15 Survivor
More Brown Armors
Outfit Database ID: 827 - Added: 0000-00-00 00:00:00 - Opposite: 0 - Identical: 1813 - Similar: 827
Like this

guide?Pledge to support Swtorista videos, guides and lists!
✚ Support with Patreon
✚ Support with YouTube
✚ Support with Twitch
In return, get:
Discord Chat
50+ Lore Audio Readings
Ensure future of guides!