Have a suggestion or correction? A volunteer can help update the website! To report an issue, go to the Swtorista Website Discord and post your report as a single message in the #report-issue channel. You will need to make a free Discord account.
Similar Armor Sets
These armors have a very similar shape to the Balanced Combatant's armor set.
Darth Sion's
More Sith Warrior Armors
Remnant Dreadguard Warrior
Remnant Underworld Inquisitor
Insidious Counselor
Sith Hermit's
Reinforced Battle
Lashaa Aegis
Ravager's
Fortified Electrum
Traditional Nylite
Shadowsilk Force Expert's
Energetic Combatant
Exar Kun's
More Sith Warrior Armors
More Revealing Armors
Aspiring Knight
Ablative Resinite
Expert Fighter
Fancy Reveler
Ventilated Triumvirate
Casual Connoisseur's
Bold Hellion's
Resort Swimwear (no cape)
Elegant Loungewear
Stylish Dancer's
Eternal Battler Force-Healer
Nightlife Socialite
More Revealing Armors
More Leg Wraps Armors
Righteous Mystic
Frenzied Warrior's
Underworld Enforcer
Subversive
Gathering Storm
Hunter Killer
Mandalore the Preserver's
Hydraulic Press
Able Hunter
Righteous Enforcer
Mandalore the Ultimate's
Cutthroat Buccaneer
More Leg Wraps Armors
More Purple Armors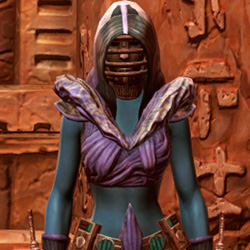 Grand Inquisitor
Rotworm Huttball Away Uniform
Thermal Retention
Inquisitor's Renowned
Charged Peacemaker
Dynamic Sleuth
Lacqerous Battle
Mining Vest (Imperial)
Xonolite Onslaught
War Hero Force-Mystic (Rated)
Remnant Yavin Warrior
Traditional Demicot
More Purple Armors
Outfit Database ID: 780 - Added: 0000-00-00 00:00:00 - Opposite: 0 - Identical: 0 - Similar: 780
Like this

guide?Pledge to support Swtorista videos, guides and lists!
✚ Support with Patreon
✚ Support with YouTube
✚ Support with Twitch
In return, get:
Discord Chat
50+ Lore Audio Readings
Ensure future of guides!