Have a suggestion or correction? Go to the Swtorista Website Discord and post your report in the #armor channel. You will need to make a free Discord account.
Similar Armor Sets
These armors have a very similar shape to the Aggressive Treatment armor set.
Righteous Harbinger
Righteous Mystic
Righteous Enforcer
Dread Enforcer
Dread Harbinger
Dread Mystic
Set Bonus Armors
These armors are obtained in similar ways.
Avenger
Tech Medic
The Entertainer
Taskmaster
Gathering Storm
Decelerator
Shadow Purger
Empowered Restorer
Berserker
Rapid Response
Repositioning
Saber Master
Stationary Grit
Soulbenders
Death Knell
Quick Thinker
Probe Tech
Nimble Master
Notorious
Established Foothold
Descent of the Fearless
Dire Retaliation
Efficient Termination
Tactician
Right Price
The Slow Road
The Undying
The Victor
Precise Targeter
Tormented
Trishins Retort
Lord of Pain
Debilitator
Stimulated
Strategist
Restorative Drive
Revitalized Mystic
The Unyielding Protector
Amplified Champion
Concentrated Fire
Ballast Point
Dashing Blademaster
Comet Champion
Perfect Form
Squad Leader
Superiority
Game Plan
Hunter Killer
Ballistic Concentration
The Final Breath
Flawless Riposte
Fulminating Defense
Culling Blade
Preserver
Endless Offensive
Rebuking Assault
Apex Predator
Emergency Power
Veteran Ranger
Authority
Outlaws Parlay
Meteor Brawler
More Jedi Consular Armors
Tatooinian Consular
Murderous Revelation
Classic Conservator's
Consular
Kreia's
War Hero Survivor
Nanosilk Force Expert's
Remnant Yavin Consular
Jedi Survivalist's
Force Initiate
Preceptor's
Remnant Dreadguard Consular
More Jedi Consular Armors
More Animated Armors
Charged Peacemaker
Tactical Infantry
Charismatic Mandalorian's
Furious Gladiator
Overloaded Interrogator
Seasoned Professional's
Cyber Agent
Escape Artists
Series 917 Cybernetic
Hoth Defender's
Dynamic Brawler's
Galvanized Infantry
More Animated Armors
More Glowing Armors
Mandalorian Seeker
Je'daii Warrior (Hood Up)
Fearsome Harbinger
Powered Exoguard
Potent Champion
Voltaic Sleuth
Gifted Shadow's
Escape Artists
Hazardous Physician
THORN Epicenter (Red)
Voltaic Vandal
Holoshield Trooper
More Glowing Armors
More Leg Wraps Armors
Wasteland Crusader's
Frenzied Warrior's
Orbalisk
Mandalore the Preserver's
Sovereign Executioner
Revealing Bodysuit
Freedon Nadd's
Subversive
Shrewd Privateer
Dramatic Extrovert's
Remnant Dreadguard Inquisitor
Bold Hellion's
More Leg Wraps Armors
More Butt Cape Armors
Dune Stalker
Revered Seer's
Fearless Hunter's
Ardent Oracle's
Outcast
Mullinine Asylum
Ablative Lacqerous
Jarael's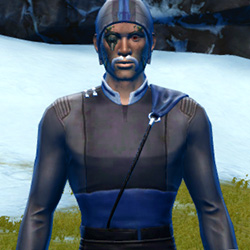 Formal
Vagabond
Terenthium Asylum
Exposed Extrovert
More Butt Cape Armors
More Blue Armors
RD-07A Spider
Lashaa Force Expert's
Resolute Protector
Xonolite Asylum
Voss Ambassador
Fieldtech Operator's
Exquisite Formal
Je'daii Warrior (Hood Down)
Force Apprentice's
Quadranium Asylum
Consular
Remnant Underworld Smuggler
More Blue Armors
Outfit Database ID: 2145 - Added: 0000-00-00 00:00:00 - Opposite: 0 - Identical: 0 - Similar: 1564